A winter with Oddbox
Winter isn't just about stews and soups – just look what you can make with the new arrivals in your boxes. Roll up your sleeves and get cooking - or if you're looking to learn more about the winter veg coming up, check our blog post here.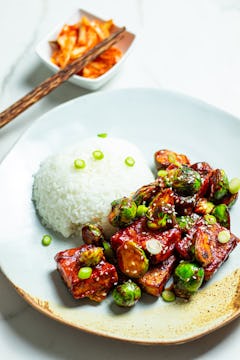 30 Minute Meals: Stir Fried Gochujang Sprouts w/ Crispy Tofu
Brussels sprouts aren't just for Christmas; they are just as a tasty outside the festive season. Paired with crispy tofu, these gochujang glazed sprouts are tender and coated in the most delicious, sweet, savoury, spicy sauce. The recipe by our guest ODDBOX chef Storm (@whatstormeats) is perfect served with your choice of rice or noodles, but definitely with a side of funky kimchi!