Welcome to a wonky winter
To see what you might have coming up in your box, click here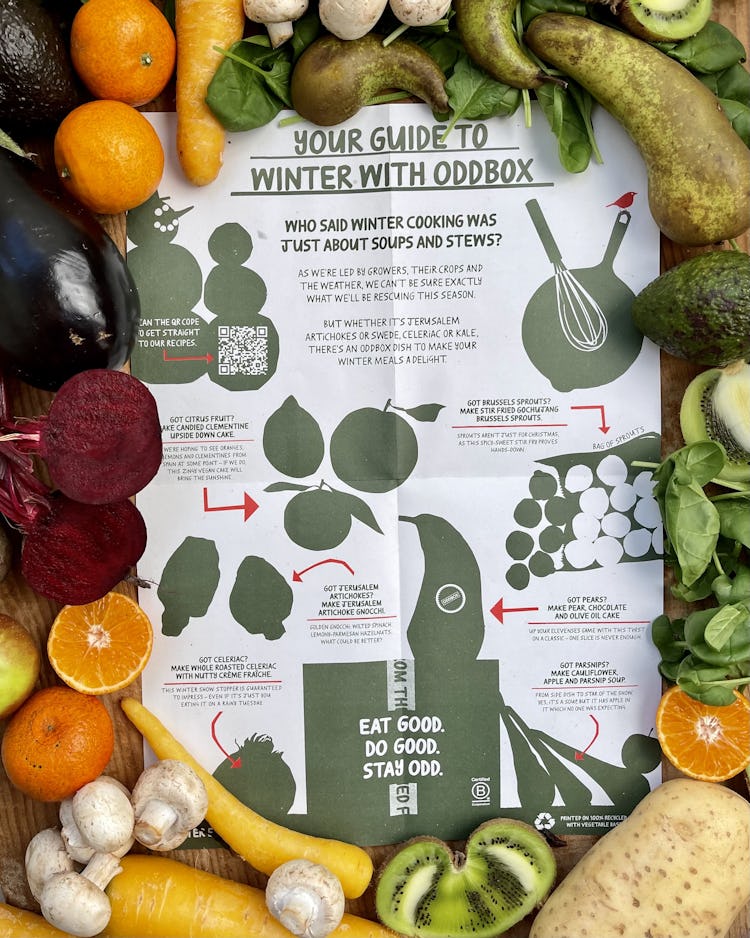 The last leaves have fallen. You've already lost three gloves. And there's a light sparkle of frost on your box.
Yes – hold onto your bobble hats – winter is upon us. But what's that you cry? Why am I still seeing autumn veg in my boxes? Well, funnily enough, the crops in our fields don't magically switch between seasons, especially after a wild-weather year like 2021. 
If you've been with us a while, you might remember our autumn post all about just that. 
Back in September, we were surprised to see early cauliflowers, late plums and some cheerful Brussels Sprouts popping by to say hello. 
After that, the 'favourable' growing conditions in October meant that some crops, like cabbages, were suddenly ready much earlier than expected – both good news and bad news for UK farmers after an otherwise disappointing year. 
Led by growers, not calendars
Harvesting even a few weeks 'out-of-season' can have huge knock-on effects for growers, in some cases meaning an entire season's crop is at danger of going un-crunched because of lack of demand. 
We think all food grown should be eaten, regardless of the date. So with our 'grower-led' way of working, we rescue whatever freshly picked fruit and veg needs us – even if it's not typically when we'd expect to see it. 
When it comes to the crossover between autumn and winter, that might mean welcoming late-autumn fruit alongside early root veg, or embracing traditional-Christmas side dishes before the lights on the high-street are even switched on. Parsnips in October? Why not.  
Eating seasonally in winter…
As you know, we love each season just as much as the last. But we'd be fibbing if we didn't admit that winter poses a few dilemmas when it comes to eating seasonally. 
Yes, there's lots to love about UK winter crops – root veg, deep-green leaves, Jerusalem artichokes and and love-em-hate-em players like parsnips, celeriac and sprouts. But there's also a lot less variety when it's chilly, meaning it would be tricky to *just* eat seasonally from November to March.
Winter is also a quiet season for UK fruit, which is why we've all got used to relying more heavily on seasonal imports for the sweeter stuff. (Yep, those satsumas in your childhood stocking probably weren't grown in Kent – sorry.)
This year, we've had word of a bumper crop of South African grapes that might need rescuing, as well as clementines, lemons and oranges from Spain. Don't worry – we have a strict no air-freight policy and only ever rescue "odd" or "surplus" stuff from abroad if it's at risk of going to waste.
Our approach is a pragmatic one – it might not be 'in season' here, but if it's freshly picked, in season elsewhere and going spare, we'll gladly step in to help. It's always 5 o'clock somewhere, as the saying goes. 
…And cooking more creatively
So with less variety in the fields, should we all just resign ourselves to a winter of stodgy stews and hearty soups? Absolutely not. 
We think winter is the perfect time to roll up your sleeves and get creative with familiar ingredients. So from Brussels Sprout stir fries to vegan clementine cakes, our latest seasonal guide has a little taster of the delicious recipes you can find on our website.
If there's a winter veg you're not keen on, don't forget to update your exclusions list as the seasons change and our rescue list shifts. 
Otherwise, why not have a rummage around our recipes section for inspiration? If you share your creations using #OddisGood you could even win four free boxes. Now that really would be an early Christmas treat.