30 Minute Meals: Stir Fried Gochujang Sprouts w/ Crispy Tofu
Brussels sprouts aren't just for Christmas; they are just as a tasty outside the festive season. Paired with crispy tofu, these gochujang glazed sprouts are tender and coated in the most delicious, sweet, savoury, spicy sauce. The recipe by our guest ODDBOX chef Storm (@whatstormeats) is perfect served with your choice of rice or noodles, but definitely with a side of funky kimchi!
Prep time: 10 minutes
Cook time: 20 minutes
Total time: 30 minutes
Servings: 2
Ingredients:
1 block Natural firm tofu
50 g Corn starch 
Salt (pinch)
200 g Brussels sprouts
2 tbsp Korean gochujang ( (fermented chilli paste))
2 Garlic cloves
1 small Shallot
2 tbsp Sesame oil
1 tbsp Honey
1 tbsp Dark soy sauce
1 tbsp Light soy sauce
50 ml Water
Sesame seeds
1 Spring onion (sliced )
Kimchi (to serve)
Recipe:
Start by draining the tofu of all water. You can do this by removing from its packaging and placing a heavy pot on top to squeeze all the water out.
Cut the tofu into squares and place into a bowl and sprinkle over the cornflour generously and add a pinch of salt. Toss until each piece is evenly covered.
In a pan, heat up vegetable oil and fry off the tofu pieces in batches until golden brown and crispy. Place on a piece of kitchen towel to absorb any excess oil.
Slice the sprouts in half (or if they are small, you can keep them whole!), removing any yellowing or loose leaves.
Remove any excess oil left over from the tofu and add the sliced garlic, shallot with the 1 tbsp of sesame oil. On a high heat, add the sprouts to the pan, move the sprouts around the pan or wok so they cook evenly. This should only take a couple of minutes.
In a bowl, combine 1tsp sesame oil, gochujang, soy sauce and honey with about 50ml of water – this is your stir fry sauce.
Once the sprouts are just cooked, add the tofu back in and pour over the sauce.
Plate up the sprouts and tofu, sprinkle over some sesame seeds and sliced spring onion. Best served with white rice or noodles.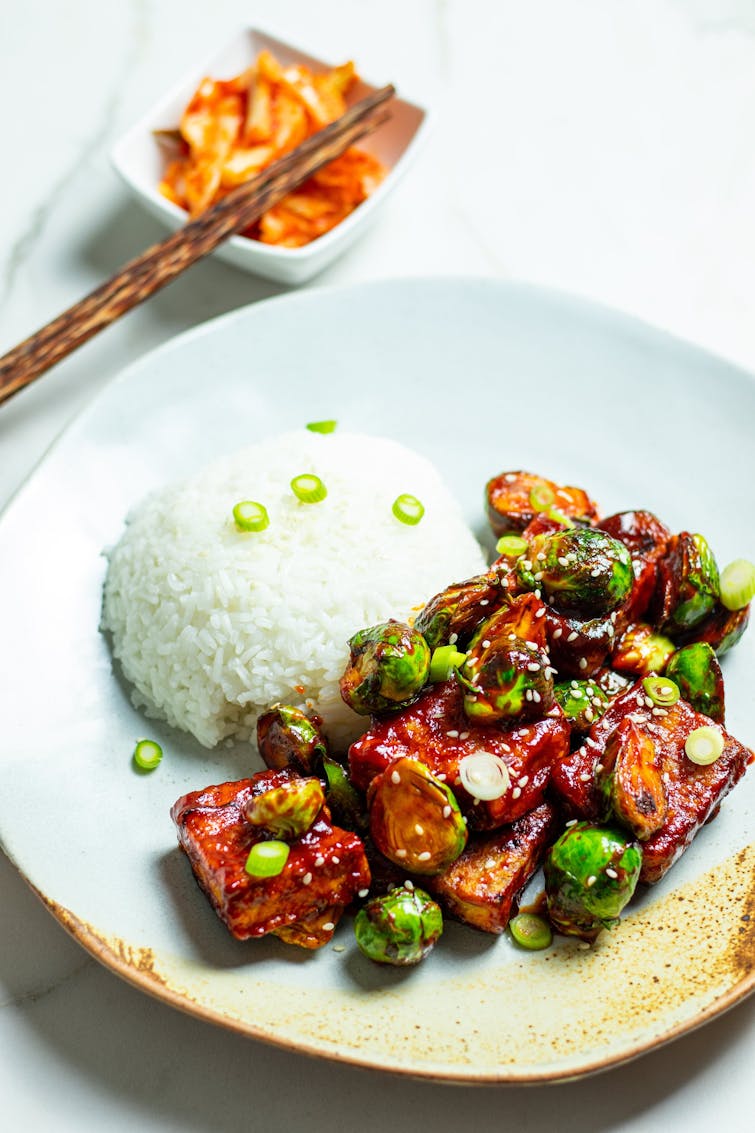 ---