WAKE UP TO
FRESH FRUIT & VEG

Just like the milkman, our deliveries happen overnight, so your box will be waiting when you wake up. Magic.
We now deliver to hundreds of postcodes across the UK, and we're adding new locations every day. If your area isn't covered yet, sign up to our waiting list and be the first to hear.
How does it work?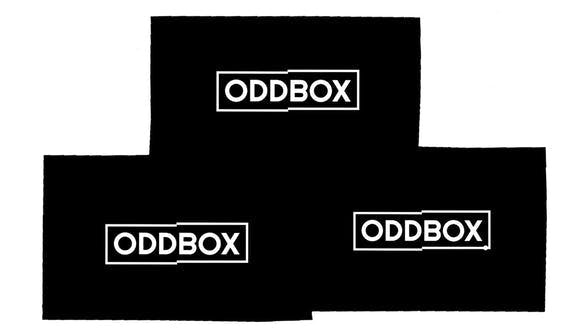 1. Choose a box
You can decide whether to have a delivery every week or every other week. We plan our routes to be as efficient as possible, so each area has a set delivery night. Check your postcode to find out yours.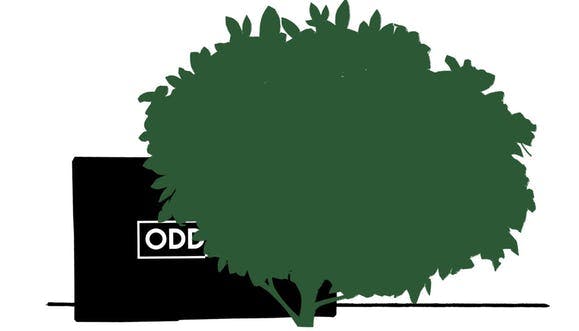 2. Tell us where
Tell us your 'safe spot' – round the side, behind a bush, in the porch – and we'll leave your box there between 7pm and 7am, or from 6pm for some postcodes. For example, Monday deliveries arrive on Monday night.
3. Collect your box
Our delivery team will send a photo of your box so you know exactly where to find it in the morning. Fruit salad for breakfast, anyone?
Why overnight?
Simple. Less traffic means less stopping and starting and less time on the road. And as each area has its own delivery night, we can plan our routes to be as efficient as possible.
The result? Lower carbon emissions all round, and everyone getting their fruit and veg within 24 hours of it being packed.
We know it's a bit unusual, but then again, that's what Oddbox is all about.
Check your postcode
What people say

The delivery service is smooth and finding our box in the morning is always a pleasure
Camille
It's like Christmas every time there's a delivery: I wake up in the morning and rush to my front door to find my box waiting for me on the doormat
Hilary
It's a very good service. Operated well and deliveries at the door at time promised.
Chris
Our Delivery Pledge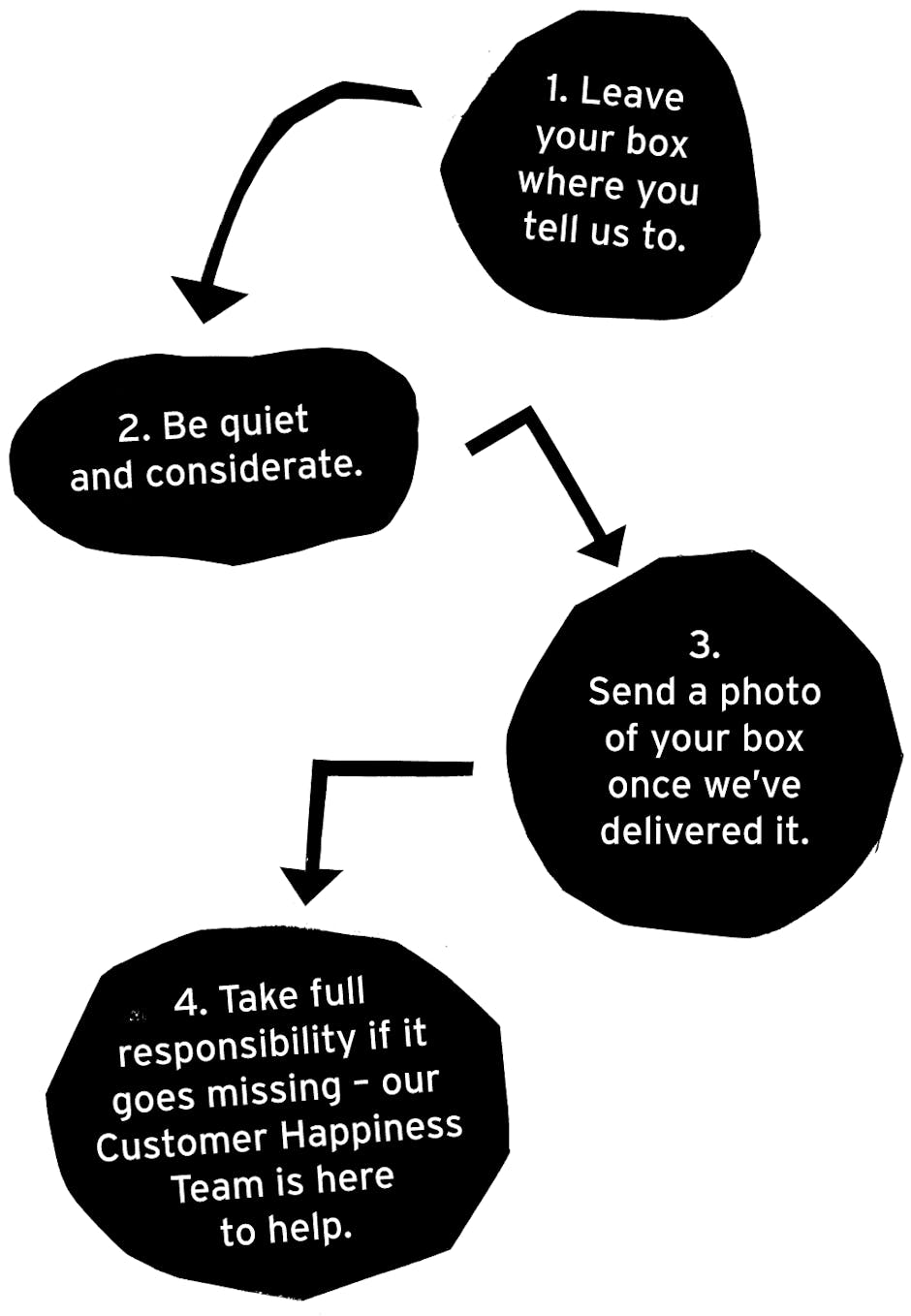 Any questions?
Sadly we can't be more specific than between 7pm and 7am the next day. Our drivers follow the most carbon-efficient routes possible, meaning your delivery time might be different each week. It also depends on how many boxes we're delivering that night.
Your safe place can be anywhere that is slightly hidden. This can be behind a bush, in a recycling bin, under your car or in a neighbour's garden (if they give you permission).

Another option is to write in your delivery instructions to buzz or ring you 'AT ANY TIME' when delivering. This way the drivers know that they can contact you to gain access to the inside of your building or otherwise secure area. We understand it may cause a disturbance so we avoid contacting customers after 9pm unless instructed to do so.

We also have a key / fob holding system, which allows drivers access to the main door of your building so they can deliver the box safely inside. Please get in touch with hello@oddbox.co.uk to find out more.
Don't worry – we might just have to be creative. A safe space can be anywhere that is slightly hidden – behind a plant pot, in the recycling bin, under your car or even in a neighbour's garden (if they don't mind).
We also have a key/fob holding system, so get in touch if you live in a block and would like to give our drivers access to the inside of the building.
As a last resort, you can write BUZZ AT ANY TIME in your delivery preferences and the driver will ring your doorbell when they arrive. If you'd like them to call you, write CALL AT ANY TIME followed by your phone number. (But be aware, it will be some time between 7pm and 7am the next day.)
If you don't think any of these options will work, please leave your details with our Customer Happiness team and we'll let you know as soon as we have other delivery options available. We're working on it.
Not unless you want them to. Our drivers are under strict instruction to be as quiet as possible, but if you're worried about the delivery, you can ask them to ring your doorbell or call you if they arrive before a certain time (say, 10pm).
Just include a note in your delivery preferences saying BUZZ BEFORE 10PM or AT ANY TIME and we'll make sure they get the instruction. Then you can pick up your box from the safe space straight away.
We always send you a photo of your box so you know where we left it. (Check your spam folder if you don't have an email from us by the morning.)
If your box isn't there in the morning, please call or email our Customer Happiness team for a full refund or credit towards your next box. We should add that this happens very rarely, but we always take it seriously.
Our drivers will email you a photo of the box in your safe space, along with any delivery notes, as soon as it's been dropped off. You can go to get it straight away, or leave it as a nice surprise for the morning.
When rain or snow is forecast, we protect your box with a reusable sugar cane bag (like plastic, but much better for the environment). If there's a specific dry spot you'd like us to leave the box in, please let us know in your delivery preferences.
You can also put boxes (or blankets!) out for the box if you're still worried about it getting wet. And if you'd like us to wrap your box every week, whatever the weather, we're happy to do that too.
If your house is difficult to find, we now offer the ability to add a What 3 Word code to your delivery instructions. If you would like to provide us with a What3Words code you can head to their website at what3words.com and enter your address. You can then select the exact 3m square that you would like your box to be left in, which will confirm the 3 word code for your delivery location. You can also use the satellite map feature on the site to make sure you've got the correct spot.

You can then add this code to your delivery instructions by logging into our site and heading to the MY ACCOUNT section. Simply enter the code into the 'What 3 Words Address' box and click enter to confirm your new details. If you have any trouble with this, please get in touch with our Customer Happiness Team at hello@oddbox.co.uk and they will be happy to help.
We always challenge ourselves to do the right thing – even if it's a little out of the ordinary. And when it comes to delivery, driving overnight instead of during the day makes a huge difference in keeping emissions as low as possible.
We also want to get fruit and veg from the farm to your doorstep quickly to keep it fresh, so delivering overnight means everyone can get their box within 24 hours of it being packed.