Pear, Chocolate and Olive Oil Cake
Pears and chocolate is a classic combination that works so well. Try this recipe for a moist and delicious cake. 
Substitute:
No pears? Try with apples instead. 
No self raising flour? Use 300 g plain flour and 1 tsp baking powder instead. 
No olive oil? Try with coconut oil. Make sure to melt the oil before using it in the recipe. 
No natural yoghurt? Use soya yoghurt or any mild flavoured vegan yoghurt. 
No dark chocolate chips? Try with white chocolate chips. Otherwise add 2 tsp of cocoa powder to the batter. You can also substitute the chocolate chips for nuts and seeds. Walnuts and pecans would be delicious in this cake. 
Prep time: 10 minutes
Cook time: 35 minutes
Total time: 45 minutes
Servings:
Ingredients:
2 Pears (3 if small pears)
300 g Self raising flour
150 g Sugar (plus extra for coating)
1 a pinch of Salt
3 Eggs
110 g Olive oil (plus extra for greasing)
110 g Natural Yoghurt
110 g dark chocolate chips
Recipe:
Prepare the cake tin: Preheat the oven to 180C/160 fan/4 gas mark. Grease the bottom and sides of a 20 cm round cake pan (or any cake pan you have) with olive oil and use your fingers to coat. Generously sprinkle the pan with sugar and tilt to coat in an even layer; tap out excess.
Prepare the pears: Cut the pears with their skin on, in small cubes of 1 cm. Compost the cores. Set aside.
Make the cake batter: In a medium bowl, whisk together the flour, sugar and salt. In a large bowl, whisk together the eggs, yoghurt and olive oil, then whisk in the flour mixture until combined. Using a rubber spatula, fold in the apples and chocolate chips.
Bake the pear cake: Pour the batter into the prepared pan. Bake for 35 minutes, or until a toothpick inserted into the middle of the cake comes out clean. Let cool for 5 minutes, then transfer the cake to a wire rack and let cool completely.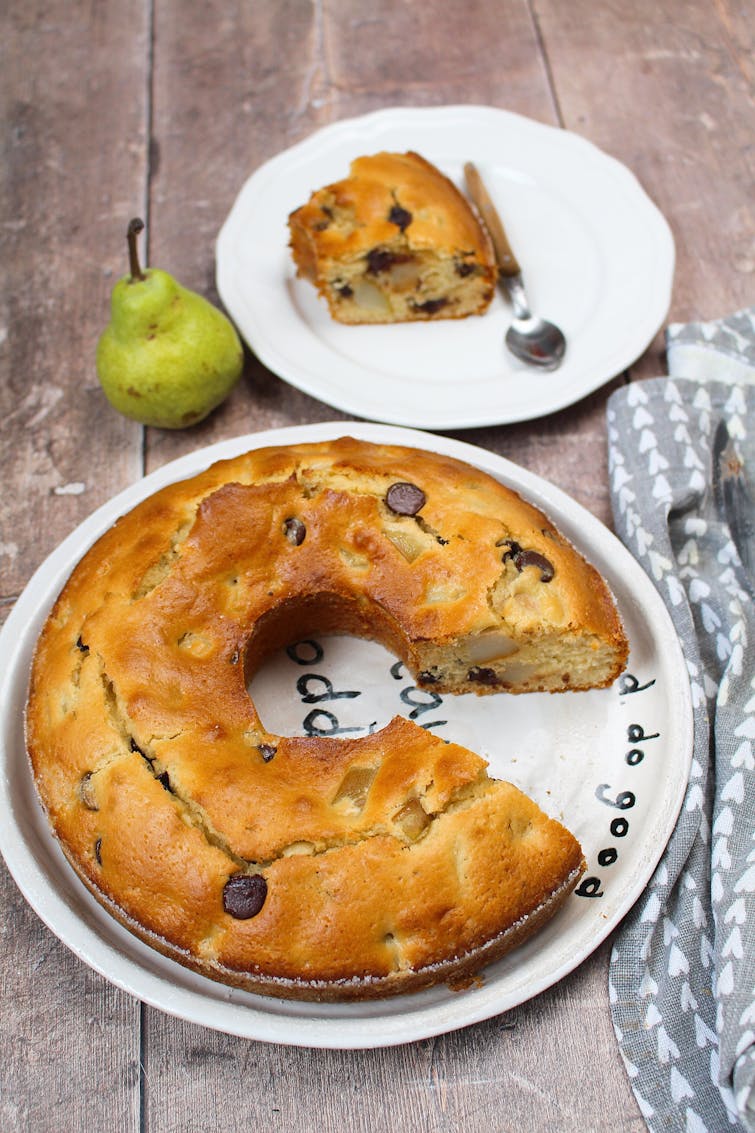 ---
How to store
How to store: Store the cake at room temperature for up to 3 days. If it is too hot outside, store the cake in the fridge. 
Leftovers
Leftovers: Use any leftover cake in cake truffle, cake shake or grilled cake recipes.