Whole Roasted Celeriac w/ Zesty & Nutty Creme Fraiche
In a pickle about how to enjoy your celeriac? Want to wow the family this dinnertime with a winter vegetable showstopper guaranteed to impress? Try this whole roasted celeriac served with zesty, nutty creme fraiche - recipe courtesy of our guest ODDBOX chef Camille @callherchef.
Prep time: 10 minutes
Cook time: 120 minutes
Total time: 130 minutes
Servings: 4
Ingredients:
1 Celeriac
50 ml Olive oil
Sea salt  (flaked )
2 tbsp Creme fraiche
½ Lime juice
1 tbsp Pine nuts
½ Parsley (bunch)
2 Garlic cloves
½ Thyme (bunch)
1 tbsp Harissa paste
Recipe:
Preheat the oven to 170C. Wash and scrub the celeriac under cold water.Keep the skin but discard the airy roots. Pat dry with a clean tea towel.
Pierce the celeriac with a fork all over and place in a bowl with the olive oil and salt. Rub the celeriac all over with the oil mixture and place on a baking tray, lined with thyme.
Roast for about 2 hours or until deeply browned and soft all the way through - depending on the celeriac size. Every 30 minutes, use a spoon to wet the celeriac with the hot olive oil in a baking tray. When cooked, leave to rest for 15 minutes and cut in wedges.
Place the pine nuts, parsley, lime juice and garlic in a food processor. Blend to a pesto consistency and mix with the creme fraiche. Serve with the roasted celeriac and some harissa paste.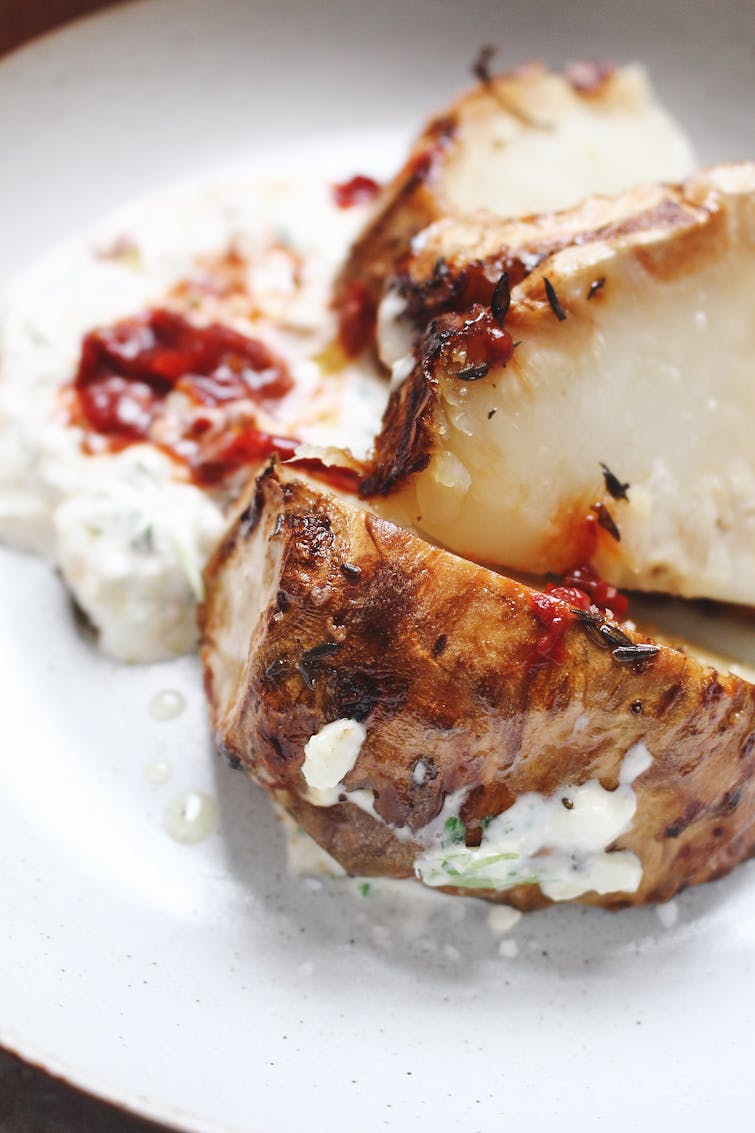 ---