Candied Clementine Upside Down Cake
Try this vegan upside down cake. Showcasing candied clementine slices, clementine zest and juice flavoured sponge. 
Substitute:
No clementines? Use any citrus instead. Oranges, mandarins, grapefruits and even lemons.
No vegan yoghurt? Try with soya yoghurt, coconut yoghurt, vanilla yoghurt or any natural yoghurts. 
No vegetable oil? Use coconut oil instead or a very light olive oil. Melt the coconut oil before use. 
Prep time: 25 minutes
Cook time: 35 minutes
Total time: 60 minutes
Servings: 8
Ingredients:
12 Clementines (depending on size)
230 g Self raising flour
200 g Caster sugar
1 tsp Baking powder
a pinch of Salt
200 g Vegan yoghurt
60 ml Plant based milk
50 ml Vegetable oil
1 Vanilla pod (seeds scraped out )
Recipe:
Make the candied clementines: Preheat the oven to 180C/160 fan/4 gas mark. Thinly slice 4-5 unpeeled clementines and place them at the bottom of a tin lined with greaseproof paper. Sprinkle with 2 tbsp of sugar. Place in the oven and leave to cook for 20 minutes.
Make the cake batter: Zest and juice 3 clementines. In a large mixing bowl, mix together the flour, sugar, baking powder, and salt. Make a well in the middle and add the yoghurt, milk, and vegetable oil. Mix well to combine into a smooth batter. The batter is quite thick so use a spatula instead of a whisk. Add the vanilla, clementine juice and zest. Mix to combine. 
Bake the cake: Pour the batter over the candied clementines and cook for 30 minutes, or until lightly golden and set. Remove from the oven and let cool for 5 minutes.
Serve: Turn the cake upside down on a plate, and gently remove the grease proof paper on top. Serve warm or cold.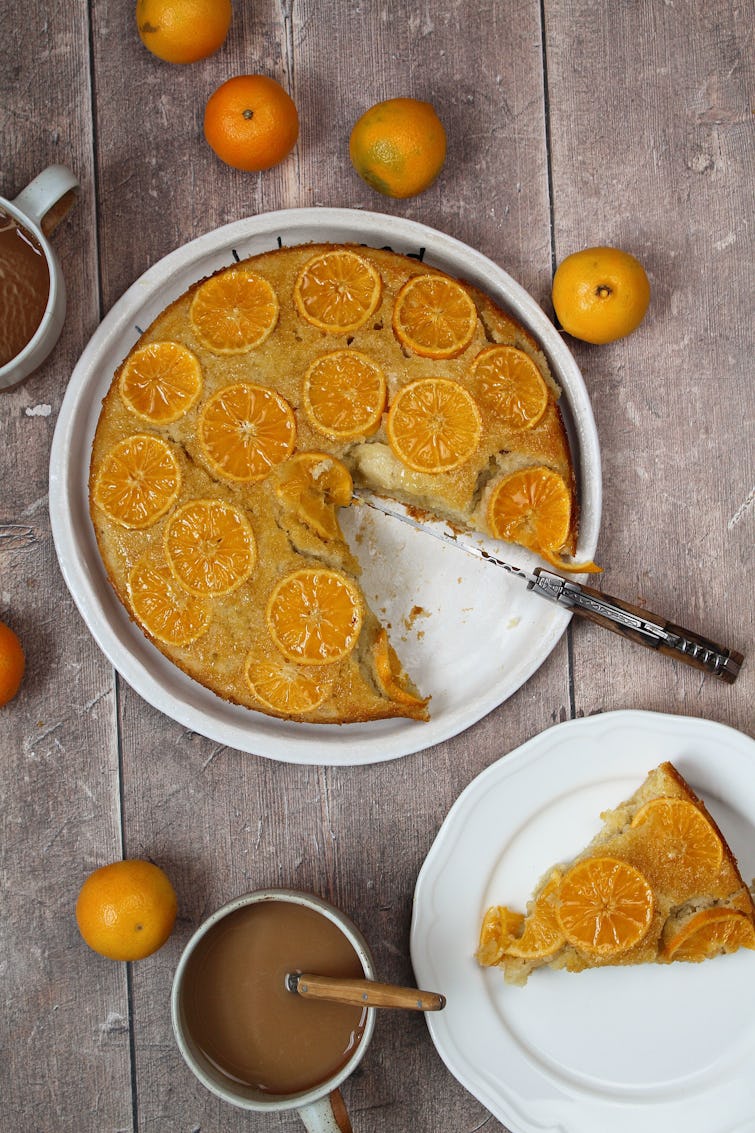 ---
How to store
Store the cake at room temperature for up to 3 days. If it is too hot outside, store the cake in the fridge. 
Leftovers
Use any leftover cake in cake truffle, cake shake or grilled cake recipes.