How to be a low-waste cook today
With food waste accounting for one-third of all food produced in the west, you might be wondering how you can help to reduce what you chuck. Here we break it down; from where you shop and what you buy to how you cook, these are the ways you can become a low-waste cook.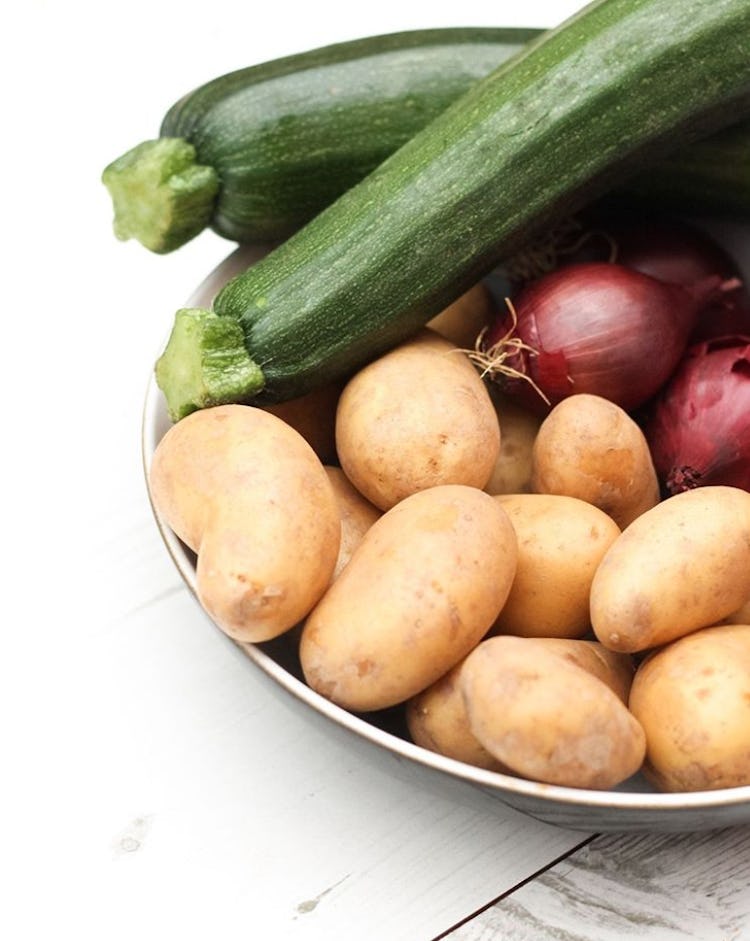 TOP THREE WAYS TO BEGIN

Cook from scratch.
If you already cook (even just a bit), congratulations! You're well on your way to achieving a low-waste kitchen. Swapping processed foods and cooking fresh foods that are less likely to be packaged is a great way to start reducing your plastic. Cooking also helps you to be more flexible and creative – two vital ingredients on the journey to reducing your food waste. 
Look in your bin.
What did you find? Half a loaf of bread? Cooked leftovers? Sprouting potatoes? A pack of stale biscuits? Take note of what you usually bin and figure out why. Do you need to store your vegetables so they last longer? Could you freeze your leftovers instead? Would it help you to write shopping lists so you don't impulse-buy BOGOF deals?
Start at the fridge.
Organise your fridge and cupboards. It might help you to clear them out completely, restocking them tidily, collating half-packets of pastas, grains and nuts and going through all those random fridge condiments – they might make a tasty meal another day. 
HERE ARE 10 ACTIONS TO HELP YOU GET THERE:
Keep your fridge tidy. Have a shelf dedicated to leftovers and other ingredients you know you need to use up in the following days. 
Upcycle glass jars. These are incredibly useful for storing fresh and dried foods, for stocking up on food at refill shops, for transporting your lunches and snacks, for pickling and preserving, for drinking from… what other uses have you found
Shop from bulk-buy and refill shops. Thankfully, these are becoming more common. Bring your own bags, bottles and containers to fill up on dried foods, from oats to rice, as well as olive oil and wine. Some markets sell milk in glass bottles which you can bring back to refill. Bulk-buying drystore items is also a handy way to cut extra packaging. 
Make a shopping list and stick to it. First, make a list of the items you have in the fridge that need using up. This will help you to plan your meals for the week ahead and to write a shopping list so that you're less likely to impulse buy. Read our meal planning guide here.
Stock up on store cupboard ingredients, such as oats and other grains, noodles or pasta, tinned foods, like chickpeas and chopped tomatoes, and spices, that will help you make tasty meals using whatever odds and ends you have in the fridge. 
Don't bin your vegetable scraps. We have tonnes of guides on our blog for how to use up your vegetables and fruits from root to fruit.
Make your own pantry staples, such as yoghurt, stock, vinegar, jams and chutneys, kombucha and granola super easily. The more you can make from scratch, the more flexible and adept you'll become at using up your ingredients, and the less plastic packaging you'll have to bin!  
Ban bottled drinks. Did you know, it's super easy to make your own fizzy drinks using fruit scraps? Or that you can filter tap water using naked charcoal? Make your own drinks to help you ditch plastic.
Preserve your food. Use your freezer to its full potential for saving cooked leftovers, sliced bread and even milk. Or try fermenting or pickling a surplus of fruit and veg.
And last but not least…
Learning to be creative and flexible with your food is a brilliant way to become naturally less wasteful. Use Google, Pinterest, Instagram, and our blog for inspiration. Once you've got a few recipes you're used to cooking, you can start to experiment – you'll soon find you'll be able to use up whatever you've got to hand.