The A-Z of how to live & eat sustainably
So you want to live a greener lifestyle and reduce your impact on the planet? Here's our A-Z to get you there.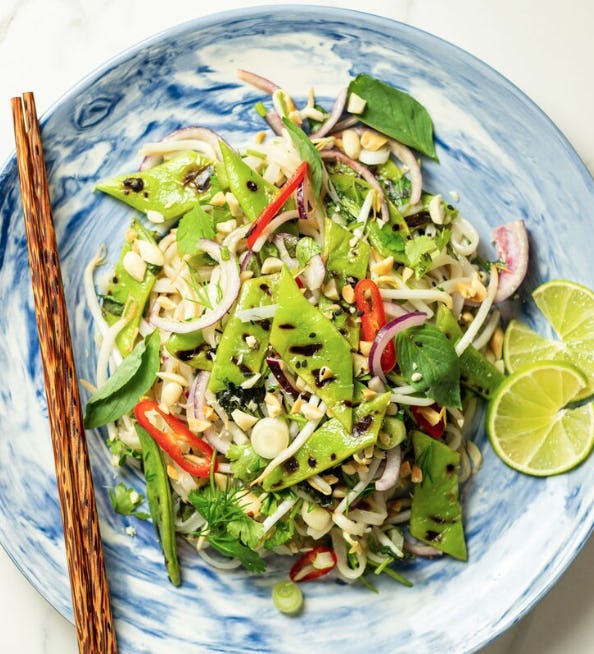 A IS FOR ASK QUESTIONS
Don't be afraid to ask questions, no matter how basic. There are tonnes of low-waste workshops, books and resources out there to help you. Out shopping? Ask the farmer, butcher, fishmonger or shop-owner about where their products come from. Start a conversation that could inspire others to question their habits too – you never know where it might lead.
B IS FOR BACK-OF-FRIDGE MEALS
Forgotten that floppy bit of celery? The half-empty jar of curry paste? That half onion and yesterday's takeaway? Get creative with what you've got rather than piling your fridge with more food you might end up chucking. 
C IS FOR COMPOST YOUR FOOD SCRAPS
Get a food scraps bin from your local council or make your own compost with this handy guide. In the right conditions, food scraps break down into compost, which can then be used to nourish the earth and grow more food. Food that is sent to landfill, however, isn't able to biodegrade and instead releases harmful carbon emissions into the atmosphere. 
D IS FOR DOGGY BAG
It's getting more and more common for restaurants to pack up your leftovers to take home, so don't be shy to ask and help cut food waste in the process. 
E IS FOR EDUCATE OTHERS 
Inspire those around you to adopt a few greener habits without preaching at them to change. Start at home or at work and make it easy. You could label the bins so it's clear which is landfill and which is recycling, you could have a 'use it up' shelf in your fridge or share recommendations for informative books and films.
F IS FOR FERMENT YOUR FOOD 
Fermenting your fruit and vegetables is an age-old, nutritious way to preserve your food and avoid waste. Start by turning your fruit scraps into fermented drinks or pickle your vegetables instead. 
G IS FOR GROW BEE-FRIENDLY PLANTS
Our health and the future of our planet relies on a varied and abundant ecosystem of plants and animals to survive. Bees and other pollinators play a crucial role in maintaining biodiversity and you can help them to thrive in your own back garden or on your windowsill. Grow plants with flowers that produce a lot of nectar and pollen, like sunflower, lavender, dandelion, snapdragon and many others.
H IS FOR HOLIDAY WITH A CONSCIENCE
From where you travel to how you get there to how you spend your pennies while abroad, there are plenty of ways you can travel more sustainably. Here's our guide to help you. 
PC: Natasha Corrett
I IS FOR IGNORE BEST BEFORE DATES
Best before dates are not an indication that you need to throw your food. Check your food is still ok to eat by using your instincts instead. Do pay attention to use-by dates however – they will tell you when food, like meat or fish, is unsafe to eat. 
J IS FOR JARS
Wash out and keep glass jars and use them to store, pack or transport food, to fill up with staples at bulk-buy shops or to turn into a reusable coffee cup. They're essential equipment on your journey to low-waste. 
L IS FOR LOOSE LEAF TEA
Tea bags are often made of synthetic material or come individually wrapped in plastic or paper. Avoid more unnecessary waste and drink loose-leaf tea. Refill shops often sell tea which you can pack into reused, old glass jars (see below) so you can avoid all extra packaging.
M IS FOR MAKE MEALS FROM SCRATCH
The more you can cook from scratch, the more you'll be able to cut plastic-wrapped processed, convenience foods, and the more flexibly you'll be able to cook and use up what you have in the fridge. Top Tip: organise your fridge at the start of the week or whenever you do your shopping, so you know what's in there.
N IS FOR NATURAL CLEANING PRODUCTS
Rather than opting for chemical-based cleaning products, make your own using food scraps. Here are some ideas to get you started.
O IS FOR OPT OUT 
Whether it's a plastic straw, unnecessary napkins, a plastic carrier bag, the Buy One Get One Free deal you know you don't really need…think twice before you say yes, and preferably opt out altogether.
P IS FOR PACK YOUR LUNCH
Avoid packaged lunches to grab on-the-go. Cut your single-use plastic and make your own delicious, nutritious veg-centric lunches instead (and save money in the process!). Here are more low-waste packed lunch ideas to inspire you. 
Q IS FOR QUALITY OVER QUANTITY
Investing in durable, long-lasting products means you'll throw less to landfill and save more money in the long run. From your fridge to your clothes, ensure you buy quality (and second hand for bonus points!) that lasts. 
R IS FOR REFILL
Whether it's refilling your water bottle rather than buying a new one or finding a refill shop for common household items, like shampoo, laundry detergent, household cleaning products, and kitchen staples, from flour and oats to dried fruit and spices, olive oil and wine, this is a great way to cut plastic packaging and support independent shops in the process. 
S IS FOR SHOPPING LISTS
Before you head to the shops, make a list. Look through your fridge and cupboards so you know what needs using up, then make a plant. It'll help you avoid impulse buys and cut adding extra unnecessary food you might end up wasting.
T IS FOR TAKE A TOTE 
Keep a tote with you (or reuse an old plastic bag) so you can cut out plastic bags whenever you go shopping. 
U IS FOR UPCYCLE YOUR OLD FURNITURE
Don't throw out a tired chest of drawers or worn kitchen chairs. Give them a lick of paint to make them as good as new. Here are more ways to upcycle your home rather than buying everything new.
V IS FOR VEG OUT
It's probably no surprise that we love veg here at Oddbx. Embracing more vegetables at the centre of your plate is one of the best ways to cut your carbon footprint, and it can be delicious, filling and nutritious too! 
W IS FOR 'WHOLE' FOODS
Nope, we don't mean the high-street shop, we mean eating your food as whole and as unprocessed as possible. Whether that's cooking your fruit and vegetables from root to fruit, or buying whole fish you can help to cut food waste further up the supply chain. 
X IS FOR… XYLOPHONE? 
OK we struggled with this one (any ideas? Please comment below). Here's an extra tip for good measure: invest in a bike and get cycling. With government plans to improve cycle routes and the Bike2Work scheme limit now increased, now is the time to avoid gas-guzzling transport and get exercise on your commute instead.
Y IS FOR YOGHURT
Making your own yoghurt and other basic staples, from vinegar to bread, is not only super simple to do, it'll help you cut plastic too. Search for helpful guides online.
Z IS FOR ZERO
While 'zero' waste is the goal, it can feel overwhelming to achieve a 100% sustainable or 'zero' waste kitchen from the get-go. Don't aim for 100% and instead start small. Decide what you want to focus on. Perhaps you want to cut your food waste or buy less clothes? Take small, achievable actions each day to help you get there, and it suddenly becomes a lot more enjoyable.