Oddbox's Top 5 Autumn Recipes
Our top 5 easy Autumn recipes that will warm your heart and satisfy your taste buds! From comforting soups to scrumptious desserts, we've got your cosy cravings covered.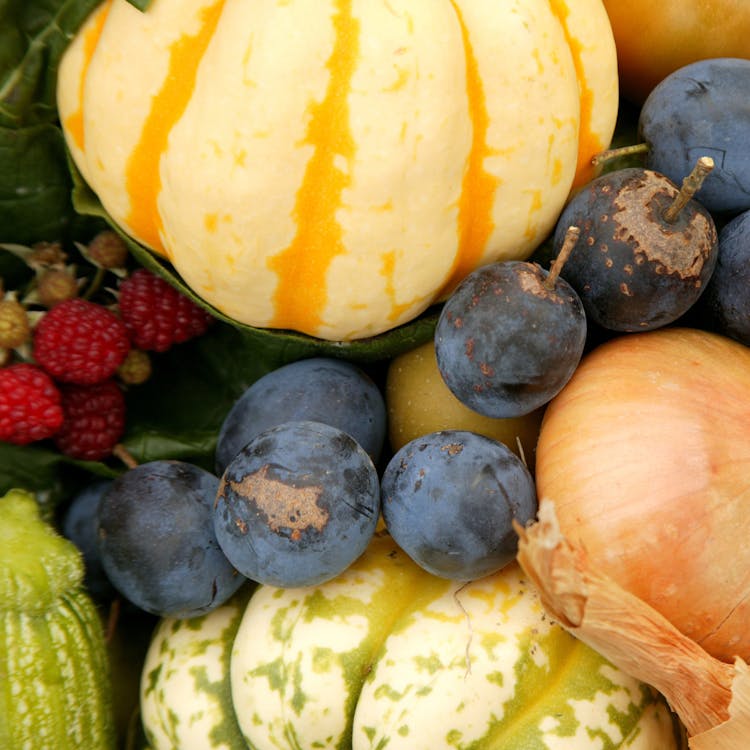 What Veg Is In Season?
In the UK we're in the midst of Autumn, and that means you'll find a bunch of seasonal vegetables on the scene. Think sturdy and earthy with carrots, parsnips and turnips taking centre stage – perfect for hearty stews and roasts. Leafy green enthusiasts will appreciate the plentiful kale and Brussels sprouts, both packed with nutrients. And of course, there's the sweet and nutty butternut squash, ready to be transformed into creamy soups or roasted to perfection. For a full list of what's in season this time of year, click here. So, get ready to dive into the Autumn vegetable scene and make the most of these seasonal veggies!
Top tip: If you love using seasonal fruit and veg, whether it's spring, summer or even winter, then Oddbox might be the fruit and veg box for you! Our boxes are full of "wonky" seasonal produce and you'll even receive brand new recipe ideas each week too! Sound like something you might like? Sign up today.
Pumpkin Soup
To start off our top 5 Autumnal recipes, a creamy pumpkin soup.
Cut your pumpkin into 3cm slices, then carefully cut away the skin and scoop out any remaining seeds. Add your pumpkin into a large pot, along with 1 sliced onion, 2 garlic cloves and 3 cups of vegetable stock. Bring to a boil and allow to simmer for about 10 minutes. Next, remove from the heat and use a stick blender to puree the soup. Season well with salt and pepper. Now you can stir through 1/2 cup of cream (or swap out for a dairy free alternative like coconut cream) and garnish with a few parsley leaves. 
Don't forget to transform those Halloween pumpkins into a delicious soup before they go to waste!
(Recipe via Recipe Tin Eats)
Spanish Stuffed Marrow
Preheat your oven to 200C/180 fan/gas 6. Cut your marrow in half lengthways and scoop out the middle. Place your halves, cut side up, onto a large roasting tin and season with salt and pepper. Next, onto the filling! Heat 1 tbsp of oil in a saucepan and add in 1 diced onion. Allow to sweat on a low heat for 10 minutes, or until the onion has softened. Now add:
- 2 crushed garlic cloves
- 1 tsp smoked paprika
- 1/2 tsp cayenne pepper
- 1/2 tsp dried oregano
- 1/2 tsp dried thyme 
Cook for a few minutes and then stir in 800g chopped tomatoes and 140g of roasted red peppers (you can either make your own or use ones from a jar). Turn the mixture down to a low simmer and allow to cook for a further 10 minutes. Once cooked, sprinkle in some fresh parsley and spoon the mixture over your marrows. Cover with foil and bake for 30 minutes. For extra flavour, sprinkle some breadcrumbs and your favourite cheese over the top, and bake for another 10 minutes.  
(Recipe via BBC Good Food)
Butternut Squash Risotto
Heat 1 tbsp of oil in a large skillet over a medium heat. Add in 1 chopped onion and season with salt and pepper. Cook for 2-3 minutes, or until the onion has started to soften. Now add 2 cups of butternut squash, cut into 1/4 inch cubes and leave to cook for 6-8 minutes. Mix in 2 finely chopped garlic cloves, 1 tsp of rosemary or sage, and 1 cup of uncooked Arborio rice. Allow the rice to toast slightly for about 1 minute, then pour in 1/2 cup of dry white wine (you could also just use vegetable stock). Leave to simmer for about 3 minutes and begin to pour in 4 cups of vegetable stock. We recommend adding 3/4 cup at a time and give it a good stir before adding the next bit of stock. Continue cooking until the butternut squash is tender and the risotto is soft and creamy. Season to taste and garnish with parsley or sage leaves. You can also top with some grated cheese if you fancy it!
(Recipe via Love & Lemons)
Autumn Desserts
Our top Autumn dishes wouldn't be complete without some cosy Autumn desserts.When it comes to autumn in the UK, we've got a real treat in store with our seasonal fruits. Imagine biting into crisp, sweet apples and juicy pears. Then there are the wild blackberries, just waiting to be picked for pies and jams. For a full list click here.
Apple Crumble
Preheat your oven to 200C/400F/gas 6 and start to peel and core 1.5kg of mixed apples (we recommend using at least 750g of Bramley apples). Next chop your apples into 3cm chunks and place in a saucepan with 100g of sugar and a few gratings of lemon zest. Pop the lid on and cook for 5 minutes, or until the apples have softened. Put aside to cool and begin to make your topping. Cube 50g of cold butter and place in a mixing bowl along with 100g plain flour. Use your fingertips to rub the butter and flour together, until the mixture resembles breadcrumbs. Then mix in 50g sugar to add a little bit more texture. Transfer your apples to a 25cm x 30cm baking dish and sprinkle with the crumble topping. Bake for 25-30 minutes, or until your apple crumble is golden and bubbling. Serve with ice cream or give making your own custard a go! We have a recipe for a white chocolate custard right here.
(Recipe via Jamie Oliver)
Top tip: Don't have any apples? Why not try one of these crumble variations?
Blackberry Jam
Autumn is a great time to make some delicious jam with leftover fruits. You may start to notice blackberries appearing all over your neighbourhood and what better thing to do with them than make a blackberry jam. 
Place a small plate in the freezer to use to test the consistency of your jam later on. Wash and dry 500g of blackberries and place into a saucepan along with 375g of sugar and 2 tbsp of lemon juice. Turn the heat down to low and stir until the sugar dissolves (this can take roughly 5-8 minutes). Once the sugar has dissolved, increase the heat until the mixture is up to a rolling boil. Boil for 10-12 minutes. Turn off the heat and spoon a little bit of your jam onto the plate that has been in the freezer. Let it stand for 30 seconds, and then run your finger through it. If the jam wrinkles slightly then it is ready. If it's still too liquidy then allow the jam to reboil for a further 1-2 minutes and test again. Once the jam has reached the right consistency, allow it to cool for 5 minutes. Carefully ladle your jam into freshly washed jars and pop the lid on straight away.
(Recipe via It's Not Complicated Recipes)
Hungry For More Autumnal Recipes?
Take a leaf out of our book!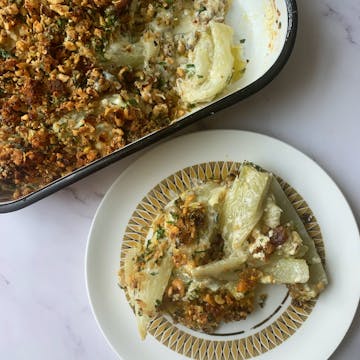 30 Minute Meals: Fennel, Ricotta & Parmesan Gratin w/ Hazelnut Breadcrumbs
With Autumn just beginning, there's no better time to get cozy indoors and enjoy a big heart bowl of cheesy, oozy risotto, starring one of our favourite vegetables this week: Fennel! And here to take you through this quick & easy recipe is our guest ODDBOX chef Georgia (@georgia_levy_):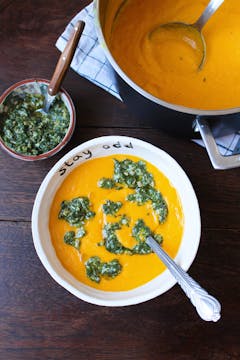 Carrot Soup with Herb Pesto
A perfect autumnal carrot soup made with carrot, onion, fresh thyme, and creamy coconut milk. This soup is warming and delicious, and it's served with a quick herb pesto with healthy seeds.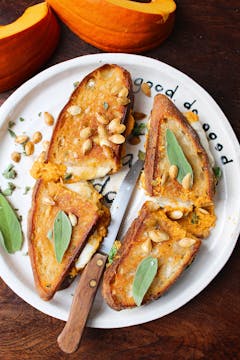 Pumpkin Hummus Grilled Cheese
Turn your pumpkin into a creamy hummus and make a grilled cheese sandwich packed with autumnal flavours. The pumpkin hummus can be made in advance and the grilled cheese cooked in minutes when you're hungry and ready to eat.