Apricot Almond Crumble
Try this baked apricot crumble with almond topping. Perfect served on its own, with yoghurt or ice cream. 
Prep time: 15 minutes
Cook time: 35 minutes
Total time: 50 minutes
Servings: 2
Ingredients:
6 Apricots (6-8 depending on their size)
Lemon juice (Juice of ¼ lemon)
1 tsp Vanilla paste
200 g Plain flour
80 g Ground almonds
180 g Butter (or vegan butter)
100 g Coconut sugar
60 g Flaked almonds
Sea salt  (pinch )
Recipe:
Prepare the apricots: Preheat the oven to 180C/160 fan/4 gas mark. Halve and stone the apricots. Cut each apricot in 8 slices and place them in a mixing bowl with the lemon Juice, and vanilla. Toss together until evenly coated and arrange in a baking dish. 
Make the crumble topping: Cube the butter and place in another mixing bowl with the flour, coconut sugar, ground almond and sea salt. Rub together with your fingertips until it resembles big breadcrumbs. Add the flaked almonds to the mixture and cover the apricots with the crumble.
Cook the crumble: Bake for 35-40 minutes, or until the topping is golden brown and the filling under is bubbling. Leave to cool down for about 15 minutes, and serve.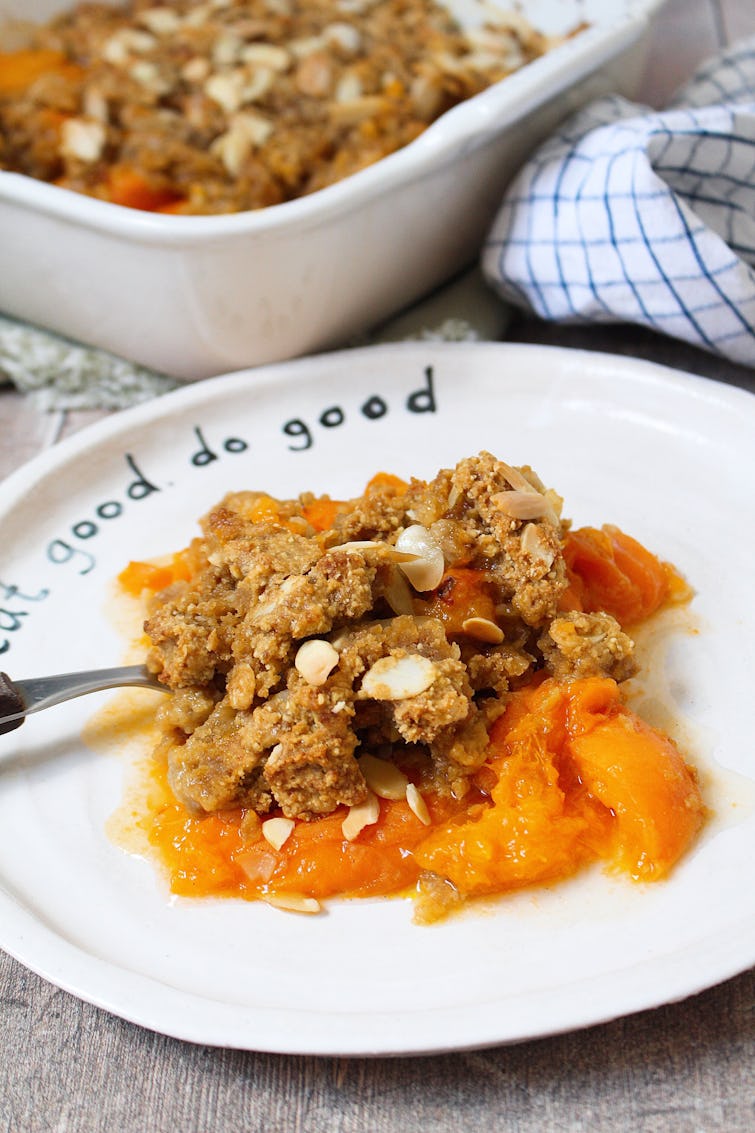 ---
How to store
Store in the fridge for up to 3 days. 
Leftovers
Make crumble fool: layer the leftover crumble and whipped cream in glasses.