Carrot Soup with Herb Pesto
A perfect autumnal carrot soup made with carrot, onion, fresh thyme, and creamy coconut milk. This soup is warming and delicious, and it's served with a quick herb pesto with healthy seeds. 
Substitute:
No carrots? Use sweet potatoes, butternut squash, pumpkin or parsnips instead. 
No thyme? Try with oregano or rosemary instead. 
No basil? Use lettuce, mixed salad leaves, kale or cavolo nero instead. 
Prep time: 10 minutes
Cook time: 20 minutes
Total time: 30 minutes
Servings: 2
Ingredients:
For the soup
6 Carrots
1 Onion
2 sprig Thyme
½ tsp Turmeric 
1 Coconut milk (Can)
1 Vegetable stock (Cube)
For the pesto
1 tbsp Sunflower Seed
1 tbsp Pine nuts
1 a bunch of Basil leaves
½ Lemon (Juice of)
Olive oil
Salt & pepper
Recipe:
Slice the carrots with their skin on. Slice the onion and chop the thyme. Heat 2 tbsp of olive oil in a large saucepan over medium heat. Add the onion and cook until soft, about 5 minutes. Add the thyme and cook for another 30 seconds. Add the carrots, turmeric, and a pinch each of salt and pepper. Add the stock and the coconut milk. Bring the soup to a boil over medium-high heat and then reduce the heat and simmer for 15 minutes, until the carrots are fork-tender.
Make the pesto: In a food processor, pulse together the sunflower seeds, pine nuts, basil, and lemon juice until finely chopped. Add 2 tbsp of olive oil and pulse to combine. Season to taste with salt and pepper. 
Using an immersion hand blender, blend the soup directly in the saucepan until smooth. Season to taste. To serve, ladle the soup into bowls and top each bowl of soup with pesto.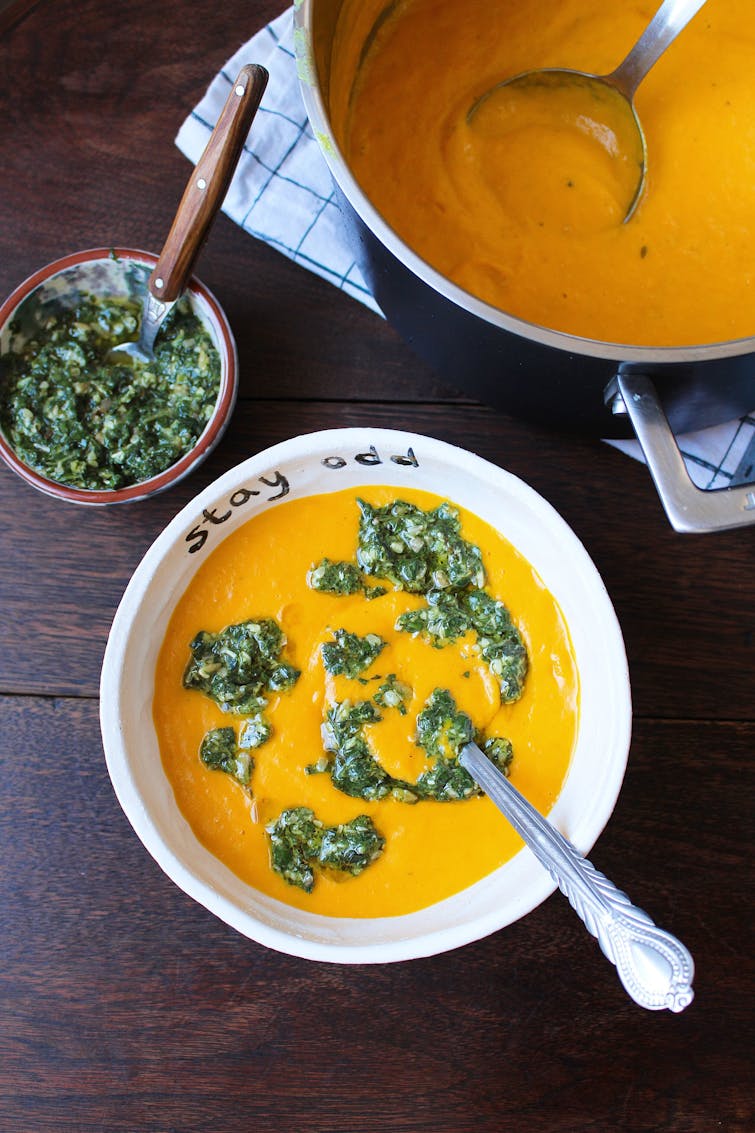 ---
How to store
Store in the fridge for up to 5 days. Store in the freezer for up to 3 months. 
Leftovers
Serve the leftovers with rosemary sourdough croutons. Cut sourdough into chunky croutons, season with chopped rosemary, salt and pepper. Bake until golden and crisp.