Pumpkin Hummus Grilled Cheese
Turn your pumpkin into a creamy hummus and make a grilled cheese sandwich packed with autumnal flavours! The pumpkin hummus can be made in advance and the grilled cheese cooked in minutes when ready to eat. 
Prep time: 15 minutes
Cook time: 45 minutes
Total time: 60 minutes
Servings: 2
Ingredients:
For the hummus:
300 g Pumpkins
½ can chickpeas (200 g )
1 tbsp Tahini
2 Garlic cloves
a pinch of Ground cinnamon
a pinch of Ground cumin
1 tbsp Olive oil
1 tbsp Water
1 tbsp Lemon juice
Salt & pepper
For the grilled cheese:
4 slice Sourdough bread
125 g Mozzarella (slices) / Vegan cheese
1 tbsp Sage leaves (chopped )
20 g Rockets
4 tbsp Unsalted butter / Vegan butter
For the pumpkin seeds:
1 tsp Vegetable oil
a pinch of Sea salt 
Recipe:
Make the pumpkin puree: Preheat the oven to 180 C/160 fan/ 4 gas mark. Cut the pumpkin in half. Use a spoon and scoop all of the pumpkin strings and seeds out. Set the seeds aside for the roasted pumpkin seeds. Cut 300 g pumpkin into pieces, and place in a large shallow baking dish. Fill up the baking dish with about 1 cm of water. Put the pumpkins into your preheated oven and cook for 45 minutes, or until the pumpkin flesh is tender, and the pumpkin skin soft and lightly charred. Place the pumpkin into a food processor. Blend until you have a smooth pumpkin puree.
Make the roasted pumpkin seeds: Place the reserved pumpkin seeds in a small saucepan, cover with a little water and bring to the boil. Simmer for 5 minutes, then drain well. Place the seeds in a baking tray, drizzle with the vegetable oil, season with salt and roast at 180 C/160 fan/ 4 gas mark, for 5-8 minutes, until crispy.
Make the hummus: Add the pumpkin puree, chickpeas, tahini, garlic, cinnamon, cumin, olive oil, water, lemon juice to a food processor, and puree until the hummus is smooth. Season to taste with salt and pepper. 
Make the grilled cheese: Heat up a large frying pan over medium-high heat and add 2 tbsp of butter to melt. Grill the bread slices, in the melted butter for a few minutes on each side, until lightly crispy and golden. Turn down the heat, and remove the slices of bread from the pan. On the inside of half of the slices of bread (so 2 slices), evenly layer the mozzarella slices, pumpkin hummus, chopped sage, and rocket. Add the top pieces of bread. Melt 2 tbsp of butter over medium heat, and place the sandwiches back in the pan, cover with a lid (or use a large baking tray) and cook until the cheese has melted and the bread is golden on each side, about 3-4 minutes. Cut in half and serve!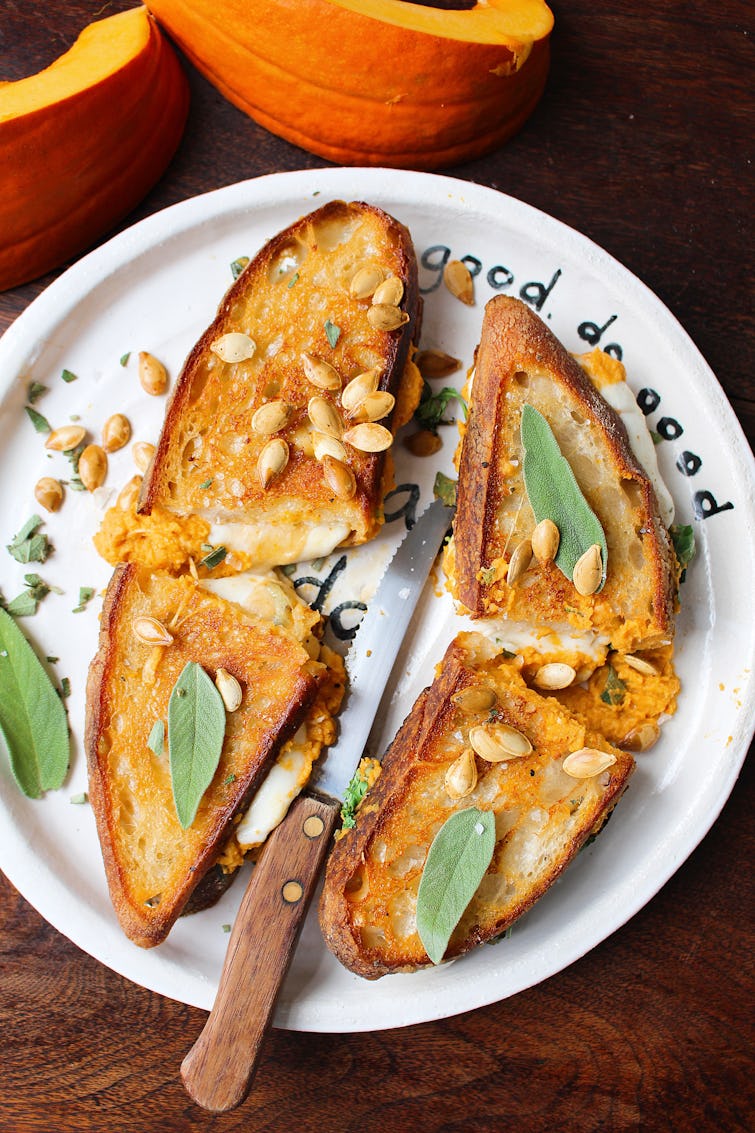 ---