Spiced Plum Crumble
A warming and delicious plum crumble with autumnal flavours of mixed spice, cinnamon and ginger, and a double measure of buttery crumble on top. This easy plum crisp is the perfect way to use both ripe and unripe plums, it's bursting with autumnal flavours and can be eaten warm out of the oven or at room temperature.
Substitute:
No plums? Use apples, pears, blueberries, blackberries or apricots instead. 
No light muscovado sugar? Try with coconut sugar or light brown sugar instead. 
Vegan? Use baking vegan butter instead. This recipe was made with vegan butter, and it works perfectly.
Prep time: 15 minutes
Cook time: 50 minutes
Total time: 65 minutes
Servings: 6
Ingredients:
750 g Plums
1 tsp Vanilla paste
1 tsp mixed spice
1 tsp Ground cinnamon
1 tsp Ground ginger
200 g Plain flour
80 g Ground almonds
120 g Light muscovado sugar
220 g Cold butter / Vegan butter
a pinch of Sea salt 
Recipe:
Preheat the oven to 180C/160 fan/4 gas mark. Halve the plums and remove their stones. The stones can be put in your compost. Cut the plum halves in half. Toss the fruit, vanilla and 1 tbsp water together, and place in a baking or pie dish.
In a large mixing bowl, mix all of the dry ingredients together: flour, ground almond, sugar and spices. 
Cube the butter/vegan butter and add to the flour mixture. Rub together with your fingertips until it resembles breadcrumbs.
It is ok to have crumbs of different sizes; it will give a lovely texture to your crumble. 
Scatter the crumble over the fruit.
Bake for about 45-50 minutes, until deep golden brown and the fruit is bubbling through the crust. 
Serve warm out of the oven, or at room temperature.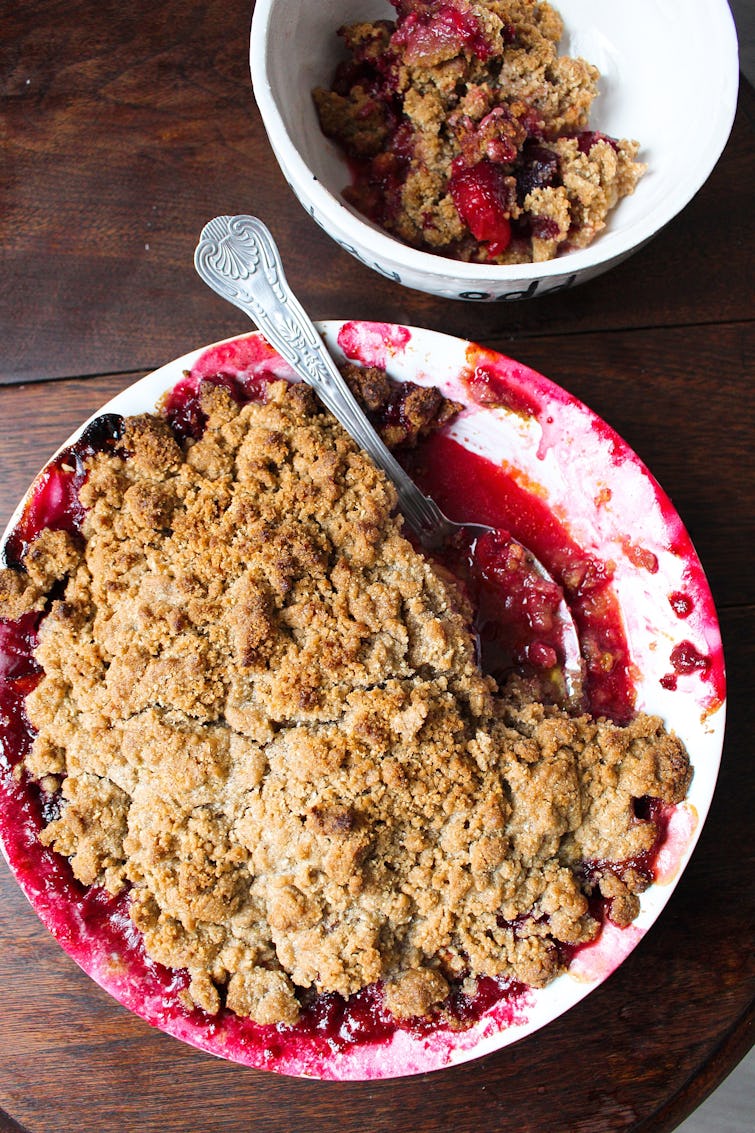 ---
How to store
Store in an airtight container, in the fridge for up to 3 days. Reheat in the oven for 10 minutes, or until warm to your liking. 
Leftovers
Serve leftover crumble with ice cream, or a dollop of creme fraiche/vegan creme fraiche.