4 Pumpkin Recipes To Try This Halloween
We've put together a collection of our favourite pumpkin recipes to try this year, to get you wasting less and helping the planet this Halloween.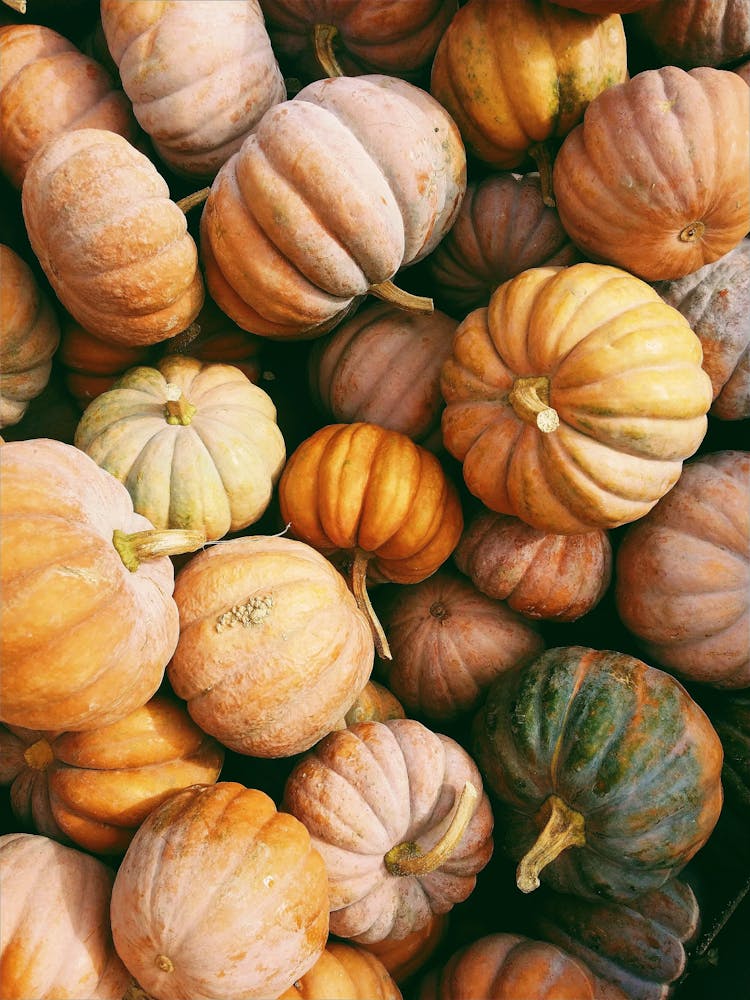 Autumn has officially started and that means…pumpkin season. Whether you're sourcing a pumpkin for eating or carving, we want to help you to not waste a single seed. Did you know, roughly 18,000 tonnes of pumpkin gets thrown away every year after they've been carved? These recipes can help you use up your entire pumpkin this year, after all, reducing food waste is the real treat at Halloween. 
You can also use these recipes for any other winter squashes or larger root vegetables that you may receive in your Oddbox. For example, butternut squash, turnips or even swedes. If you don't already have an Oddbox subscription, check if we deliver to your area today!
Pumpkin Soup
2 tbsp olive oil 
2 onions (finely chopped)
1kg pumpkin (peeled, deseeded and chopped into chunks)
700ml vegetable stock 
150ml double cream (or dairy free alternative)
Heat the oil in a large saucepan and fry off the onions until they are soft, but not coloured. Now add in the pumpkin and allow to cook for 8-10 minutes, stirring occasionally. Once the pumpkin has turned golden, pour in the stock and season with salt and pepper. Bring to the boil and leave to simmer for 10 minutes, or until the pumpkin is very soft. Now pour in your cream of choice, bring back to the boil and purée the soup using a stick blender. Alternatively you can pour the soup into a blender and purée until smooth.
Top tip: Add some homemade croutons on top to make your soup even better.
(Recipe via BBC Good Food)
Pumpkin Pie
Chilled pie dough (or you can make your own using this recipe)
3 large eggs 
100g granulated sugar
65g light brown sugar 
440g pumpkin purée (see how to make here)
175ml double cream (or dairy free alternative, e.g Elmlea)
1 tsp vanilla extract
1 1/2 tsp ground cinnamon
1/2 tsp ground ginger
1/4 tsp ground cloves
1/2 tsp salt
Start by rolling out the dough so that it is 2 inches larger than the 9 inch pie tin. Gently press the dough into the tin, being careful not to tear it. Trim the edges and then place in the fridge until ready to bake. Next begin making your filling, whisk the eggs and both of the sugars together. Then add the pumpkin purée, cream, vanilla spices and salt. Mix together until well combined. Preheat the oven to 220C/200 fan/gas mark 7. Pour the filling into the pie tin and bake for 15 minutes. Then reduce the temperature of the oven to 190C/170 fan/gas mark 5 and bake for a further 35-40 minutes. Once set in the middle, leave to cool for 2 hours and then serve.
(Recipe via Inspired Taste)
Pumpkin Spice Latte
For the pumpkin latte:
100g pumpkin 
1/2 tsp ground cinnamon
A pinch of ground ginger
A pinch of ground nutmeg 
100ml Espresso 
300ml milk of choice
For the maple cream:
300ml whipping cream (or vegan alternative)
2 tbsp maple syrup
For the pumpkin seeds:
1/2 tsp ground cinnamon 
1 tsp vegetable oil
Preheat the oven to 180 C/160 fan/gas mark 4. Cut the pumpkin in half, then use a spoon to scoop out the pumpkin strings and seeds. Set the seeds aside to roast later. Cut the pumpkin halves into pieces and place in a large, shallow baking dish. Add about 1 cm of water. Cook in the oven for 45 minutes, or until the pumpkin flesh is tender, and the pumpkin skin is soft and lightly charred. Once cooked, use a food processor or blender to blitz the pumpkin to a smooth puree. Now separate the seeds and pumpkin strings, and boil the seeds in water for roughly 5 minutes. Place the seeds and strings on a baking tray, drizzle with oil and sprinkle with cinnamon. Roast for 5-8 minutes or until crispy. Whisk the cream until soft peaks form and then add the maple syrup and whip a bit more. In a saucepan, bring pumpkin purée, spices, espresso and milk to a boil. Pour into your favourite mugs and top with the whipped cream and crispy seeds and strings, and enjoy!
(Recipe via Oddbox)
Roasted Pumpkin Seeds
The seeds from 1 pumpkin
3 tbsp olive oil
Pinch of salt
Roasting pumpkin seeds is easy, and you can add whatever flavours you fancy using your favourite spices. To start, wash your pumpkin seeds and spread them evenly over a baking tray. Top with 3 tbsp of oil and whichever seasonings you're craving. Roast at 180C/160 fan/gas mark 4 for roughly 10 minutes, or until the seeds are golden brown.
Top tip: Use your roasted pumpkin seeds to top your favourite salads, here's a great one to try: Winter Beetroot & Pumpkin Salad.
Looking For More Pumpkin Recipes?
We've got a whole patch of them!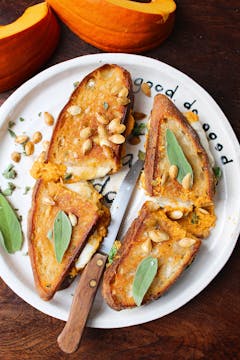 Pumpkin Hummus Grilled Cheese
Turn your pumpkin into a creamy hummus and make a grilled cheese sandwich packed with autumnal flavours. The pumpkin hummus can be made in advance and the grilled cheese cooked in minutes when you're hungry and ready to eat.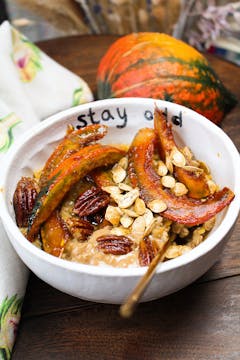 Spiced pumpkin porridge with cinnamon pumpkin seeds
This pumpkin-based breakfast recipe showcases a creamy grated pumpkin porridge topped with caramelised pumpkin wedges, and crispy cinnamon pumpkin seeds.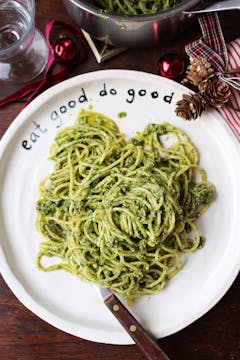 Rocket, Pumpkin Seeds and Truffle Oil Pesto Pasta
A festive pesto made from fresh rocket, warm golden garlic, truffle oil, and roasted pumpkin seeds. Toss your favourite pasta in this decadent pesto – you're in for a treat!