Rocket, Pumpkin Seeds and Truffle Oil Pesto Pasta
A festive pesto made from fresh rocket, warm golden garlic, truffle oil, and roasted pumpkin seeds. Toss your favourite pasta in this decadent pesto - you are in for a treat!
Substitute:
No rocket? Use spinach instead. 
No spaghetti? Use the pasta of your choice. 
No pumpkin seeds? Try with sunflower seeds instead. 
Prep time: 10 minutes
Cook time: 20 minutes
Total time: 30 minutes
Servings: 2
Ingredients:
50 g Rockets
200 g Spaghetti 
80 g extra virgin olive oil
80 g Pumpkin seeds
3 Garlic cloves
40 g Truffle oil
1 Lemon (juiced)
Salt & pepper
Recipe:
Preheat the oven to 180 C/160 fan/4 gas mark. Place the pumpkin seeds on a baking tray and toast for 7-8 minutes. 
Place the olive oil and garlic in a small pan, heat until the garlic just starts to colour.
Remove from the heat immediately, and add the toasted pumpkin seeds and set aside to cool.
While you are waiting for the oil to cool down, cook the pasta in boiling salted water until al dente. Drain and set aside.  Place the pumpkin seed mixture in a food processor along with the rocket, truffle oil and lemon juice. Blend to a smooth pesto and season to taste with salt and pepper.
Pour the rocket pesto over the cooked pasta and toss well to coat. Check seasonings, adding more lemon juice, salt and pepper to taste.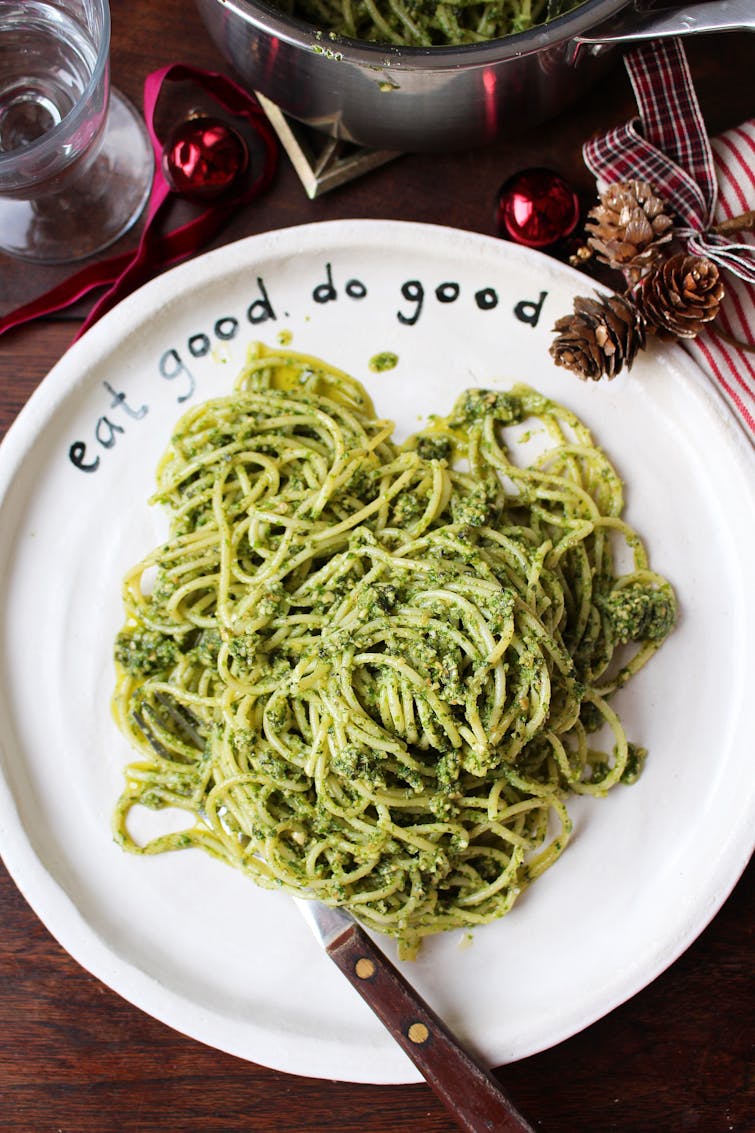 ---
How to store
Store the pesto in an airtight container, in the fridge for up to 6 days, or in the freezer for up to 1 month. 
Leftovers
The rocket pesto can be used over roasted veggies or as a salad dressing.