Creamy Vegan Tomato Soup w/ Crunchy Leftover Croutons
A great alternative to using up those tomatoes, this comforting, creamy and delicious tomato soup with garlicky leftover croutons makes for a wonderful lunch – and in only 30 mins! The coconut adds a wonderful richness to it - and if you're not a coconut fan, you won't even know! 
Pretty much any veggies can be made into soup this way; from squash, to carrot, red pepper, potato to leek. Remember if you are using veggies that contain more water such as courgette or leek, you'll need to bulk it out with a more starchy one such as potato. 
This recipe is great for freezing too - simply leave to cool and pop in containers or freezer bags. Simply reheat in a pan. The croutons keep in an airtight box for a couple of days too.
- courtesy of guest chef Storm @whatstormeats
Prep time: 5 minutes
Cook time: 25 minutes
Total time: 30 minutes
Servings: 4
Ingredients:
Soup:
700 g Tomatoes
2 Shallots (large)
4 Garlic cloves
1 tbsp Paprika
250 ml Vegetable stock
Olive oil
150 ml Coconut milk
Seasoning
Croutons:
1 Garlic clove
Olive oil
Leftover bread
Recipe:
Preheat your oven to 180.
Prepare your tomatoes and shallots by chopping them all to an equal size. Lay them out on an oven tray and add the whole garlic cloves. Drizzle generously with olive oil and season with the paprika, salt and pepper. Toss to ensure that the veggies are all coated. Roast in the oven for 20 mins.
Whilst the veggies are cooking, add a generous drizzle of olive oil to pan with the crushed garlic clove and the chopped up leftover bread. Fry off on a high heat, until they absorb the olive oil. Set aside when golden brown.
Prepare about 250 mls of vegetable stock with hot water. 
Remove your veggies out of the oven and leave to cool for 2 mins or so. Transfer them to a blender; add the stock and coconut milk. Blend for at least a minute for super creamy results.
Serve immediately whilst hot, topping with the crunchy croutons, pinch of chilli flakes and a drizzle of olive oil.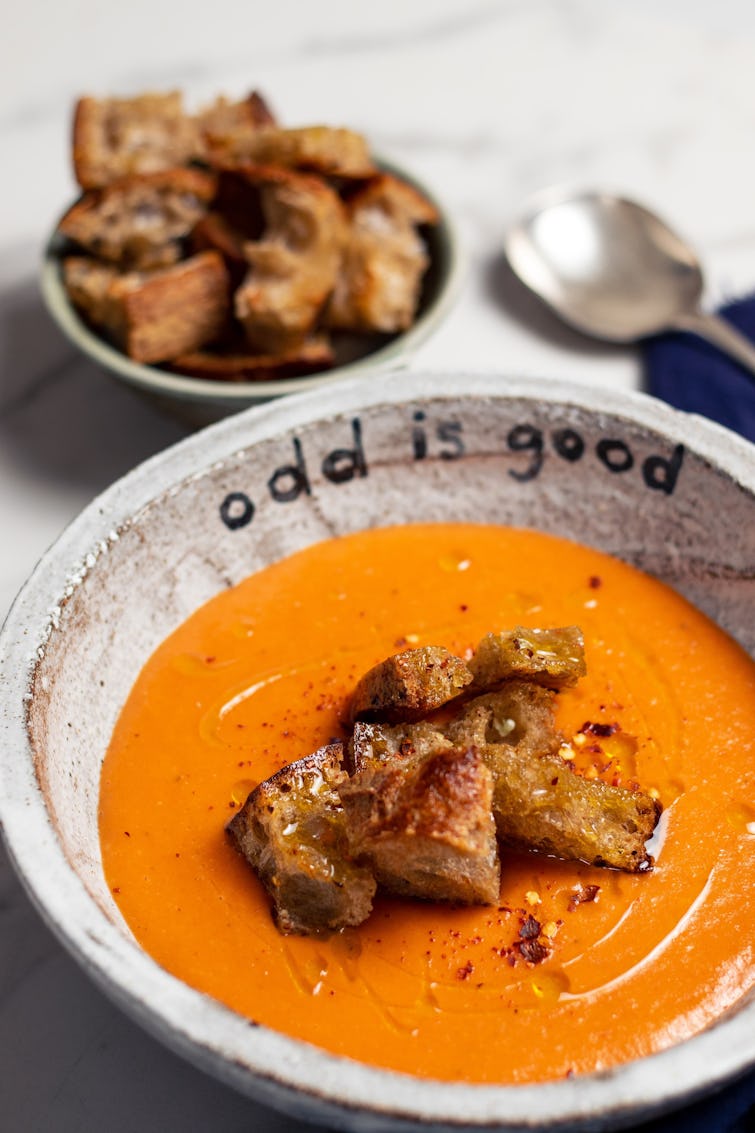 ---