Spiced pumpkin porridge with cinnamon pumpkin seeds
Try this pumpkin based breakfast recipe showcasing a creamy grated pumpkin porridge topped with caramelised skin-on pumpkin wedges, and crispy cinnamon pumpkin seeds. 
Prep time: 5 minutes
Cook time: 15 minutes
Total time: 20 minutes
Servings: 2
Ingredients:
300 g Pumpkins
For the porridge:
100 g Rolled oats
1 tsp mixed spice
1 tsp Vanilla extract
300 ml Milk of choice
For the caramelised pumpkins:
1 tbsp Light muscovado sugar
½ tsp All spice
1 tbsp Unsalted butter / Vegan butter
For the pumpkin seeds:
1 tsp Ground cinnamon
1 tsp Vegetable oil
For the toppings:
2 tbsp Peanut butter (or any nut butter)
20 g Pecan nuts
2 tbsp Maple syrup
Recipe:
Make the caramelised pumpkin wedges: Cut 200 g of the pumpkin into 1 cm thick wedges with the skin on. Add the light brown sugar and allspice. Toss to coat. Melt the butter in a frying pan, add the sugar-spiced pumpkin wedges, and cook for about 5 minutes on each side, or until soft and slightly caramelised.
Make the pumpkin porridge: Grate the 100 g pumpkin left, and add to a saucepan with the rolled oats, mixed spice, vanilla and milk. Cook over a gentle heat, until warm and creamy.
Make the roasted pumpkin seeds: Preheat the oven to 180 C/ 160 fan/ 4 gas mark. Separate the pumpkin strings and seeds by using your fingers to push the seeds out - do not discard the strings. Place the seeds in a small saucepan, cover with a little water and bring to the boil. Simmer for 5 minutes, then drain well. Place the seeds in a baking tray, along with the pumpkin strings. Drizzle with the vegetable oil, season with cinnamon and roast for 5-8 minutes, until crispy.
Serve: Top the creamy porridge with the caramelised pumpkin wedges, cinnamon pumpkin strings and seeds, a dollop of nut butter and a few pecans. Drizzle with maple syrup and serve.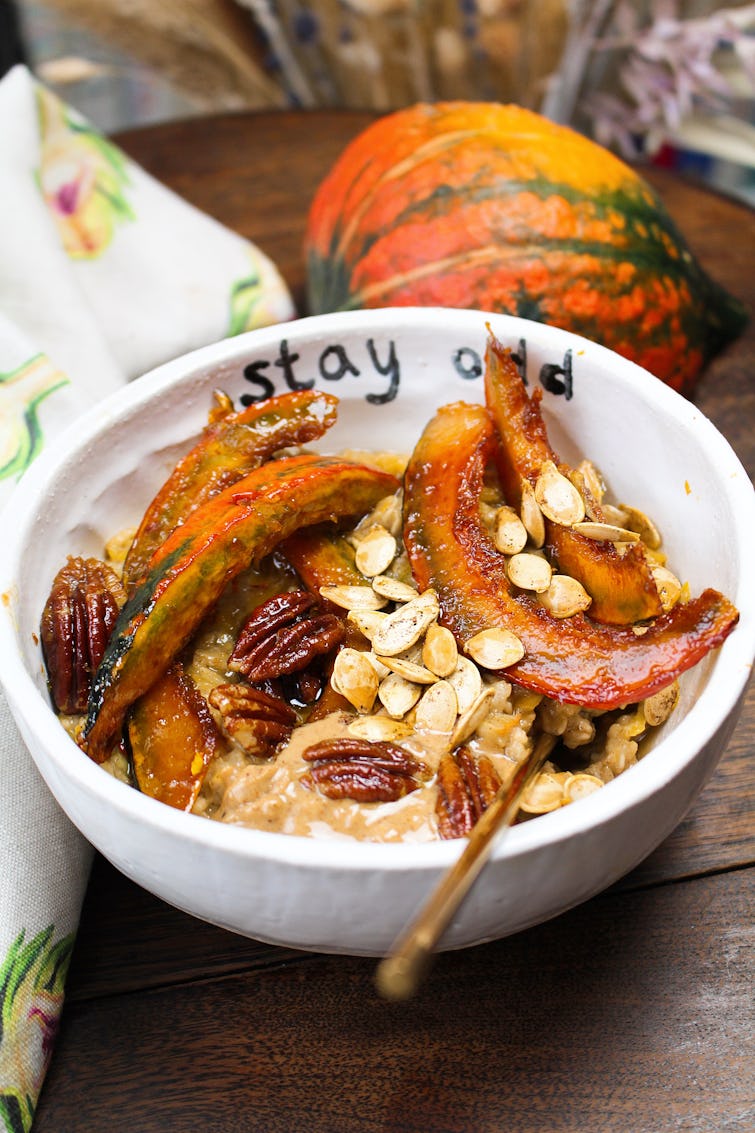 ---