11 common questions about fruit and veg, answered!
Do potatoes freeze well? How do you store salad to last longer? Can you eat banana skins? Here are some of your commonly asked questions, answered.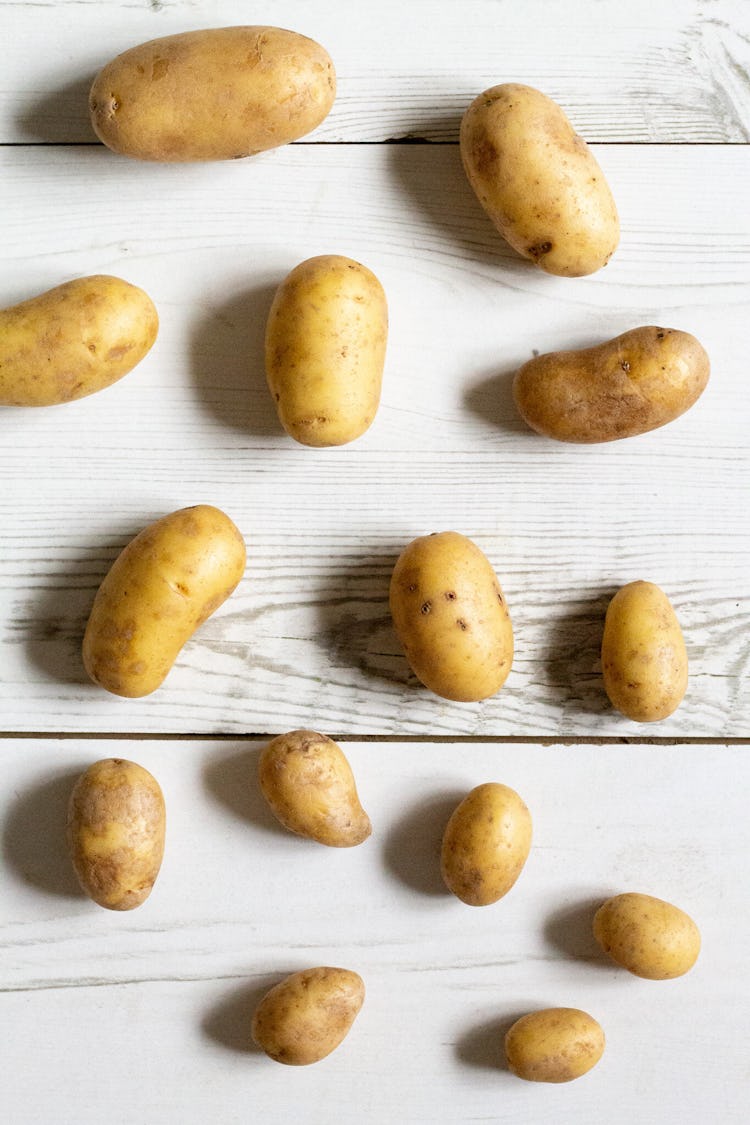 CAN I STILL EAT POTATOES ONCE THEY'VE SPROUTED? 
If your potatoes are still firm, not too wrinkly, green or mouldy, and the sprouts are small, you can simply cut out the sprouts, and cook them as usual. Avoid shrivelled and very wrinkly potatoes with large sprouts. To make sure they don't get to that stage too quickly, store your spuds in a cool, dark place and remove any plastic packaging.
HOW DO I PICKLE VEGETABLES AT HOME?
You can pickle almost any vegetable and it's really simple to do. Try it with cauliflower, beetroots, cabbage, fennel or green beans or experiment with the fibrous parts of the vegetable you'd normally throw away. Ensure you have clean, sterilised jars, chop your vegetables, add them to the jar, then cover with a brine. Make a brine with a ratio of 1 litre of water to 20g of salt, heating until the salt dissolves. You can also use vinegar, like in this recipe for Vietnamese-style pickle.
WHICH POTATOES ARE BEST FOR ROASTING, CHIPS OR MASH?
There are many different types of potatoes, some are floury, others waxy and dense. Fluffy potatoes, like Maris Piper or King Edwards are great for roasting and for fries as you'll get a wonderfully crisp outer layer and hot, fluffy insides. For delicious creamy mash, red-skinned Desiree or Mozart varieties are the ticket. 
CAN YOU EAT BANANA SKINS?
While banana skins are not so tasty straight-up, you can actually bake them into cakes or you can do as Tom Hunt does and preserve them into a chutney. Just ensure you give them a good wash first. Here are more of our zero-waste ideas for using up fruit and veg scraps.
WHAT VEGETABLES CAN I FREEZE?
You can freeze pretty much all of your common vegetables, from onions to root veg to kale and chard, especially if you're planning to cook them afterwards. The majority of veg will need to be blanched before freezing. Salad veggies like lettuce or cucumber will not freeze so well, especially if you're looking to eat them raw once defrosted. Read our freezer guide for fruit and vegetables here.
ARE SOME FRUIT AND VEGETABLES POISONOUS?
There are a few. While the fruit of the rhubarb plant is perfectly edible, rhubarb leaves are toxic because they contain high levels of oxalic acid, which can lead to vomiting and diarrhea. Potatoes that have turned green are also said to be toxic, but you'd need to eat a whole lot of them for them to have any harmful side effects. Another unlikely candidate is the lychee; when unripe, toxins in the fruit can lower your blood sugar and even lead to fatalities. By and large though, our common fruit and veggies are perfectly edible. 
MY SALAD LEAVES ARE ALWAYS GOING OFF! HOW DO I STORE THEM SO THEY LAST LONGER?
First of all, remove your leaves from any plastic packaging, then store in a container lined with kitchen roll – this will help to remove any excess moisture and helps them stay fresher for longer.
CAN YOU COMPOST CITRUS PEEL?
Yes you can. There is a myth that citrus, like orange, lemon or lime rinds are bad for your garden compost as they take a long time to break down. All you need to do, however, is chop them into smaller chunks and they'll compost well. 
CAN YOU EAT RADISH LEAVES?
Yes you can! If you're lucky enough to get your veggies with their leaves still attached, from beetroots to carrots, don't throw them in the compost. Radish leaves, just like beet leaves, are lovely in a salad, chopped into curries, cooked into stir-fries or blitzed into pesto.  
HOW DO I COOK RHUBARB?
In season right now, rhubarb's pink spears are abundant. But be careful, the leaves are toxic so be sure not to eat them. We're big fans of roasting rhubarb with a little sugar and orange juice until tartly sweet and tender – it's delicious with yoghurt, with rice pudding or on breakfast muesli. You could also ferment rhubarb into an effervescent, refreshing kvass drink.
SHOULD I PEEL MY VEGETABLES?
It depends what you're cooking. If you're chopping veggies into a stew or soup, for example, there's really no need. In fact, a lot of the vegetable's nutrients, including fibre, are stored in the skin. If you don't need to peel it, don't. Simply give it a good scrub to get rid of any unwanted dirt.