What to do with rhubarb leaves
Received some rhubarb in your box recently? There are countless uses for this classic spring fruit (or veg depending on how you look at it)  - but what about those dark green leaves attached to it?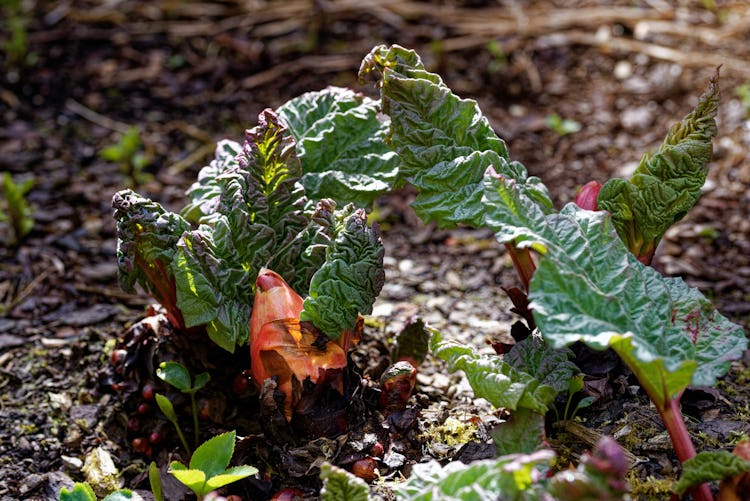 One unbeleafably easy way to reduce your food waste footprint is to eat every inch of the fruit and veg you buy. We're talking stalks, stems, seeds and all. Nevertheless, it's not always possible - or even safe - to consume an entire plant. 
When it comes to rhubarb, you'll need to be a little bit cautious when it comes to those large, dark green leaves. Here we take a look at whether rhubarb leaves are edible and share a few of our fave ways to use them up. 
Are rhubarb leaves poisonous?
Rhubarb leaves contain a couple of different chemicals which are unfortunately toxic to both humans and animals. While you'd have to eat quite a few to become ill, it's still best to steer clear of them. 
Don't go tossing them in the bin just yet, though. These dark, crinkly leaves have several fantastic uses around your home and garden. Don't forget to wash your pots and pans OR hands after touching the leaves.
Can you compost rhubarb leaves?
If you're wondering if rhubarb leaves can be composted, the answer is yes! They're only harmful if you eat them, so popping them in your compost bin is a great way to dispose of them while simultaneously helping the planet. 
Haven't got a compost bin at home? No problem. It couldn't be simpler to make a homemade compost bin, even if you have limited outdoor space. Composting is one of the best ways to dispose of food waste, plus you can use the mulch to nourish other plants around your home. 
Uses for rhubarb leaves
Composting may be a brilliant way to rid yourself of them, but there are also plenty of other uses for rhubarb leaves. Why not:
Make an organic pesticide for plants
Have a few bug-infested plants? Avoid using pesticides that might harm the earth by making your very own spray out of rhubarb leaves. 
The toxic oxalic acid in rhubarb makes it very effective at eradicating bugs. To make a homemade insect spray that's entirely organic and chemical-free, you'll need to:
Roughly chop up 3-4 rhubarb leaves.
Boil 4 cups of water, add the leaves and then simmer for 30 minutes.
Strain the leaves and save the water, setting it aside to cool. 
Stir 1 tsp of washing up liquid into 2 ½ cups of cold water. 
Combine with the infused water and pour the solution into a spray bottle. 
Give your pots and pans a new lease of life
Saucepans seen better days? Luckily, there's a quick fix that doesn't involve spending hours scouring them with wire wool. Thanks (again) to oxalic acid, boiling rhubarb leaves in water for about half an hour should leave your pots looking shiny and stain-free. Make sure you wash your pots and pans after.
Create a natural green dye for fabrics
Nature has long been the secret behind many vibrant fabrics. If you need a bright green dye to colour cloth or yarn, rhubarb leaves are surprisingly effective. 
You'll need to boil the leaves in water to make your dye. The more leaves you use, the darker the shade will be. How long you leave them to boil will also impact the outcome. You can then soak pieces of fabric or balls of wool in the liquid - make sure they're white or cream for the best results. 
There's no need to add a dye fixative (a solution that locks in the colour), either. The oxalic acid in the leaves will act as a natural fixative. 
Unsure how to eat rhubarb? Head to our recipes section to uncover some delicious inspiration for this seasonal fruit. Remember, you can eat green rhubarb, too; simply add a little more sugar to counteract its tart taste.