Sweet and Sticky Pak Choi Stir Fry Rice
The chopped pak choi is tossed in a simple stir fry sauce made from ginger, garlic, soy sauce, sesame oil, rice vinegar, and honey/maple syrup. The sauce is slightly salty, yet tangy, and just a little sweet. The pak choi is caramelised and the rice soaked up in the sauce. 
Substitute:
No pak choi? Use cabbage, peppers, sugar snap peas or leeks instead. 
No rice? Try with noodles instead. 
No eggs? Use crumbled tofu instead. 
Prep time: 10 minutes
Cook time: 15 minutes
Total time: 25 minutes
Servings: 2
Ingredients:
270 g Pak Choi
For the sauce:
1 tbsp Ginger (grated)
2 Garlic cloves (grated)
a pinch of chilli flakes
30 g Soy sauce
30 g Rice vinegar
20 g Honey / Maple syrup
20 g Sesame oil
1 tbsp Olive oil
For serving:
120 g Rice (cooked)
2 Eggs / Tofu
For the toppings (optional):
1 tbsp Sesame seeds
Spring onion (chopped)
Carrot (grated)
Recipe:
Slice the pak choi in half lengthwise, then cut each one in half again to yield quarters.
In a pan, add the olive oil, garlic, ginger and chilli flakes. Cook over medium heat for 4-5 minutes until fragrant.
Add the soy sauce, rice vinegar, honey/maple syrup and sesame oil. Bring to a boil then add the pak choi. 
Cook for 5-6 minutes until tender and well coated with the sauce. 
Add the cooked rice and broken eggs. Mix well to combine and cook for 2-3 minutes over high heat, until the eggs are cooked. 
Serve with sesame seeds, spring onions and grated carrots. 
Enjoy!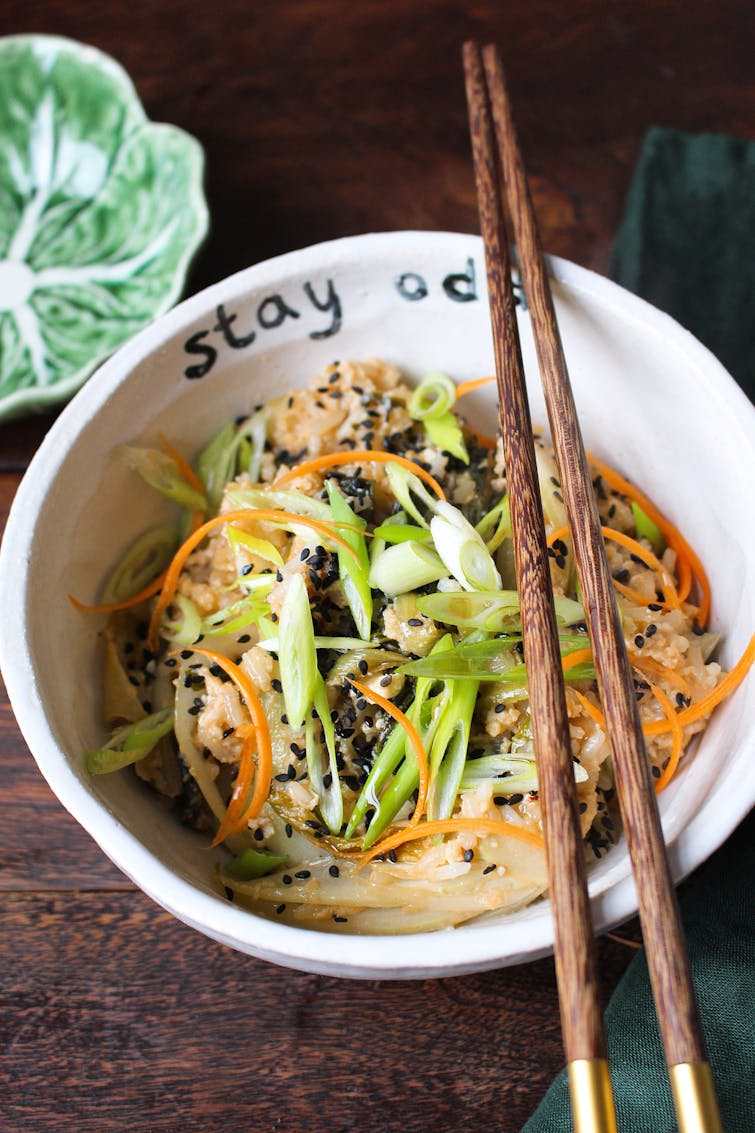 ---
How to store
Store in an airtight container in the fridge for up to 3 days. 
Leftovers
Roast any root vegetables from your box and serve alongside the leftover stir fry rice.