Kinpira Style Stir Fried Peppers
These colourful peppers are sliced and stir fried in a Japanese style glaze. This is a great cooking technique for lots of vegetables such as broccoli, snap peas or even leafy green like kale. Delicious served warm or cold, it is also a great recipe for meal planning.
Substitute:
No peppers? Use broccoli, tenderstem broccoli, carrots, parsnips, mangetout, french beans or leafy greens such as kale or cavolo nero. 
No red chilli? Use chilli flakes instead.
No caster sugar? Use brown sugar, honey or maple syrup instead.
Prep time: 10 minutes
Cook time: 10 minutes
Total time: 20 minutes
Servings: 2
Ingredients:
400 g Bell peppers (approx. 3 peppers)
2 tbsp Vegetable oil
1 Red chilli
2 tbsp Soy sauce
2 tbsp Mirin
1 tbsp Caster sugar
1 tbsp Sesame seeds
1 tbsp Sesame oil
Coriander leaves (for serving )
Recipe:
Cut the peppers into thick strips.
In a large frying pan or wok, add the vegetable oil and heat over medium heat. Add the chilli and cook until fragrant, then add the peppers. Stir-fry for 5 minutes, until just tender, then add the soy sauce, mirin and sugar. Mix well to coat the peppers and cook for 5 minutes, until the liquid has reduced to a thick glaze.
Then add the sesame oil and sesame seeds. Toss well, cook for 2-3 minutes and turn off the heat.
Serve topped with fresh coriander.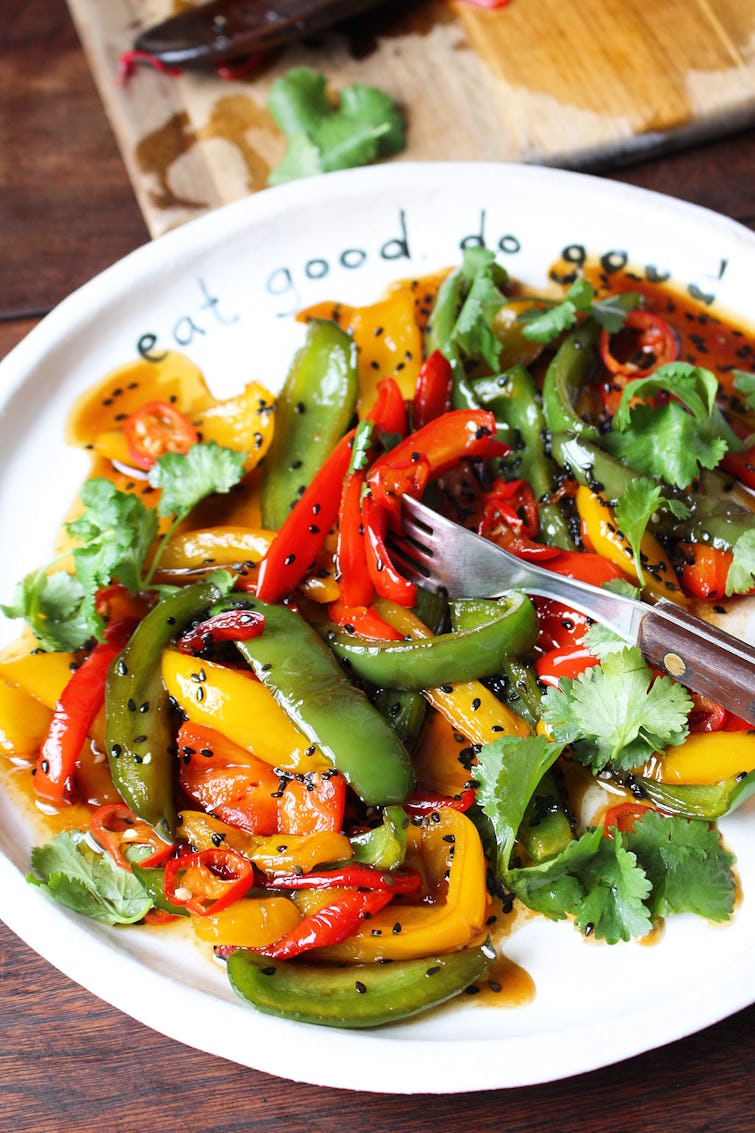 ---
How to store
Store in the fridge for up to 3 days or in the freezer for up to 1 month.
Leftovers
Use your cold leftovers in your favourite spring roll and sushi recipes.