Spring Onion Egg Fried Rice
This vegetarian egg fried rice recipe is simple to prepare, quick and so tasty. Made with a simple ingredient list including rice, spring onions, carrot, frozen peas and eggs tossed in a simple soy and sesame oil sauce. It's kid-friendly, freezer-friendly, and perfect for meal prep/batch cooking.
Substitute:
No spring onion? Use spring green or leek instead. 
No shallot? Try with onion instead.
Prep time: 10 minutes
Cook time: 20 minutes
Total time: 30 minutes
Servings:
Ingredients:
6 Spring onions (chopped )
1 Shallot (chopped )
100 g frozen peas
2 Carrot (cubed )
4 Eggs
2 tbsp Soy sauce
2 tbsp Sesame oil
2 tbsp Ginger paste
4 Garlic cloves (grated )
2 tbsp White sesame seeds
sriracha (for serving )
100 g Basmati rice
Recipe:
Bring a saucepan filled with water to the boil. Cook the rice following the packaging instruction. Drain and set aside. This step can be made up to 3 days in advance.
Heat 1 tablespoon of sesame oil over medium heat in a large wok or pan. Beat the eggs together, season with salt and pepper, then add to the pan. Cook the eggs, scrambling, until cooked through. Transfer the eggs to a clean bowl and set aside.
Add the remaining tablespoon of sesame oil to the wok or pan. Add the shallot, garlic and ginger paste. Cook for 2-3 minutes, until fragrant then add the carrots and cook for 5 minutes, or until cooked to your liking.
Add the frozen peas, soy sauce and rice to the pan and stir until everything is evenly distributed.
Fold in the eggs and season to taste. Sprinkle with sesame seeds, drizzle with sriracha and enjoy!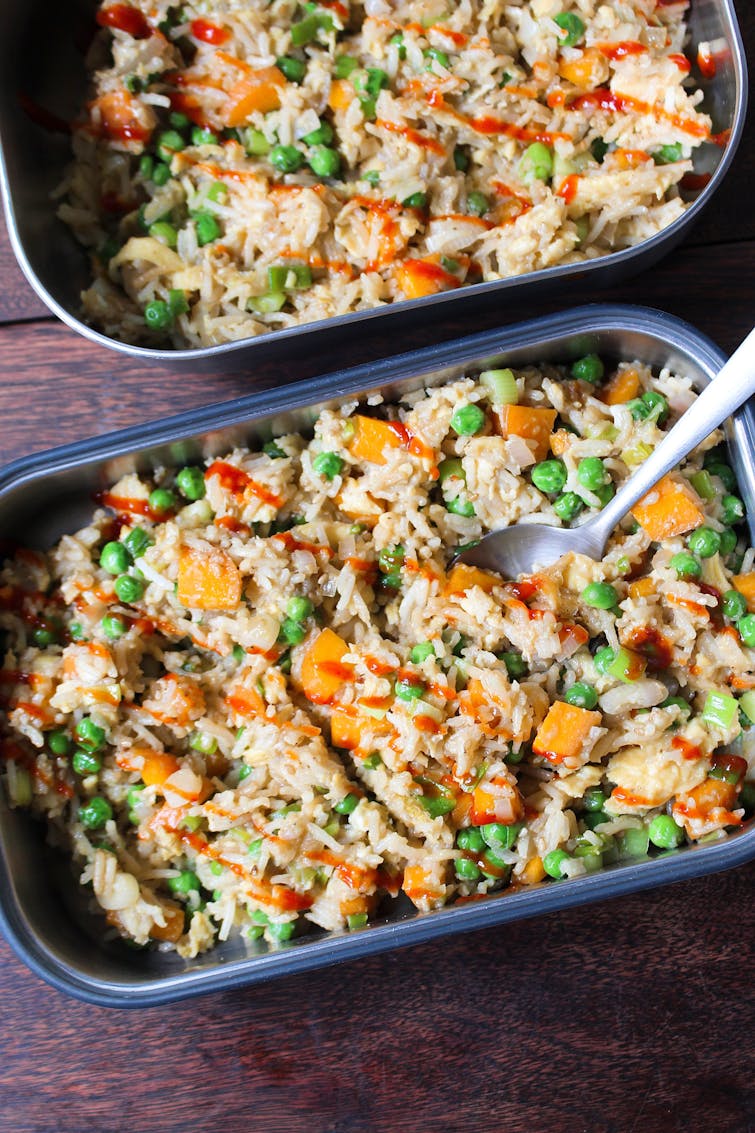 ---
How to store
Store in the fridge for up to 3 days or in the freezer for up to 1 month.