Maple Roasted Carrots, Brussels Sprouts and Dates Salad
A festive salad showcasing lots of colours that will look fabulous on the table. The carrots are roasted with spices and maple syrup along with brussels sprouts and dates. Served with a creamy lemon sauce. 
Substitute:
No carrots? Use parsnips or squash instead. 
No brussels sprouts? Try with chopped cabbage instead. 
No ground cumin? Use ground coriander instead. 
No maple syrup? Try with honey or golden syrup instead. 
No pomegranate? Use cranberries instead. 
Prep time: 10 minutes
Cook time: 40 minutes
Total time: 50 minutes
Servings: 2
Ingredients:
300 g Carrots
150 g Brussels sprouts
80 g Deseeded dates
1 tsp Ground cumin
1 tsp Smoked paprika
1 tbsp Maple syrup
1 tbsp Olive oil
Salt & pepper
For the dressing:
2 tbsp Tahini
120 g Yoghurt / Vegan yoghurt
1 tsp Lemon zest
1 tbsp Lemon juice
Olive oil
Salt & pepper
For the topping:
2 tbsp Pomegranate seed
Recipe:
Preheat the oven to 190 C/170 fan/5 gas mark. Cut the carrots in half lengthwise.
In a mixing bowl, toss together the carrots, ground cumin, smoked paprika, olive oil, maple syrup and a pinch of both salt and pepper. Place in a roasting tray and roast for 25 minutes.
In the meantime, shred the brussels sprouts and roughly chop the dates.
Add the brussels sprouts and dates to the carrots. Drizzle with olive oil, toss well and roast for 12 minutes. 
In a mixing bowl, combine the yoghurt/vegan yoghurt, tahini, lemon zest, lemon juice, 1 tbsp olive oil and a pinch of both salt and pepper. 
Spread the yoghurt mixture onto a serving plate.
Top with the roasted carrots, brussels sprouts, dates, and pomegranate seeds. 
Enjoy!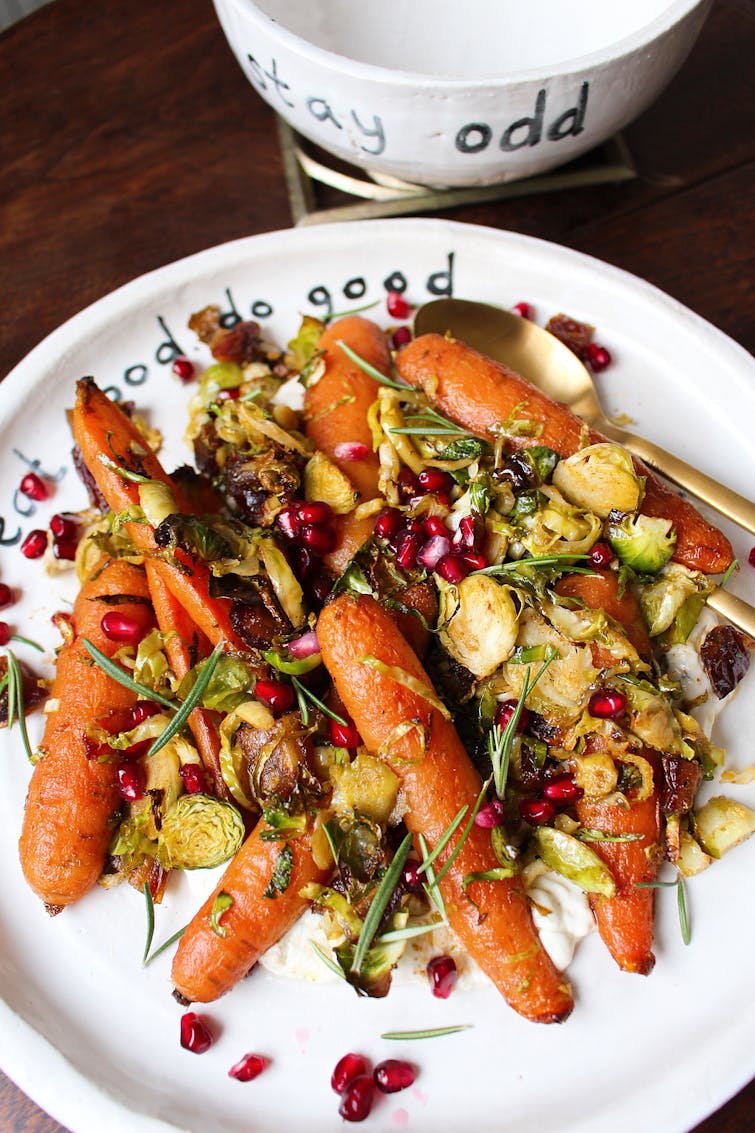 ---
How to store
Store in an airtight container in the fridge for up to 3 days.
Leftovers
Roasted carrots and brussels sprouts risotto or pasta sauce: Blend the roasted carrots with a little stock and pour into your almost cooked risotto (or al dente pasta) for a colourful and creamy result. Add the brussels sprouts and serve!