Brussels Sprouts Spanakopita
A greek-style brussels sprouts and feta filo pie made of perfectly crispy layers of filo pastry sheets and a comforting filling of brussels sprouts and feta cheese. The recipe can be adapted to whatever greens you have on hand such as spinach, kale or cabbage.
Substitutes:
No brussels sprouts? Use spinach, kale, cavolo nero or cabbage instead. 
Vegan? Use vegan feta cheese instead and drizzle with maple syrup or golden syrup instead of honey. 
Prep time: 20 minutes
Cook time: 40 minutes
Total time: 60 minutes
Servings: 4
Ingredients:
500 g Brussels sprouts
150 g Feta / Vegan feta
10 Filo pastry sheets
4 tbsp Olive oil
Salt & pepper
3 tbsp Runny honey (for serving ) / Maple syrup
1 tbsp Sesame seeds (for serving)
Recipe:
Preheat the oven to 200C/180c fan/6 gas mark and roughly slice the brussels sprouts. 
Heat 1 tablespoon of oil into a large frying pan over a medium heat. Add the brussels sprouts and season with salt and pepper. Cook for 5-7 minutes, until just tender. Turn off the heat and set the pan aside for 5 minutes to cool a little then add the crumbled feta. Stir until all is well-combined.
Brush the bottom and sides of a square baking dish with olive oil. Line the baking dish with a first sheet of filo pastry letting them cover the sides of the dish. Brush with olive oil. Add another sheet and again brush with olive oil. Repeat until half of the filo pastry is used up.
Now, evenly spread the brussels sprouts and feta filling over the filo crust. Top with the leftover filo pastry sheets, making sure to brush with olive oil in between each sheet.
Brush the very top layer with olive oil, and sprinkle with just a few drops of water.
Bake for 30-40 minutes, until golden and crisp. Remove from the oven and cut into portions. To serve, drizzle with honey and top with sesame seeds.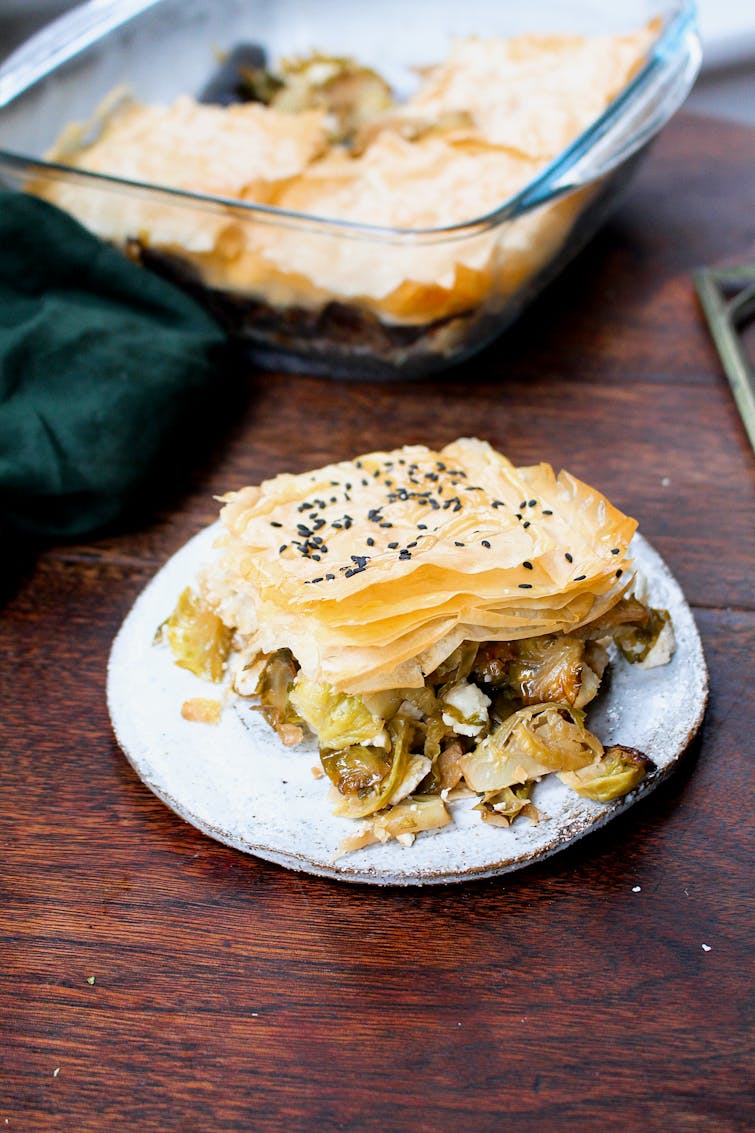 ---
How to store
You can make spanakopita the evening before. Store covered in the fridge and bake the next day. Store any leftover in an airtight container, in the fridge, for up to 3 days.