Panko Crusted Brussels Sprouts with Sweet and Spicy Cranberry Sauce
Whole crispy on the outside and tender cooked on the inside brussels sprouts coated in a sweet and spicy golden syrup sauce. A great way to use whole brussels sprouts, and great on a festive table spread.
Substitute:
No panko breadcrumbs? You can blitz any type of bread in a food processor. Use gluten free bread if preferred. 
No rosemary? Use any other herb such as thyme or oregano. 
No golden syrup? Try with honey or maple syrup instead. 
No BBQ sauce? Use any similar tomato based dip sauce or hot sauce instead.
Prep time: 10 minutes
Cook time: 40 minutes
Total time: 50 minutes
Servings: 2
Ingredients:
400 g Brussels sprouts
50 g Plain flour
2 Eggs / Plant based milk
50 g Panko breadcrumbs
1 tbsp Rosemary (chopped )
1 tsp Paprika
Salt & pepper
1 tbsp Vegetable oil
For the sauce:
2 tbsp Cranberry sauce
1 tbsp Golden syrup
2 tbsp Light soy sauce
1 tbsp bbq sauce
1 tsp Worcestershire sauce
Recipe:
Preheat the oven to 180 C/160 fan/4 gas mark. Line a large baking tray with reusable silicone mat or baking paper.
Prepare 3 bowls. The first one with flour, the second one with beaten eggs (or plant based milk), and the third one with a mixture of panko breadcrumbs, rosemary, paprika, and a pinch of both salt and pepper.
Place the whole brussels sprouts into the flour mixture. Toss well to coat.
Then dip to brussels sprouts into the eggs (or plant based milk) and finally into the breadcrumbs mixture.
Spread the brussels sprouts on the lined baking tray, and drizzle with a little vegetable oil. Bake in the oven for 30 minutes, until golden. 
In the meantime, in a bowl combine the sauce ingredients; cranberry sauce, golden syrup, bbq sauce, worcestershire sauce and light soy sauce. 
Pour the cranberry sauce over the brussels sprouts and gently toss to coat. Return to the oven and bake for 10 minutes.
Serve warm!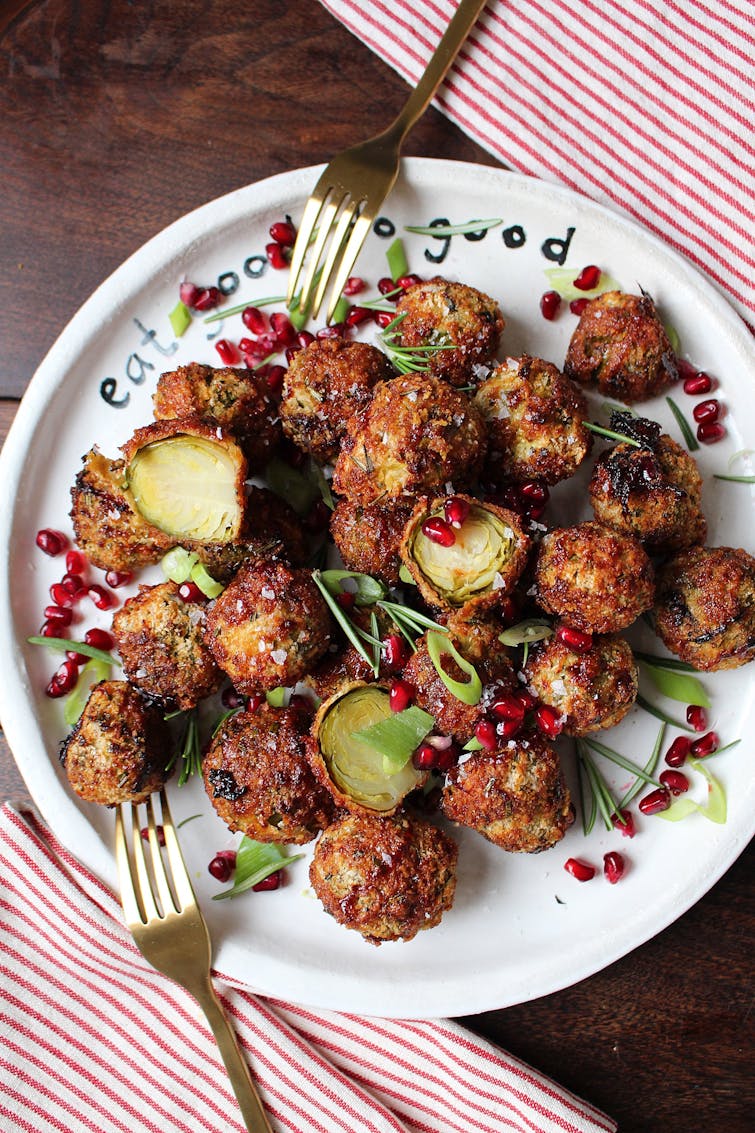 ---
How to store
Store in an airtight container in the fridge for up to 3 days. To reheat, bake in the preheated oven at 18 C/160 fan/4 gas mark, for 6-7 minutes. 
Leftovers
The crispy brussels sprouts would be delicious to top a salad or serve alongside a comforting seasonal soup.