Roasted Pears Stuffed With Cinnamon Oat Crumble
The pears are cut in half right down the middle and stuffed with a delicious spiced cinnamon oat based crumble. The pears are brushed with butter/vegan butter and baked until golden brown. Delicious served for breakfast or dessert, along with a dollop of yoghurt, jam, nut butter or ice cream!
Substitute:
No pears? Use apples instead.
No mixed spice? Try with allspice or ground ginger instead. 
No muscovado sugar? Use coconut sugar or light brown sugar instead. 
Prep time: 10 minutes
Cook time: 30 minutes
Total time: 40 minutes
Servings: 2
Ingredients:
3 Pears
40 g Rolled oats
30 g Light muscovado sugar
45 g Salted butter (melted) / Vegan butter
1 tsp Ground cinnamon
1 tsp mixed spice
1 tsp Vanilla paste
Recipe:
Preheat the oven to 180 C/160 fan/4 gas mark.
Cut the pears in half lengthwise. Use a teaspoon or melon baller to scoop out the core (where you see a few seeds). 
In a bowl, combine the rolled oats, muscovado sugar, 40 g butter (keep 5 g for brushing the pears), cinnamon, mixed spice and vanilla paste. Brush the pears with the 5 g melted butter you have left, and stuff with the oat crumble mixture. 
Place the pears in a baking dish, and bake for 25-30 minutes, or until the crumble is golden and the pears tender.
Serve warm straight out of the oven, or let the pears cool for 15-20 minutes for a crispier cinnamon crumble.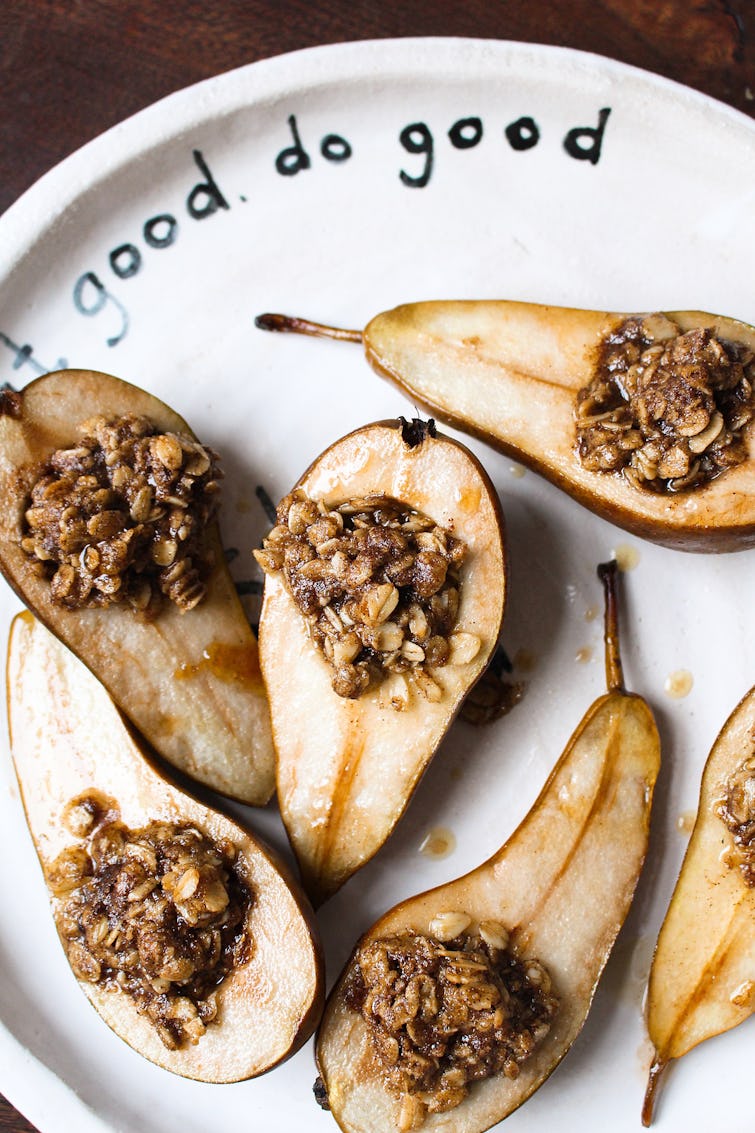 ---
How to store
Store in an airtight container, in the fridge for up to 3 days. Enjoy cold, at room temperature or reheated in the hot oven for 5 minutes.
Leftovers
Serve any leftovers with your favourite yoghurt/vegan yoghurt for breakfast, or ice cream/vegan ice cream for dessert.