Spiced Crumble Stuffed Apples
The perfect comforting dessert for a winter's day, this apple crumble is made directly in the apples and deliciously spiced with mixed spices and ground ginger.
Substitutes:
No ground almonds? Use finely chopped pumpkin seeds instead. Just add them to a blender and pulse blend until finely chopped. 
Vegan? Use vegan butter instead. 
Other spices? Try ground nutmeg and/or ground cinnamon.
Prep time: 15 minutes
Cook time: 30 minutes
Total time: 45 minutes
Servings: 4
Ingredients:
4 Apples
3 tbsp Plain flour
3 tbsp Ground almonds
2 tbsp Caster sugar
70 g Unsalted butter (about 3 tbsp )
2 tsp Ground ginger
2 tsp mixed spice
Recipe:
Preheat the oven to 180C/160c fan/4 gas mark.
Core the apples to create a hole in the centre. Place the apples on a tray.
In a bowl, add the flour, ground almond, caster sugar and spices. Mix to combine.
Add the butter and use your fingertips to rub the butter and flour mixture together until it looks like breadcrumbs. 
Stuff the apples with the crumble and bake for 30 minutes. 
Take out of the oven and enjoy warm on their own or with a dollop of yoghurt or a scoop of vanilla ice cream.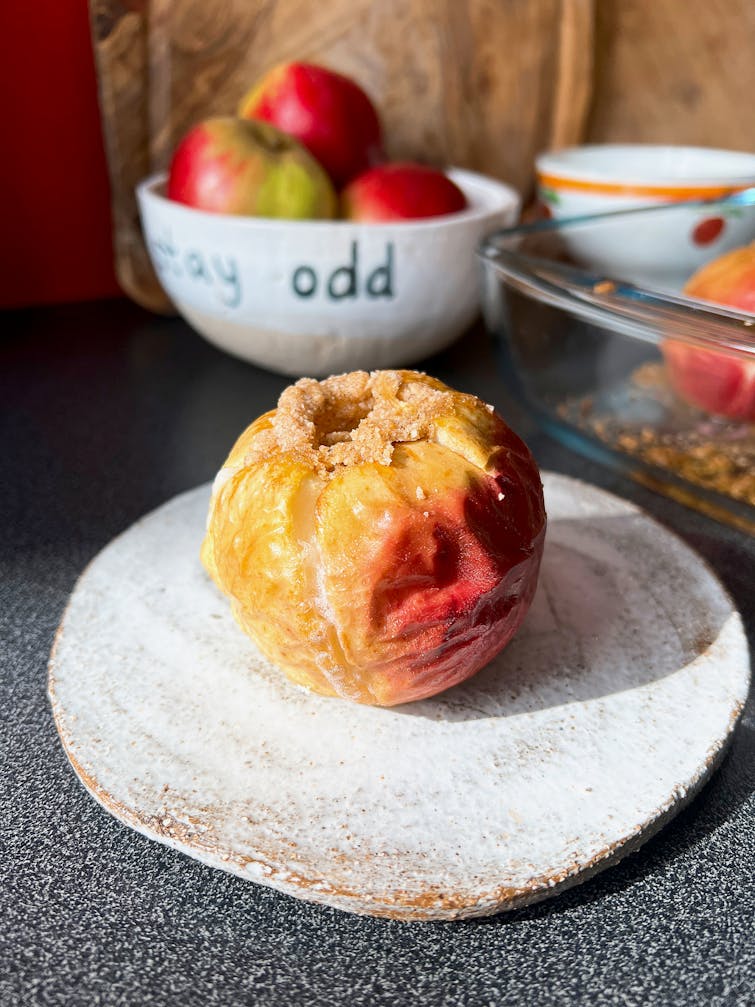 ---
How to store
Store in an airtight container, in the fridge, for up to 3 days.