Cinnamon Apple Blondies
A recipe with minimal steps and no difficult baking techniques. Just mix the ingredients together and bake. These cinnamon apple blondies are soft, gooey with a lightly crinkled flaky top.
Substitutes:
No apples? Try with pears instead. 
No pecans? Use walnuts, hazelnuts or any nuts you have on hand. 
Prep time: 20 minutes
Cook time: 35 minutes
Total time: 55 minutes
Servings: 6
Ingredients:
2 Apples (sliced or chopped )
180 g Unsalted butter
2 Eggs
1 tbsp Vanilla extract
260 g Light brown sugar
235 g Plain flour
1 tsp Baking powder
a pinch of Salt
1 tsp Ground cinnamon
100 g White chocolate chips
55 g Pecan nuts
Recipe:
Preheat the oven to 180C/160c fan/4 gas mark.  Line a 21 x 21 cm baking dish with baking paper. Melt the butter in a small pan and cook for 2-3 minutes, until light brown. 
In a large bowl, whisk together the brown butter and brown sugar. Whisk in the eggs and vanilla extract. Add the flour, baking powder, cinnamon and salt. Mix until combined. Fold in the chopped apples, white chocolate chips and pecans.
Transfer the batter into the prepared baking dish and spread toward the edges giving it a rough smooth.
Bake for 35-40 minutes, or until the edges are set and golden brown and a toothpick or skewer inserted into the center comes out mostly clean. Take the blondies out and allow them to cool completely. Cut blondies into nine squares and enjoy.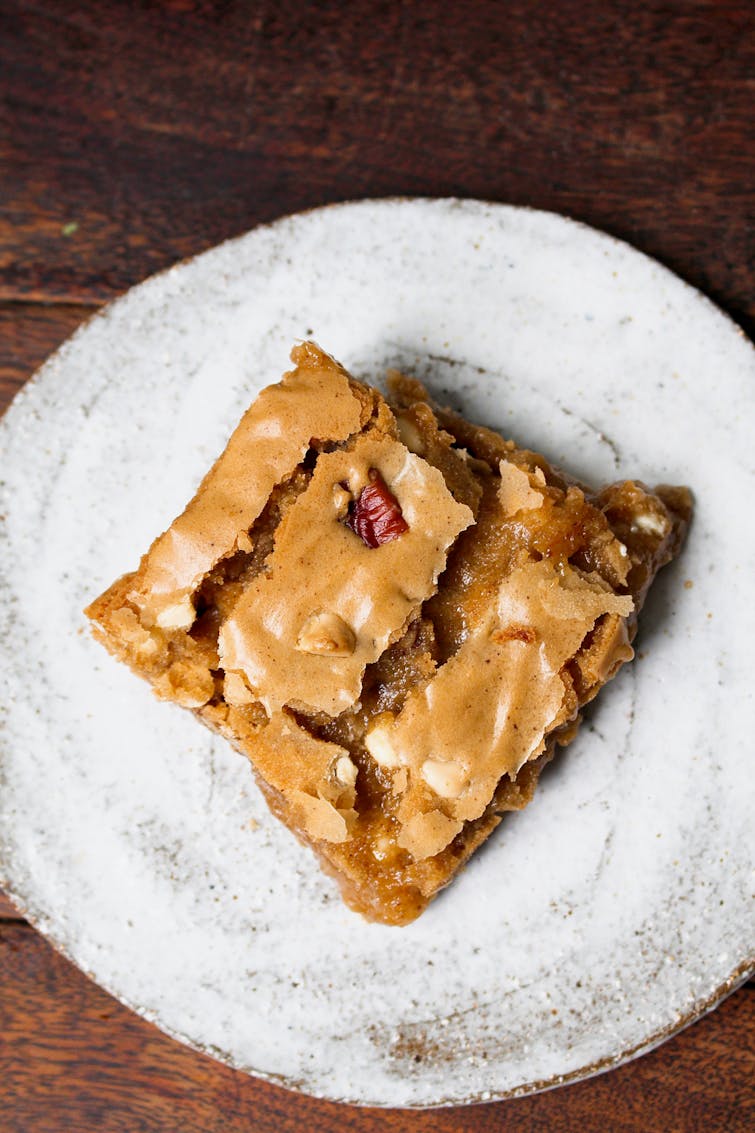 ---
How to store
Store the blondies in an airtight container, at room temperature, for up to 3 days, or in the freezer for up to 3 months.