Peanut Butter Tofu Lettuce Wraps
Baby gem lettuce makes the most delicious and crunchy wraps. Try stuffing your lettuce leaves with this sweet and sour peanut butter fried tofu. It is served with noodles, fresh coriander and sesame seeds. 
Substitute:
No firm tofu? Try with another protein source such as lentils, seitan or beans. 
Vegan? Use egg free noodles.
No coriander? Try with chives, or parsley instead. 
No rice vinegar? Use white wine vinegar or apple cider vinegar. 
No garlic? Try with a teaspoon of garlic powder.
No ginger? Use ginger paste instead. 
Prep time: 15 minutes
Cook time: 10 minutes
Total time: 25 minutes
Servings: 2
Ingredients:
2 Baby gem lettuce
1 block Natural firm tofu
a bunch of Coriander
1 tbsp Sesame seeds
1 Lime
For the sauce:
80 g Peanut butter
30 g Soy sauce
30 g Sesame oil
30 g Sweet chilli sauce
15 g Rice vinegar
2 Garlic cloves
1 small Ginger
Recipe:
Make the sauce: Blend all the sauce ingredients together in a food processor until smooth and creamy.
Cook the tofu: Cut the tofu into small pieces. Heat a little oil in a frying pan, add the tofu and stir-fry for 10 minutes, or until golden brown. Add half of the peanut butter sauce to the pan. Stir-fry for another 3-5 minutes, until the tofu gets a little crispier. Transfer to a bowl.
Cook the noodles: Cook the noodles in boiling water for 5 minutes, until soft and flexible. Add the noodles to the pam you used for the tofu, along with a tablespoon of the peanut butter sauce. Mix to coat and set aside. 
Build the lettuce wraps: Open the baby gem lettuce, and stuff each leaf with both the noodles and tofu. Serve with coriander leaves, sesame seeds and a little lime juice. If you have some peanut butter sauce, drizzle your lettuce wraps before serving.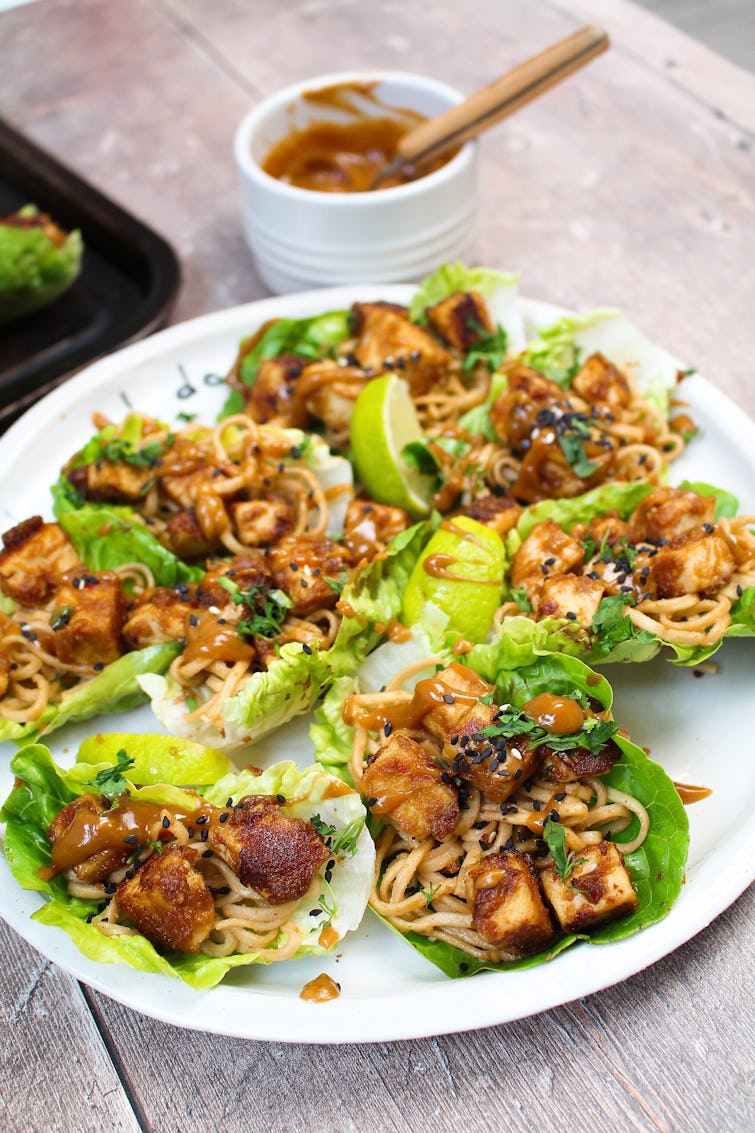 ---
How to store
Store both the lettuce wraps in an airtight container, in the fridge, for up to 3 days.
Leftovers
Roughly chop the lettuce and cook all of the leftover ingredients into a stir fry.