Miso-Roasted Broccoli & Tofu Buddha Bowl w/ Sesame Dressing
This delicious Buddha bowel recipe is perfect for a quick lunch or dinner – and on the table in less than 30 minutes. Broccoli roasted in umami-packed miso paste, sticky tofu on top of nutty rice, finished with a creamy sesame dressing. Eaten hot or cold, this recipe is great for meal prep too as it will keep in the fridge for a few days. 
Prep time: 10 minutes
Cook time: 20 minutes
Total time: 30 minutes
Servings: 3
Ingredients:
400 g Broccoli (stalks and florets)
2 Garlic cloves
½ tbsp Miso paste
1 tsp Ginger (Chopped)
2 tbsp Soy sauce
a pinch of chilli flakes
1 block Natural firm tofu (drained)
2 tbsp Sesame oil
2 tbsp Light soy sauce
2 tbsp Maple syrup
Sesame seeds
2 tbsp Rice vinegar
1 tbsp Tahini
50 ml Water
300 g Brown rice (cooked, quinoa or barley also work!)
Coriander
Recipe:
Preheat the oven to 180 degrees. Drain the tofu and diced into small pieces. In a separate bowl, add the tofu, soy sauce, maple syrup and sesame seeds. Mix and spread on a tray and pop in the oven for 20 mins until golden. 
Prepare your broccoli by cutting the florets and stalks into small bite-size pieces. 
In a bowl, add the miso paste, soy sauce, garlic, ginger and a pinch of chilli flakes. Mix the marinade and add in your broccoli. Pour onto a tray and then pop in the oven for 15 mins. 
In a bowl, whisk tahini, rice vinegar, maple syrup and miso. Add a little water to loosen. 
Time to build! Add your cooked grains for your base, topped with the delicious roasted broccoli, sticky tofu and fresh coriander. Drizzle over the creamy sesame dressing generously.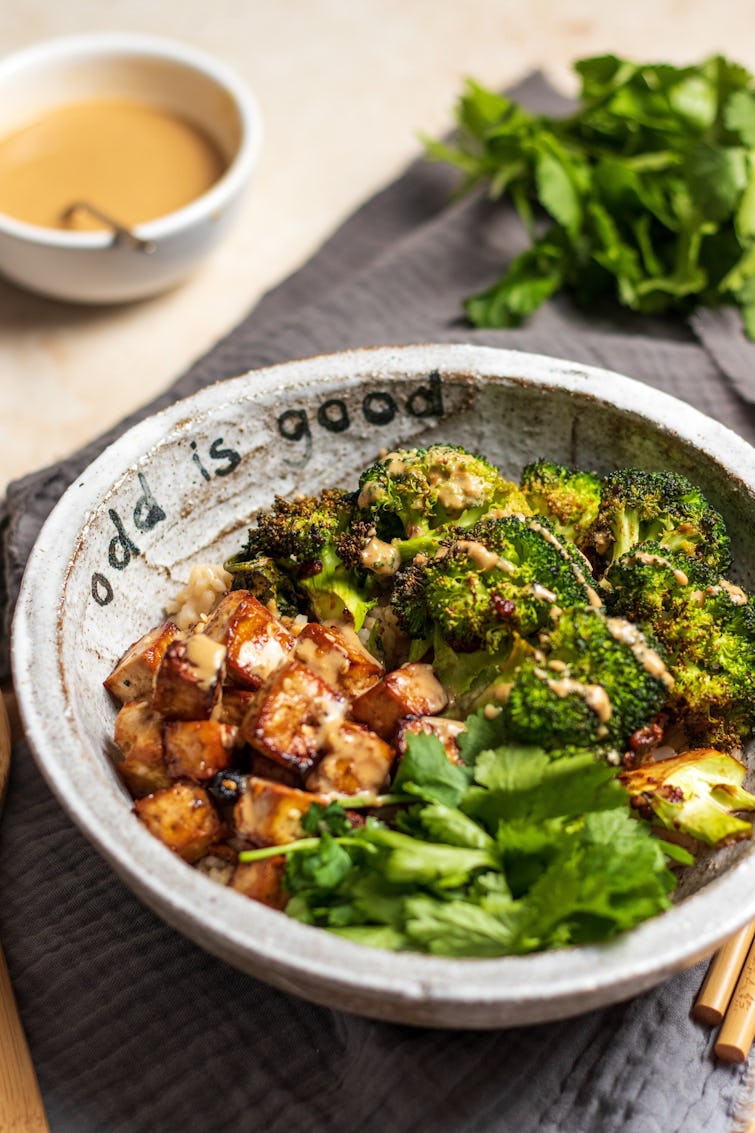 ---