Parsnip and Rosemary Tarte Tatin
The savoury upside down tart tatin is showcasing golden parsnips on an onion compote base with flavours of rosemary, balsamic and honey/maple syrup. This is a perfect make ahead recipe and can be eaten hot or cold. 
Substitute:
No red onions? Use shallots or onions instead. 
No rosemary? Try with thyme instead. 
No parsnips? Use turnips or carrots instead. 
Prep time: 15 minutes
Cook time: 30 minutes
Total time: 45 minutes
Servings: 2
Ingredients:
3 Parsnips
3 Red onions
1 tbsp Rosemary (chopped)
1 ready rolled puff pastry / Vegan puff pastry
1 tbsp Balsamic vinegar
1 tbsp Runny honey / Maple syrup
3 tbsp Unsalted butter / Vegan butter
Olive oil
1 tbsp Egg yolk / Plant based milk
Salt & pepper
Recipe:
Preheat the oven to 180 C/160 fan/4 gas mark. Cut the parsnips right down the middle lengthwise, and place in an ovenproof medium frying pan, along with the butter.
Cover the pan with a lid (or use a baking tray), and cook over medium heat for 5 minutes on each side, until caramelised and golden. Season with salt and pepper. Remove from the heat.
Heat 2 tbsp olive into another pan, and add the red onions and rosemary. Cook over medium heat until tender, then deglaze with the balsamic vinegar, honey/maple syrup and 2 tbsp of water. Cook for 2-3 minutes, until sweet, a little sticky and deep in colour. Season with a pinch of both salt and pepper. 
Top the parsnips with the red onions.
Place the puff pastry over the top, tucking it in the edges. Brush with the egg yolk/plant based.
Bake for about 25-30 minutes, until the pastry is golden and crisp on top.
Serve the tarte tatin upside down, hot out of the oven or cold.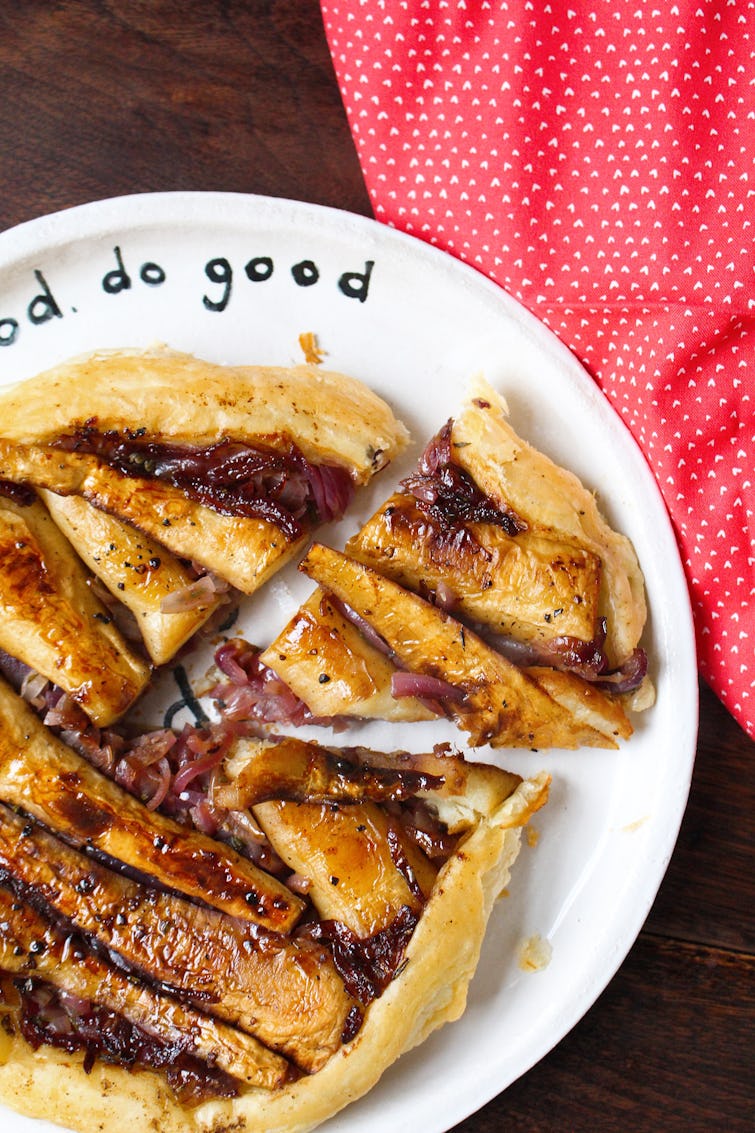 ---
How to store
Store in an airtight container, in the fridge for up to 3 days, or in the freezer for up to 1 month.
Leftovers
Serve the leftovers tarte tatin with crumbled feta/vegan feta and a side of salad.