Butternut Squash And Kohlrabi Puff Pastry Rolls
Festive little puff pastry rolls stuffed with roasted butternut squash and kohlrabi filling and topped with sesame seeds. These are great starters or canapes to serve to friends and family. 
Substitute:
No butternut squash? Use pumpkin, carrot or sweet potato instead.
No kohlrabi? Try with celeriac or broccoli stems instead. 
No pecans? Use walnuts or pumpkin seeds instead. 
No rosemary? Try with thyme instead. 
Prep time: 20 minutes
Cook time: 60 minutes
Total time: 80 minutes
Servings: 4
Ingredients:
550 g Butternut squash
400 g Kohlrabi
50 g Pecan nuts
5 tbsp Olive oil
1 tsp chilli flakes
1 tbsp Rosemary (chopped)
30 g Panko breadcrumbs
1 ready rolled puff pastry / Vegan puff pastry
1 Egg / Plant based milk
1 tbsp Sesame seeds
Salt & pepper
Recipe:
Preheat the oven to 200 C/180 fan/6 gas mark. Cut the butternut squash and kohlrabi into 3-4 cm chunks. 
Add the butternut squash and kohlrabi into a baking dish, along with the olive oil, chilli flakes, rosemary, salt and pepper.
Toss well to coat and bake for 30-35 minutes, until tender and lightly caramelised on the edges.
Add to a food processor along with the panko breadcrumbs, pecans and blend until you have a chunky puree. Season to taste with salt and pepper and add the mixture to a piping bag, set aside to cool.
Beat the egg. Roll out the puff pastry, then pipe 3 lines of the butternut squash and kohlrabi mixture.
Fold over lengthways and press together with a fork to seal.
Cut into 3-4 cm pieces and place on baking sheets lined with baking paper. 
Brush the tops with beaten egg, sprinkle with sesame seeds and bake for 35 minutes, or until puffed up and golden.
Serve warm or cold!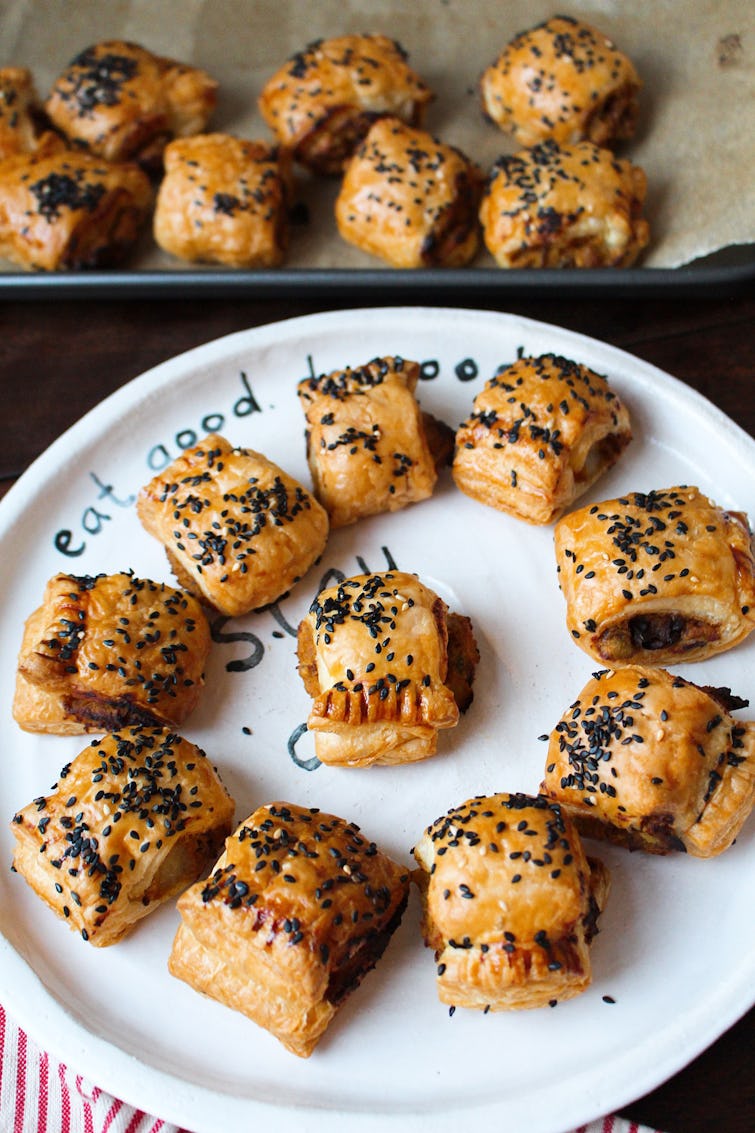 ---
How to store
Store in an airtight container, in the fridge for up to 3 days. Or in the freezer uncooked for up to 1 month. Defrost and bake until golden.
Leftovers
The little veggie rolls are great served as canapes before dinner, or as a side.  Any leftover puree can be used in gratin, casserole or puree recipes.