Tomato Tarte Tatin
An upside down tart showcasing caramelised tomatoes on crunchy puff pastry. A savoury twist on a classic French dessert. 
Substitute:
No tomatoes? You can make a savoury tarte tatin with onions, butternut squash, and beetroots. Follow the same steps, but roast the vegetables first to pre-cook them. 
No thyme? Use any dried herbs you have on hand. Rosemary and oregano are good options. 
No honey? Try with maple syrup or any type of sugar. 
Prep time: 15 minutes
Cook time: 30 minutes
Total time: 45 minutes
Servings: 4
Ingredients:
500 g Tomatoes
3 sprig Thyme
2 tbsp Honey (or maple syrup)
1½ tbsp Balsamic vinegar
1½ tbsp Butter
500 g Ready rolled puff pastry / Vegan puff pastry
Salt & pepper
Recipe:
Prepare your ingredients: Preheat the oven to 200C/180 fan/6 gas mark. Slice your tomatoes, and chop the thyme. If using cherry tomatoes, keep them whole.
Make the savoury caramel: In a large oven proof pan (approx 23-25 cm), add the balsamic vinegar, honey and butter. Melt and mix the ingredients together over medium heat. Simmer for 2-3 minutes, until thick and looking like caramel. Turn off the heat and add the thyme.
Build the tarte tatin: Arrange the tomatoes in one layer in the pan. Roll your puff pastry block, then cut out a rough circle a little wider than the top of the pan. Put the rolled pastry on top of the pan, tucking it in around the edges and cutting a few small vents in the top to let steam escape.
Bake the tarte tatin: Bake for 25-30 minutes, until the pastry is golden. Leave for 5 minutes to set, then place a large place upside down on the pan and flip the pan to showcase the caramelised tomatoes. Serve hot or cold.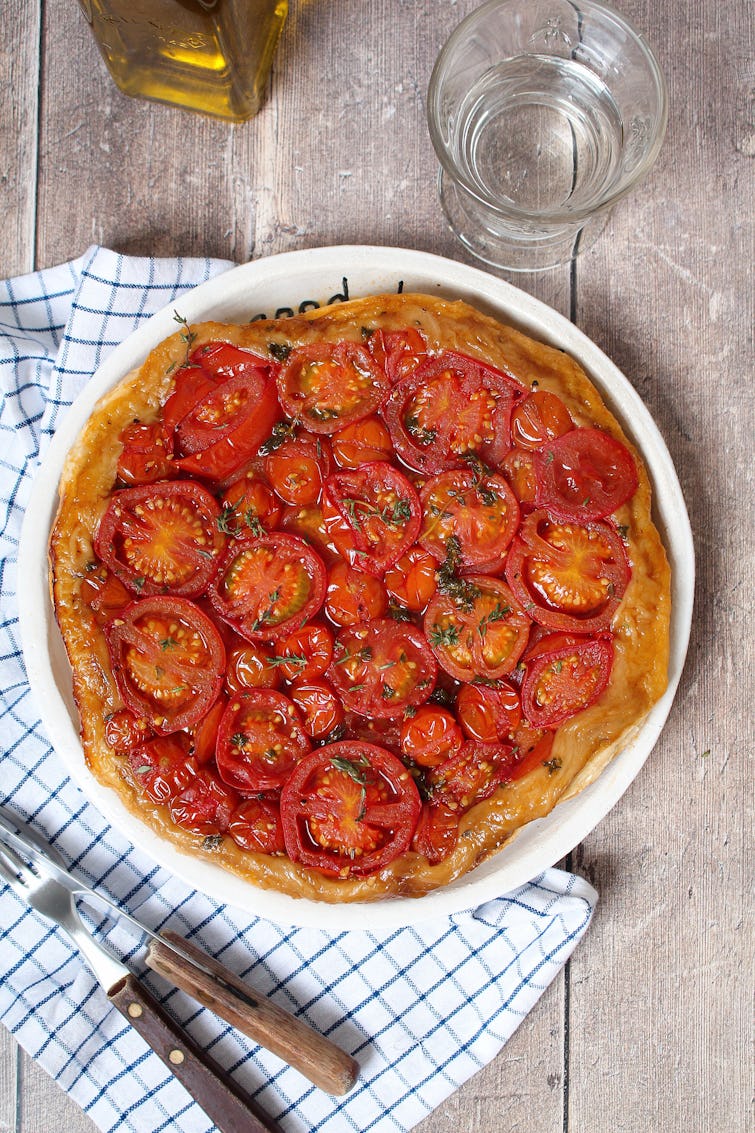 ---
How to store
The tomato tarte tatin is best eaten within the day, but can be stored in the fridge for up to 3 days. The pastry might not be as crunchy after 3 days, but still delicious. 
Leftovers
Leftovers:  You can reheat your tarte tatin in the oven, and serve alongside a green salad.