The Joys of Spring
Shake off the frost and unfurl your buds. There's a hint of something in the air, and we think it might just be spring.
Check out some of the top tips and delicious spring recipes that featured in our seasonal guide below. And, If you want to learn more about what's in store, read our blog here.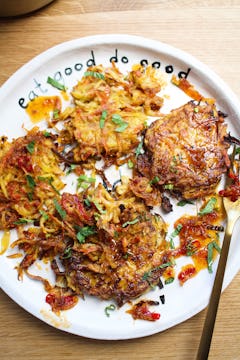 Carrot Hash Browns with Chilli Oil
Crispy carrot hash browns served with a smoky and spicy chilli oil. Made from onion, chilli, ginger, garlic, sesame oil and miso, they're crunchy, spicy and perfect on their own or alongside pan fried eggs.