Purple Sprouting Broccoli Tempura
Try this vegan recipe for crispy purple sprouting broccoli tempura with sweet and salty asian inspired dipping sauce. Ready in under 30 minutes, this recipe can be adapted to all your vegetables. 
Substitute:
No sprouting broccoli? Use the same recipe with broccoli, mushroom, carrot, aubergine, and courgette. Cut the bigger vegetable in slices or battens, and follow the same process. Coat with the tempura batter and deep fry until crisp and lightly golden. 
No sparkling water? You can swap the sparkling water for beer/alcohol free beer.
No ice cubes? You can make the batter without the ice cubes, just make sure the soda water is chilled before adding to the batter. 
Not all the ingredients for the dipping sauce? No problem, you can use what you have. Alternatively the crispy vegetable tempura would be delicious with a spicy mayonnaise, or yoghurt dip. 
Prep time: 10 minutes
Cook time: 10 minutes
Total time: 20 minutes
Servings: 2
Ingredients:
200 g Purple sprouting broccolis
40 g Plain flour
70 g Cornflour
a pinch of Salt
80 ml Sparkling water (chilled)
2 Ice cubes
Vegetable oil (for frying)
For the sauce:
1 tbsp Soy sauce
1½ tbsp Sesame oil
1 tbsp Sweet chilli sauce
Garlic clove
1 Ginger (2cm piece, grated)
Recipe:
Make the tempura batter: In a large bowl, mix together the flours and salt. Add the chilled sparkling water and ice cubes. Mix well and set aside. 
Prepare the sprouting broccoli: Keep the small ones whole, and cut the thicker ones in half. Place them in the bowl with the batter, and mix well to coat. 
Make the sauce and prepare for cooking: In a saucepan, heat up enough vegetable oil to cover the sprouting broccoli. In a bowl, combine the soy sauce, sesame oil, sweet chilli sauce, grated garlic and grated ginger. 
Cook the sprouting broccoli tempura: Transfer coated sprouting broccolis to the hot oil 2 to 3 pieces at a time. Fry, turning frequently, until lightly golden, 1 to 2 minutes. Remove to a grill and season with salt immediately. Continue frying in batches until all the purple sprouting broccoli are cooked. Serve hot with the dip sauce.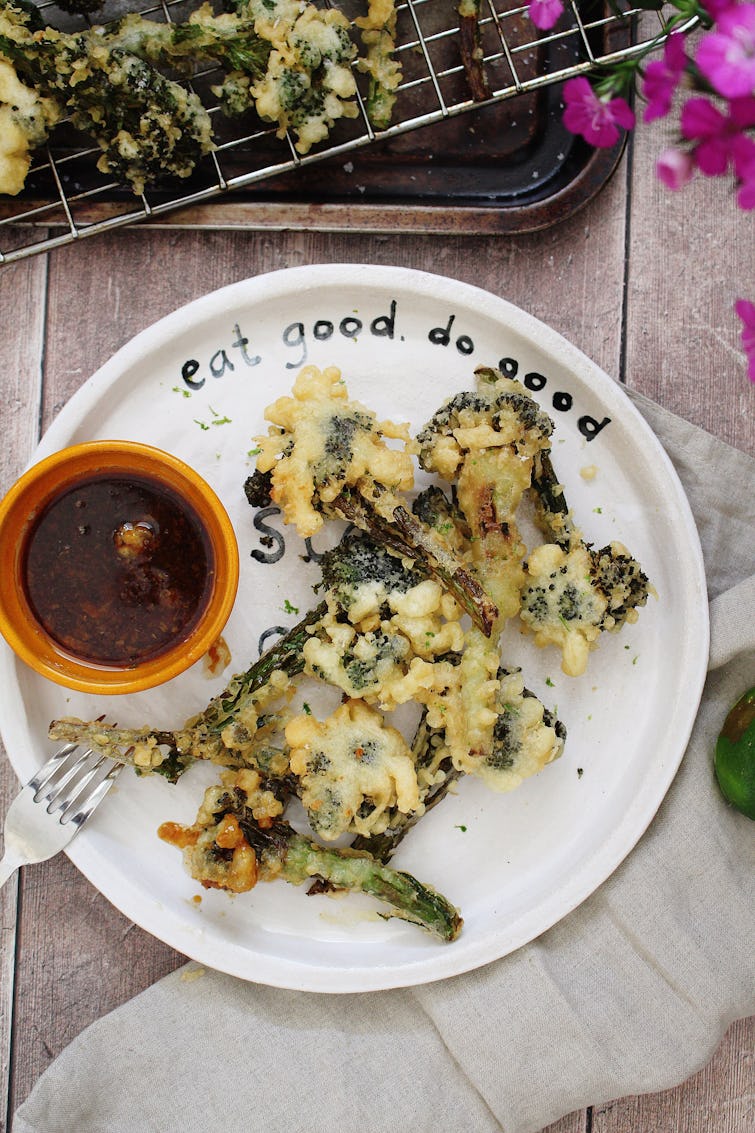 ---
How to store
Store in an airtight container in the fridge, for up to 3 days. Make sure they are fully cooled before closing the box to prevent them from going soft due to the steam the heat would create. 
Leftovers
The crispy vegetable tempura would be great added to a salad. Chop them up and toss into your salad.