Spring with Oddbox
Coming up: pink blossom, short-sleeved t-shirts and delicious fruit and veg we haven't seen for a while.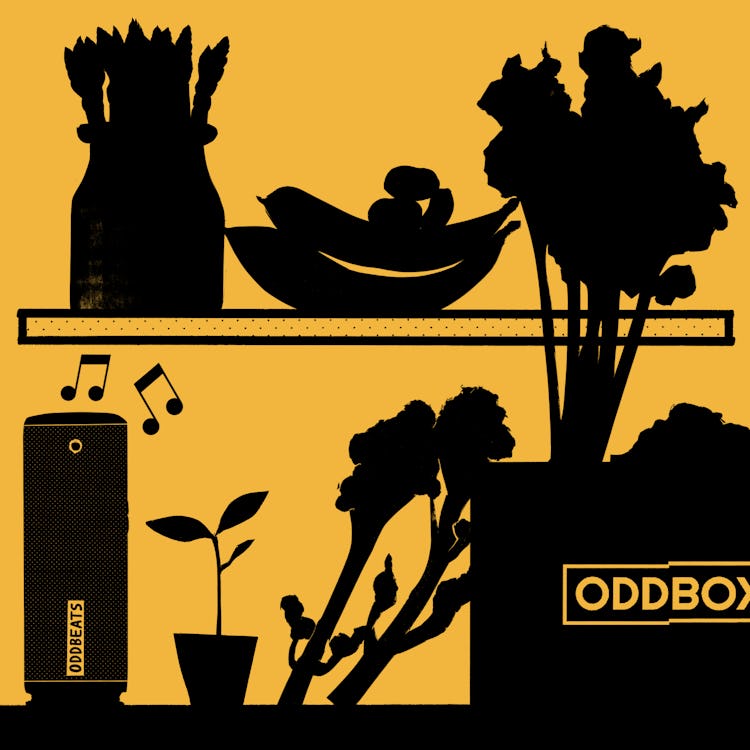 Yes, spring is finally in the air – and in our boxes.
If you joined us over the last few months, you'd be forgiven for thinking you knew what to expect from your box each week. Spuds and sprouts. Cabbage. Dinky apples and cheeky-shaped kiwis. (Ahem.)
But the joy of being led by growers and the seasons is that things change. Crops come to an end. New ones are harvested. And what we eat, and cook, shifts to match what's happening outside the window.
Taking each season slowly
So does that mean we've seen the last of the root veg? Will we all open our boxes this week to find asparagus, carrots and rhubarb?
Not so fast. As ever, the transition from one season to the next is a gradual one, with many a "too wonky","too many", "too out-of-season" twist along the way.
In fact, these in-between weeks are a prime time for food to be wasted, as growers find that their "too early" or "too late" crops aren't wanted.
Just because supermarkets have made the shift to spring, doesn't mean the crops in our fields magically get the memo. So rescuing fruit and veg without any preconceptions is more important than ever.
What's coming up
As usual, we won't know exactly what we'll be rescuing until we speak to our growers each week. But, after a mild-ish winter with not too much rain, we've been told that most crops are flourishing and are expected to be ready 'on schedule'.
Growers have already hinted that we can expect asparagus around April, broad beans in May and baby courgettes and carrots around June.
Plus – excitingly – both tenderstem and purple-sprouting broccoli at some point over the coming months. Yum.
Exotic additions
Don't forget that we also rescue fruit and veg from further afield, if there's space in our boxes.
In the winter months, this helps keep things varied and colourful (see our guide to winter for more on why it would be hard to *just* eat seasonally in the UK).
But as the weather warms up and UK produce becomes more varied again, we'll start to see different types of fruit grown closer to home, as well as delicious veg. 
We all know the happiness a surprise pineapple can bring on a rainy morning, though. So we'll still be keeping our eyes peeled for produce at risk of being wasted abroad, and, as ever, making sure it lands on our shores without any air miles.
Spring recipes
So what should we make with all our new arrivals? Is it a straight switch from soups to salads, stews to spring BBQs?
Our spring guide has a few of our favourite seasonal recipes – including a new rhubarb dish from our in-house chef, Camille. (There's also a spring playlist, which we think you'll enjoy singing along to while unpacking your box.)
If you're stumped by a particular ingredient, have a search of our recipes section for deliciously odd ideas to help you get creative in the kitchen. And, as ever, tag your dishes using #OddIsGood for the chance to win four free boxes.
Happy spring, with love from Oddbox.