Our Top 5 Brussels Sprouts Recipes This Winter
Are you in need of some tasty Brussels sprouts recipes? We're giving you all the details on our top 5 recipes, with Brussels as the star ingredient!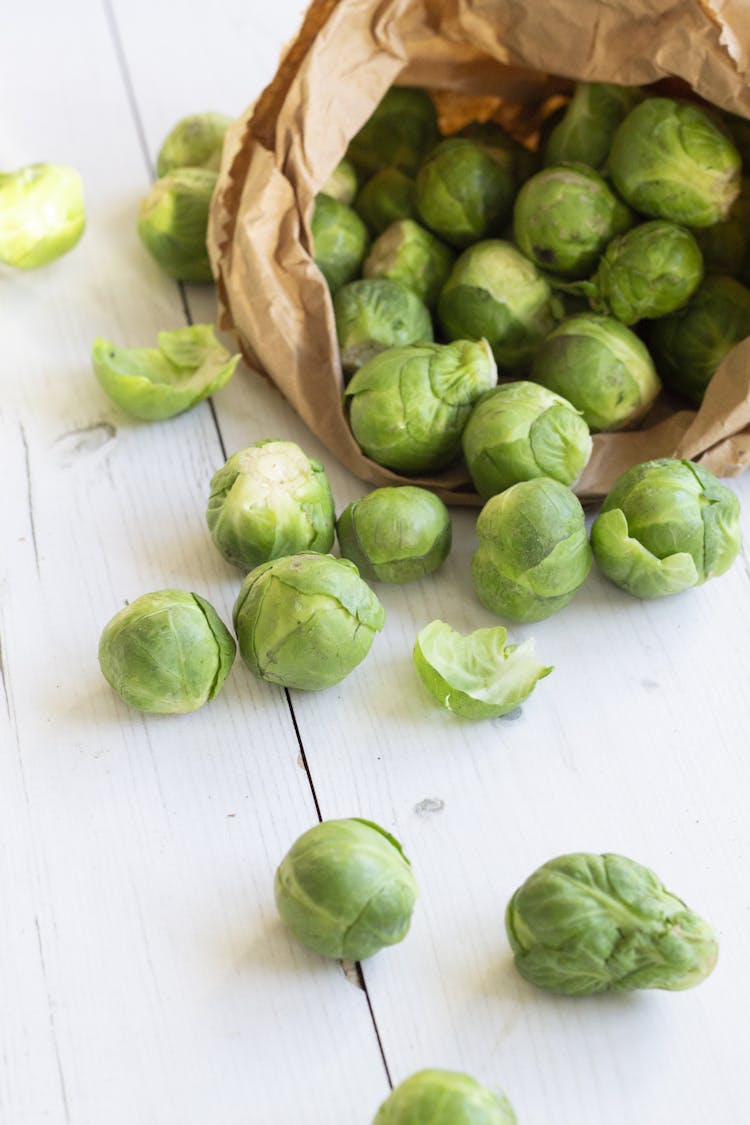 Brussels sprouts are part of the Brassica family, with over 110 different varieties in total. These leafy greens are extremely nutritious, containing high amounts of fibre, vitamins, minerals and antioxidants. 
Brussels sprouts season in the UK generally starts around late September, lasting all the way into March. But the best sprouts will be available around Christmas, just in time for your festive dinners. 
Top tip: Why not try getting your sprouts from Oddbox this year? We work with local sprout growers to provide you with wonky or surplus sprouts, when they're in season. Want to learn more about our brassica growers? Click here. 
Brussels Sprouts Recipes
1. Crispy Brussels Sprouts 
400 g Brussels sprouts 
50 g plain flour 
2 eggs / plant based milk
50 g panko breadcrumbs 
1 tbsp rosemary  (chopped)
1 tsp paprika 
Salt & pepper
1 tbsp vegetable oil
Start by preheating your oven to 180C/160 fan/Gas mark 4, and lining a baking tray with baking paper or a reusable silicone mat. Prepare 3 bowls, one with flour, the next with the beaten eggs and the final bowl with the breadcrumbs, rosemary, paprika, and salt and pepper. Toss each Brussels sprout in the flour, then the eggs and finally the breadcrumbs. Spread the sprouts across your baking tray, drizzle with some oil and bake for 30 minutes. While they're cooking, you can whip up a quick sauce by combining the following ingredients:
2 tbsp cranberry sauce 
1 tbsp golden syrup 
2 tbsp light soy sauce 
1 tbsp bbq sauce 
1 tsp Worcestershire sauce
Pour the sauce over the crispy Brussels sprouts and return them to the oven for a further 10 minutes. Serve warm and enjoy!
(Recipe via Oddbox)
2. Sautéed Brussels Sprouts
500g Brussels sprouts (halved)
2 tbsp oil 
1/2 tsp salt
1/4 tsp black pepper
1 tbsp balsamic vinegar or lemon juice 
1-2 tbsp pine nuts
Chopped, fresh parsley 
A handful of parmesan/nutritional yeast
Heat oil in a heavy bottomed skillet over a medium-high heat and add the Brussels sprouts into the pan. Leave them to sit for 5-8 minutes, until they turn a dark brown on the bottom. Add in the salt and pepper and give the Brussels a good stir. Continue cooking until they are browned all over (this will take roughly a further 6-8 minutes). Remove the pan from the heat and stir in the vinegar and pine nuts, then leave to rest for 5 minutes. Serve with a sprinkling of fresh parsley and your cheese of choice.
(Recipe via Well Plated)
3. Brussels Sprouts Pasta
10 Brussels sprouts 
150 g mushrooms (sliced)
1 onion (sliced)
150 g short pasta 
3 garlic cloves (chopped)
1 lemon 
1 tsp chilli flakes 
Olive oil
Salt & pepper
2 tbsp pomegranate seeds
Preheat your oven to 190C/170 fan/gas mark 5. Cut your Brussels in half and place onto a baking tray with a drizzle of oil and a pinch of salt and pepper. Allow to roast for 20 minutes. Bring a pan of salted water to a boil and cook your pasta according to the packet instructions. Reserve some of the pasta water to use later on. Heat a large frying pan over medium-high heat and add in 2 tbsp of olive oil, the onion, garlic, chilli flakes, mushrooms and lemon zest. Cook for 7-8 minutes or until fragrant. Now add in the pasta, 2-3 tbsp of pasta water and the juice of 1 lemon. Toss well and season to taste. When ready to serve, top each portion with some of the roasted Brussels sprouts and a sprinkling of pomegranate seeds.
(Recipe via Oddbox)
4. Caramelised Brussels Sprouts
450g Brussels sprouts 
3 tbsp olive oil
3 tbsp maple syrup 
3 tbsp apple cider vinegar / balsamic vinegar 
2 minced garlic cloves
1 tsp fresh thyme leaves 
1/2 tsp salt and 1/2 tsp pepper
1 pinch of red pepper flakes
Begin by preheating your oven to 220C/200 fan/gas mark 7. Cut each Brussels sprout in half and lay them onto a large metal baking tray. Mix all of the remaining ingredients to create the sauce, then drizzle roughly 3/4 of the sauce over the sprouts and toss well. Allow the sprouts to roast for 25-30 minutes, or until golden and soft in the middle. Transfer the caramelised Brussels sprouts into a bowl and pour over the remaining sauce. Leave to rest for 1-2 minutes to allow the sprouts to soak up as much of the sauce as possible before serving.
(Recipe via A Virtual Vegan)
5. Roast Brussels Sprouts
650g Brussels sprouts 
2 tbsp olive oil
Pinch of salt
For the perfect roasted Brussels sprouts start by preheating your oven to 220C/200 fan/gas mark 7. Cut each sprout in half and place cut side down on a lined baking tray. Drizzle with the oil and sprinkle with some salt, then toss to coat each sprout well. Roast the sprouts for roughly 18-25 minutes, or until golden brown on the edges. Serve as the perfect side dish to any dinner this winter!
(Recipe via Cookie & Kate)
Need More Brussels Sprouts Recipes?
Sprout the love with some Brussels on your plate!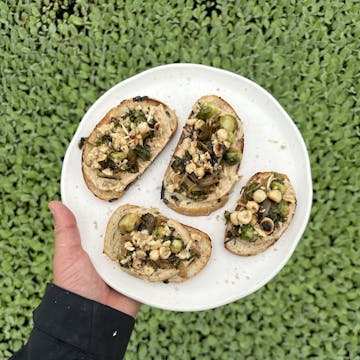 Caramelised Brussels Sprouts with Miso Cream and Hazelnuts
Martyn Odell (aka Lagom Chef) whips up a delicious Brussels Sprout recipe after visiting Oddbox's growers at P C Thorolds. Sprouts love to be sauteed, there is no need to boil them first, if they are small chuck them straight in a pan, but if they are a little bigger chop them up. This recipe is perfect to load up a bit of toast with your spread, Brussels, nuts and enjoy!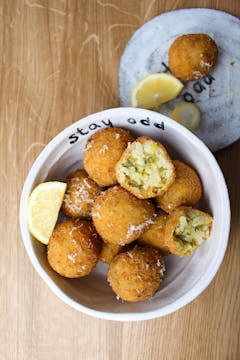 Brussels Sprouts and Lemon Arancini
Try these fried balls stuffed with Brussels sprouts, parmesan (or nutritional yeast) and lemon risotto.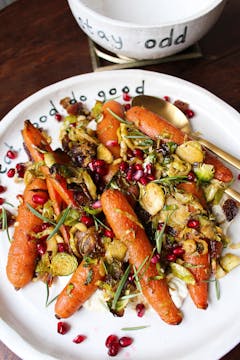 Maple Roasted Carrots, Brussels Sprouts & Date Salad
This festive salad showcases lots of colours that will look fabulous on the table, plus it's a creative way to use up those leftover Brussels sprouts!