Mushroom, Brussels Sprouts and Onion Pasta
This seasonal pasta recipe is packed with flavours and makes a delicious 30 minutes dinner recipe. It's creamy, crunchy, sweet and savoury, so delicious and quick to make.
Substitute:
No brussels sprouts? Use any cabbage instead. 
No mushrooms? Try with aubergine, tomato, courgette or onions instead.
Prep time: 10 minutes
Cook time: 20 minutes
Total time: 30 minutes
Servings: 2
Ingredients:
10 Brussels sprouts
150 g Mushrooms (sliced)
1 Onion (sliced )
150 g Short pasta
3 Garlic cloves (chopped )
1 Lemon
1 tsp chilli flakes
Olive oil
Salt & pepper
2 tbsp Pomegranate seed
Recipe:
Preheat the oven to 190 C/170 fan/5 gas mark. Cut the brussels sprouts in half and place in a baking tray.
Drizzle with olive oil, season with salt and pepper, and roast for 20 minutes. 
Bring a large saucepan of salted water to the boil. Cook the pasta until al dente, reserve some of the pasta water, drain and set aside.
Heat a large frying pan over medium-high heat. Add 2 tbsp olive oil, the onion, garlic, chilli flakes, mushrooms and lemon zest.
Cook for 7-8 minutes, until fragrant.
Add the pasta, 2-3 tbsp pasta water and the juice of 1 lemon. Toss well and season to taste with salt and pepper.
Divide the pasta into plates, and top with the roasted brussels sprouts and pomegranate seeds.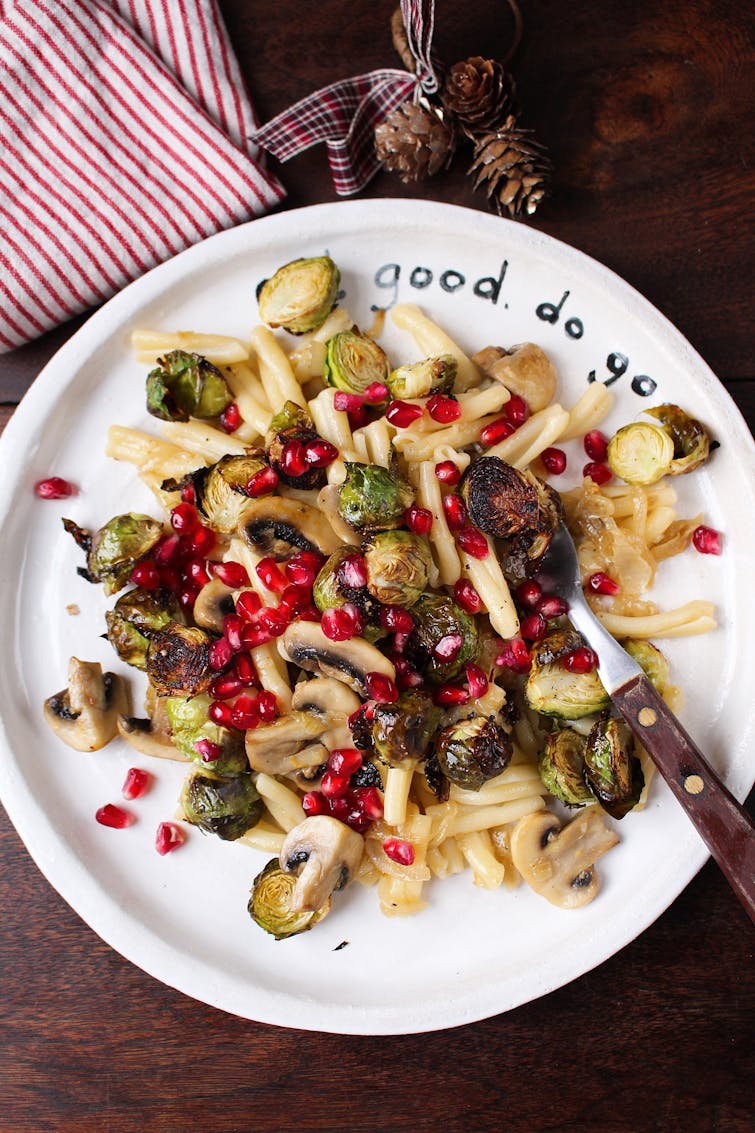 ---
How to store
Store in an airtight container in the fridge for up to 3 days. 
Leftovers
Try pasta gratin with the leftovers! Add the pasta and veggies to a baking dish. Cover with grated cheese and bake until golden.