How to store, prep, and cook Pak Choi
This leafy vegetable is a staple of many East-Asian dishes, and is quick & easy to enjoy. Here to guide us through how to prep and cook pak choi in several delicious ways is our good friend and guest ODDBOX chef Camille (@callherchef)!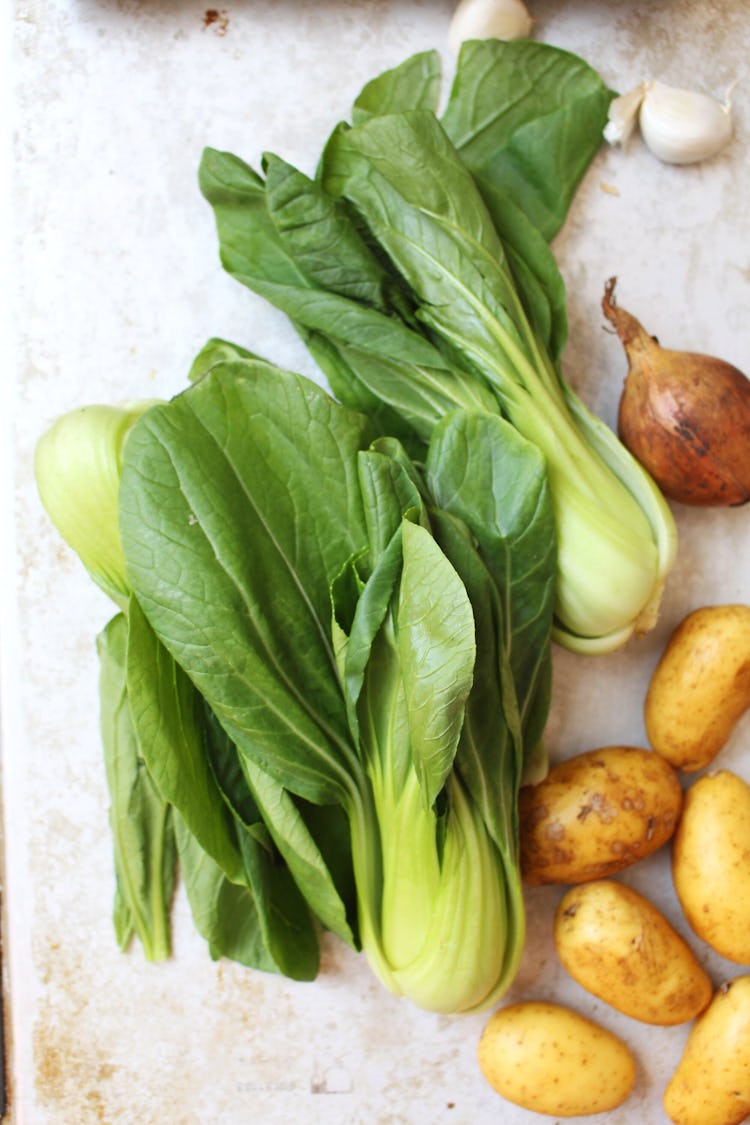 DID YOU KNOW?
Also known as bok choy, pak choi is a leafy green from the Chinese cabbage family. Highly nutritious, it is packed with fiber, vitamins, minerals, and antioxidants. 
HOW TO…STORE:
Pak choi is best stored in the fridge, and will keep fresh for up to a week.
HOW TO…PREP:
To best prepare the pak choi follow these easy steps:
Place the pak choi in a clean sink and cover with water.
Use your hands to gently swish them around ensuring all the grit and dirt in between the leaves is washed through. Make sure to use cold water to avoid wilting the leaves.
Drain and let them dry over a clean tea towel. 
Now, you can either tear the entire stalk and leaf off and cook as is, or chop horizontally into wide strips down the vegetable.
HOW TO…COOK:
The pak choi is pretty quick to cook with and often needs just a couple of minutes. The dark and thin leaves cook very quickly and are similar to the consistency of the spinach. However, the stalk is firm and crunchy, and needs to cook for a little longer. 
STIR-FRY:
A very quick method that retains a nice crunch! Cut the pak choi lengthways and heat a little olive oil in a pan. When hot add the pak choi with seasoning of choice. Grated garlic, ginger, sesame oil, soy sauce are all flavours that work well with pak choi. Cook over high heat for 2 minutes and serve. 
STEAM:
Another quick and delicious way to cook pak choi. They will turn up so delicate and tasty. Simply steam the whole or chopped pak choi for 3 to 6 minutes, until tender. If 
you don't have a steamer, you can put the pak choi into a folded pouch made from baking paper or foil and bake it. The parcel will hold in the moisture and steam them. 
BLANCH :
Great if you want a refreshing crunch. Bring some water to the boil and blanch the pak choi for 2 to 4 minutes (depending on the size). You can also blanch pak choi in any hot liquid such as a tomato sauce or a stew. 
ROAST :
Oven Roasted pak choi is a very easy and delicious side dish. Roasted to perfection it becomes buttery with the sides crispy and incredibly tasty. The preparation is very easy, simply toss all the ingredients on an oven dish and roast for 15-20 minutes. For this cooking technique seasoning is key, so flavour the pak choi with ingredients such as olive oil, fresh garlic, chili flakes, ginger or even soy sauce and honey. 
FERMENT:
Pak choi are lovely to use in kimchi, which is a traditional dish of salted and fermented vegetables made with a selection of seasonings. To make pak choi kimchi, place them in a bowl, sprinkle with salt, and toss to coat evenly. Leave it for 40 minutes until softened, rinse and drain well. Add flavouring of choice to the pak choi and toss everything by hand until well coated. Pack and press the mixture into a glass jar until the water level starts rising. Put the lid on and leave the jar at room temperature for 3-5 days. Open the lids every day to release the carbon dioxide that forms as a byproduct of fermentation. Taste the kimchi after 3 days. It should taste pleasantly sour, then transfer to the fridge where it will continue to ferment. Kimchi will last for six months, and is a great technique to avoid food waste.