Pak Choi Salad With Toasted Sesame Dressing
Try this easy and delicious pak choi salad. The pak choi are blanched to a soft crunchy texture and served with a creamy toasted sesame dressing. 
Prep time: 15 minutes
Cook time: 5 minutes
Total time: 20 minutes
Servings: 4
Ingredients:
6 Pak Choi (5-6 depending on their size)
2 tbsp Mayonnaise / Vegan mayonnaise
1 tbsp Tahini
1 tbsp Toasted sesame oil
1 tbsp Rice wine vinegar
1 Ginger (small piece fresh ginger)
2 Garlic cloves
1 tbsp Water
1 tbsp Sesame seeds
Recipe:
Prepare the pak choi: Halve or quarter the pak choi, depending on their size. Rinse under running water until clean.
Cook the pak choi: Bring a large saucepan of water to boil. Blanch the pak choi for 5 minutes, then drain and rinse in ice cold water to stop the cooking process. Set aside in a sieve to drain well.
Make the dressing: Finely chop the ginger and garlic. In a bowl, combine the mayonnaise/vegan mayonnaise, tahini, sesame oil, rice wine vinegar, water, ginger and garlic. Set aside.
Toast the sesame seeds: Heat up a small frying pan over medium heat. Dry pan fry the sesame seeds for 1-2 minutes to toast them.
Serve: Add the cooled and drained pak choi to a serving plate, drizzle with the dressing and sprinkle with sesame seeds. Serve at room temperature or chilled.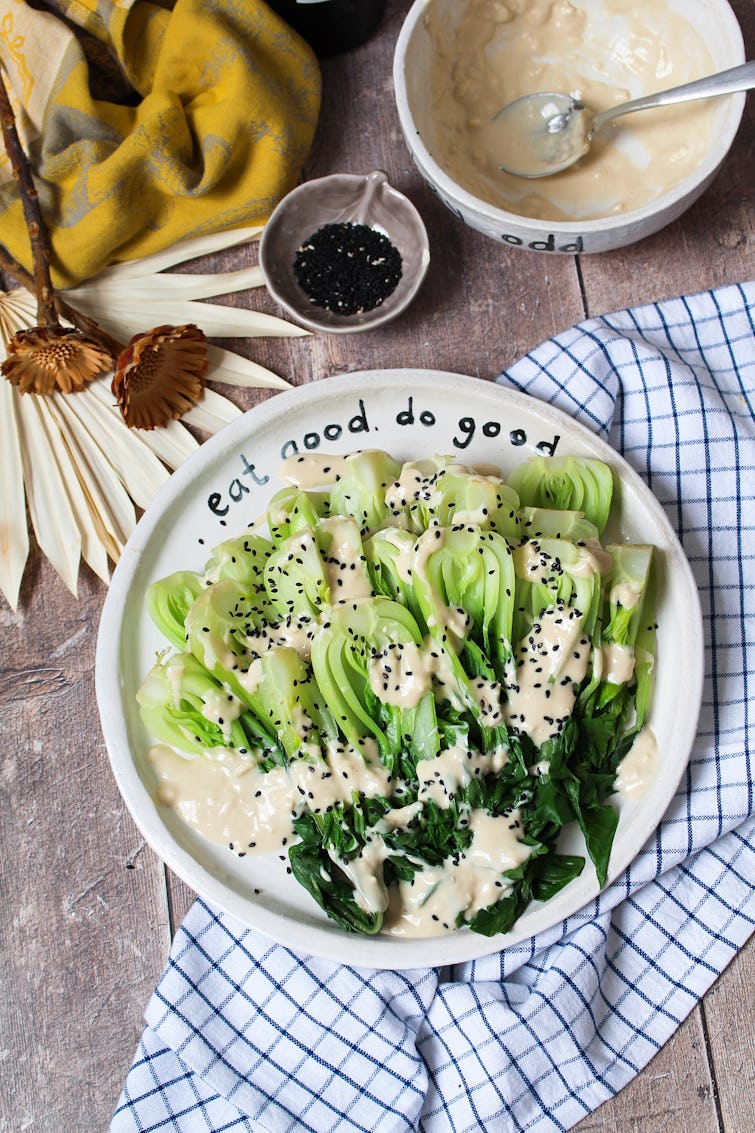 ---
How to store
Store the pak choi in an airtight container in the fridge for up to 3 days. The pak choi will marinade in the dressing. Get them out of the fridge 10-15 minutes before serving to bring them back to room temperature.
Leftovers
Toss in salads: Roughly chop the pak choi and mix in the dressing. Add to lettuce or mixed leaf salads. Stir fry: Roughly chop the pak choi and add to stir fry recipes with noodles or rice.