Quick Pak Choi & Quinoa Buddha Bowl
This super versatile Buddha bowl recipe is full of healthy plant-based ingredients and works great for meal prep. You can substitute pak choi using the other veggies you have on hand too.
Substitute:
No pak choi? Try with cabbage or brussels sprouts instead. 
No quinoa? Use rice, sushi rice or lentils instead. 
No chickpeas? Try with black beans instead. 
No tahini? Use natural yoghurt instead. 
No spring onions? Try with coriander instead. 
No lemon juice? Use lime juice instead.
Prep time: 15 minutes
Cook time: 10 minutes
Total time: 25 minutes
Servings: 2
Ingredients:
200 g Pak Choi
2 tbsp Sesame oil
2 tbsp Soy sauce
100 g Cooked quinoa
200 g Chickpeas (from a can)
2 Carrot (grated)
2 Spring onions (chopped )
For the sauce:
4 tbsp Tahini
1 tbsp Maple syrup
2 tbsp Lemon juice
1 tbsp Sesame seeds
Recipe:
Cut the pak choi in quarters and rinse under cold water to remove any dirt. Place a frying pan over medium-high heat. Add the sesame oil and cook the pak choi for 4-5 minutes until lightly golden and tender. Add the soy sauce, toss to coat and cook for another 1 minute. Turn off the heat and set aside.
In a small bowl, combine all the sauce ingredients together.
Between two meal prep containers, portion out the cooked quinoa, chickpeas, grated carrot, pak choi and spring onion. Drizzle over the tahini sauce.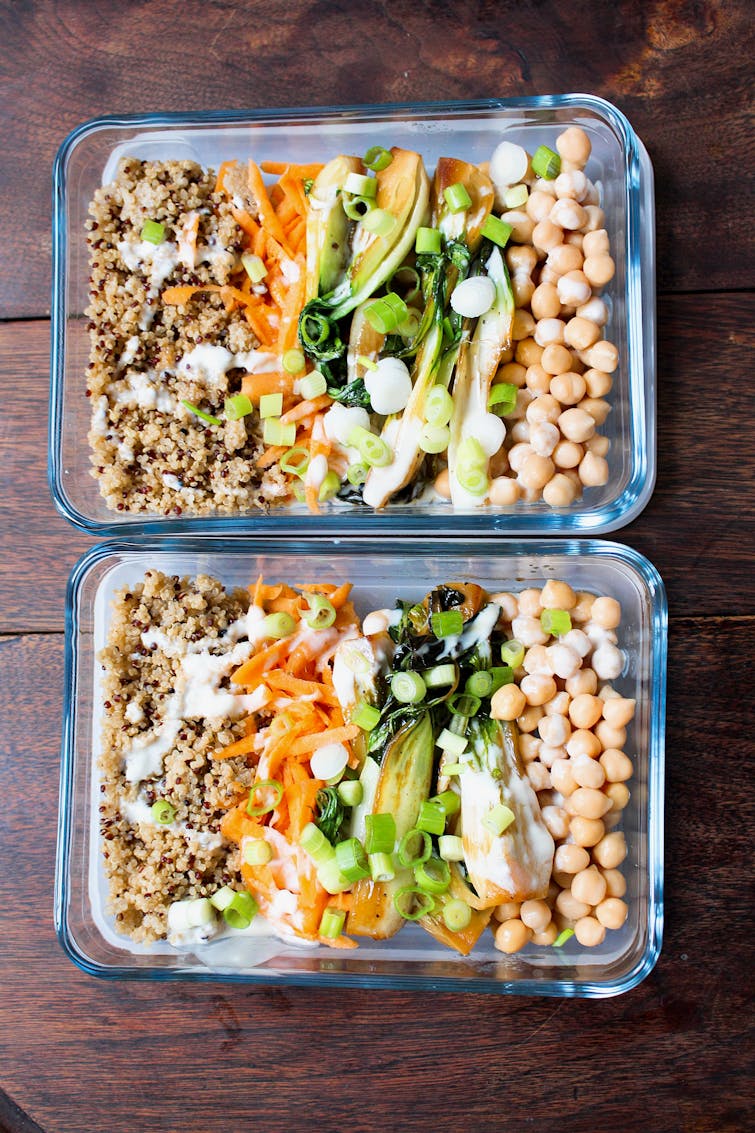 ---
How to store
Store in the fridge for up to 3 days. Reheat until warm or enjoy cold straight out of the fridge.