How To Cook Sweetcorn
Do you know how you should prepare and cook sweetcorn? Read on to find out all about it with Oddbox.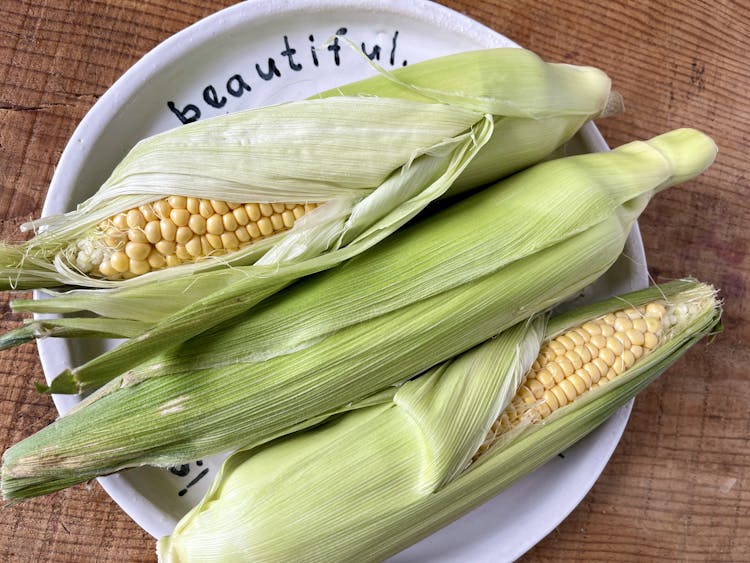 Melt-in-the-mouth sweetcorn – we can't imagine a more beautiful thing. 
Other types of maize are left for longer in the fields – until they've dried out. Farmers then harvest and grind them into cornmeal, which is used in various baked and fried dishes. But sweetcorn's naturally sweet and juicy kernels are best enjoyed when ripe.
HOW TO PREP SWEETCORN
Remove all of the leaves in one go by watching our quick and easy hack on TikTok. Otherwise, pull back all of the outer leaves that cover the kernels. Strip off any silky strands still attached to the cob. Then grasp the stem of the cob (below the kernels) and break it off. Compost the stem and leaves. 
Wash the corn cob. You can serve it whole, cut it into chunks or cook the kernels loose. If you're serving the cob in pieces, cut through the core after it's cooked as it will be less tough. 
If you'd prefer to remove the kernels from the cob, don't tear off the outer leaves just yet. You can hold these as you point the corn tip downwards into a large bowl. Sweep a small serrated knife down the length of the core, keeping the blade close but not bringing any husk with you.
HOW TO COOK SWEETCORN
Sweetcorn is so versatile, you can cook it by virtually any method. Meals with corn cobs are often kept simple, serving them with butter or vegan spread, salt and pepper.
BOILED
Bring a large pot of water to the boil. Don't salt it as trace calcium in salt will toughen the kernels. Gently add the corn and cover the pot with a lid. 
How long to boil sweetcorn depends on whether you're combining it with other ingredients and cooking it in a recipe afterwards. To simply serve the corn, boil cobs for 3-6 mins and loose kernels for 2-3 mins. Drain and serve.
For a full recipe using the boiling method check out our corn chowder.
STEAMED
You can steam corn on the cob and preserve its nutrients better than through other cooking methods. Balance a steamer basket on a pot filled with a few inches of water. 
Bring the water to a boil, then add the corn cobs to the steamer basket. Cover and cook for 4-6 mins. Drain and serve.
GRILLED
Top each sweetcorn cob with 1 tbsp of butter or spread and a single ice cube – this will add moisture so the corn steams and doesn't dry out. Wrap the corn cobs in tin foil – or if they're still attached, use what nature provided and keep the husks on. This will also infuse the sweetcorn with an extra smoky flavour! 
Preheat the grill or light the barbecue. Grill the corn cobs for 8-15 mins, turning them a few times while they cook.
ROASTED
Preheat the oven to 200 degrees C. Drop 1 tbsp of butter or plant-based spread on each cob. Just like when you grill sweetcorn, you can either keep the husks on the cob or tightly wrap them in foil. 
Transfer the cobs to the oven's centre rack and roast for 30-45 mins. 
FRIED
If you're frying your sweetcorn, ideally only use separated kernels. Heat butter or vegan spread over medium-high heat in a saucepan or wok. 
Once melted, tip the kernels into the pan. Fry until the corn is hot, about 10 mins.
If you'd like to fry your corn a different way, try our spicy corn rib recipe!
CAN YOU EAT SWEETCORN RAW?
Yes, it is safe to eat sweetcorn raw. It's just as sweet as when cooked and can be either eaten straight from the cob, or added to salads and soups. 
Often only the freshest and youngest corn, eaten straight from the field, is enjoyed raw. Later in the season, by mid-summer, sweetcorn is slightly less sweet and you'll probably want to cook it up.
SWEETCORN RECIPES
SWEETCORN AND PEACH BRUSCHETTA
In a medium bowl, combine the removed kernels of 3 raw sweetcorn cobs, 2 diced peaches and 1/4 a block of feta (or vegan alternative). Toss gently to mix. In a separate small bowl, add 2 tbsp balsamic vinegar, 2 tbsp olive oil, 1 tsp honey (or agave syrup), and a sprinkle of salt and pepper. Whisk to combine. 
Pour the mixture from the small bowl into the medium bowl, and toss to mix together. Spoon the topping onto a toasted, sliced baguette (or any other bread) and serve. 
(Recipe via Utopia)
SWEETCORN WITH LIME AND MISO BUTTER
Bring a large pot of water to the boil and add 2 corn on the cob. Boil for 5 mins. Remove from the water, cool slightly and cut each cob in half. 
Heat a griddle pan or barbecue on high heat and char the corn all over, turning with tongs to blacken in places. Melt 30g butter or vegan spread in a small frying pan over medium heat. Pour in the juice from 1/2 a lime, 1 tsp honey (or agave) and 1/2 tsp miso (or vegetable broth). Whisk until it emulsifies and slightly thickens. 
Remove from heat, roll the corn in the butter until completely covered and season with pepper. Serve with leftover butter drizzled on top.
(Recipe via Olive Magazine)
MEXICAN CORN SALSA
Chop 3 spring onions, 150g tomatoes, 1/2 green chilli and 1/2 small pack of fresh coriander. Drain a 326g can of sweetcorn or strip 2 corn cobs of their kernels. Zest and juice 2 limes. 
Toss all of the ingredients in a bowl with a large pinch of salt. Leave to marinate for 30 mins before serving.
(Recipe via BBC Good Food)
SAVOURY SWEETCORN AND CHEESE MUFFINS
Preheat the oven to 200 degrees C. Brush the inside of a 12-muffin tin with 1 tbsp of olive oil. 
In a large bowl, mix 250g self-raising flour, 200g grated extra mature cheddar (or a plant-based cheese), a 160g drained can of tinned sweetcorn (or the kernels from 1 corn cob), 25g finely chopped fresh chives, 1 tsp baking powder and 1 tsp salt. 
In another bowl or jug, beat together 2 eggs (or 6 tbsp aquafaba), 100ml vegetable oil and 250ml milk (cow's, oat or any). Pour the wet mixture into the dry and mix together until completely combined. Scoop into the muffin holes and bake 20-25 mins or until golden brown.
(Recipe via Taming Twins)
SWEETCORN CHOWDER
Heat 1 tbsp sunflower oil in a large pan with a lid over medium heat. Add 1 roughly chopped onion, 1 finely sliced red pepper, 1 chopped celery stick and 1/4 tsp chilli flakes. Cook for 2-3 mins to soften slightly. 
Add 300g sweetcorn, 800ml hot vegetable stock and 400ml coconut milk. Increase the heat to high. Stir in 1 heaped tsp smoked paprika, then cover partially with the lid. Cook for 10 mins, occasionally stirring. 
Remove from the heat and season with sea salt. Ladle half the mixture into a blender and whiz until smooth. Pour the smooth soup half back into the original mixture. Mix to combine. Serve hot, garnished with 2 thinly sliced spring onions, a handful of coriander leaves and a quartered wedge of lime per bowl.
(Recipe via Delicious Magazine)
Need More Sweetcorn Recipes?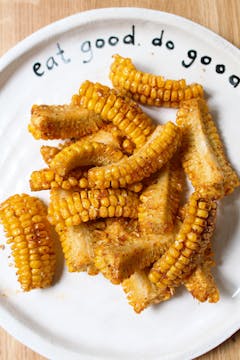 Spicy Corn Ribs
The sweetcorn is cut in quarters, fried and tossed in spices. Quick and delicious – just perfect for a vegetarian summer BBQ.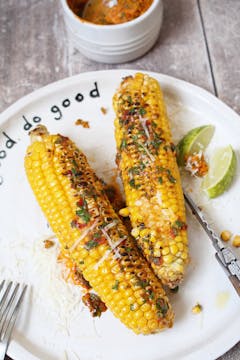 Spiced Corn On The Cob
Make the most of your rescued corn with this recipe showcasing tender corn on the cobs with a spicy and herby butter that melts on the top.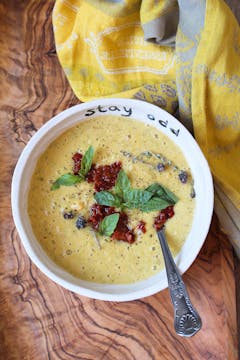 Sweetcorn And Courgette Chowder
Try this comforting end-of-summer dish. A creamy sweetcorn and courgette chowder with sweet Gouda (or your favourite vegan alternative).