Spiced Corn On The Cob
Make the most of your rescued corn with this recipe showcasing tender corn on the cobs with a spicy and herby butter that melts on the top. 
Substitute:
No harissa? Use any spicy chutney or dip you may have. Alternatively flavour your butter with finely chopped garlic.
No lime? Try it with lemon. 
No parsley? Use another fresh herb. Coriander and chives are good options. 
No parmesan? Try with grated cheddar cheese. You can also do the recipe without cheese. 
Vegan? Use vegan butter and vegan parmesan instead. 
Prep time: 10 minutes
Cook time: 15 minutes
Total time: 25 minutes
Servings: 2
Ingredients:
2 corn on the cob
50 g Butter / Vegan butter
1 tbsp Harissa paste
¼ a bunch of Parsley
1 Lime
Olive oil
Salt
2 tbsp Parmesan (grated) / vegan parmesan
Recipe:
Make the spicy butter: In a bowl, combine the softened butter, harissa, parsley, lime zest, and a pinch of salt. Mix well, place in a small ramekin and put in the fridge.
Cook the cobs: Heat a large frying pan over medium-high heat. Add 1 tbsp of olive oil and cook the peeled cobs for 5 minutes, until coloured and lightly charred all over. Compost the peels. Add 4 tbsp of water to the pan, turn down the heat to low-medium and continue to cook for 6-8 minutes, or until the liquid has evaporated and the corn is cooked through.
Serve: Remove the cobs from the pan, place on your plate and cover with knobs of the spicy butter - which will melt on the hot cobs. Sprinkle over the grated parmesan and serve with wedges of lime.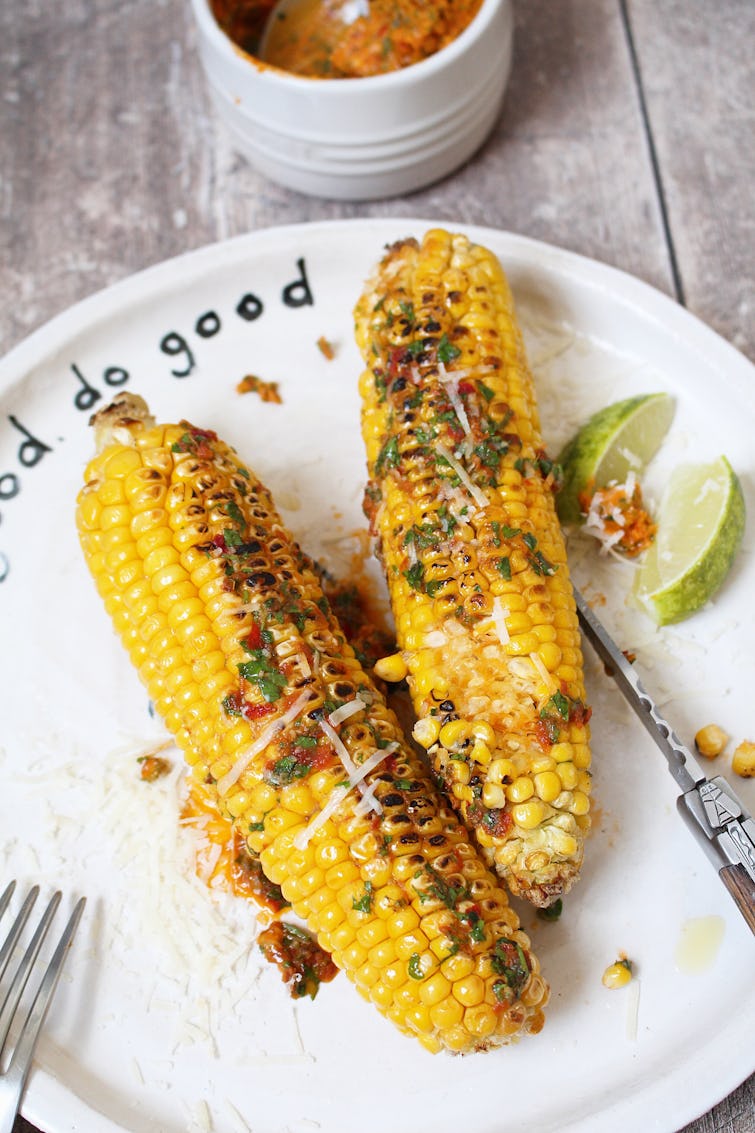 ---
How to store
How to store: Store your corn on the cobs in an airtight container, in the fridge, for up to 3 days. 
Leftovers
Leftovers: - Use a knife to cut the corn out of the cobs. Toss them into your salads, cold rice salad, or cold pasta salads.   - Make sweetcorn fritters: In a bowl mix 300 g sweetcorn with 3 eggs, 30 ml milk of choice, 80 g flour and seasonings. Pan fry the fritters in a little oil and serve hot.  - Make creamed corn: Cook together your sweetcorn along with 1 chopped small onion, a pinch of sugar, a little single cream/vegan cream and grated cheddar cheese/vegan cheese.