Sweetcorn And Courgette Chowder
Try this creamy, and comforting end of summer dish. A creamy sweetcorn and courgette chowder with sweet creamy gouda cheese/vegan cheese.
Substitute:
No potatoes? Try with sweet potato instead. 
No onion? Use shallot instead. 
No gouda cheese? Try with cheddar.
Vegan? Use vegan cheese instead. 
No harissa? Try with ½ tsp of paprika instead.
Prep time: 15 minutes
Cook time: 35 minutes
Total time: 50 minutes
Servings: 4
Ingredients:
2 large Sweetcorn
1 medium Courgette
1 medium Potato
1 Onion
2 Garlic cloves
Butter / Vegan butter
Gouda cheese (shredded)
1 litre Water
1 vegetable stock cube
½ tsp harissa
1 tsp Thyme
Salt & pepper
Recipe:
Prepare the ingredients: Cut the kernels out, slice the courgette, chop the potato, onion and garlic. 
Make the stock: Add the sweetcorn cobs, onion peels and garlic peels to a saucepan. Cover with 1 liter of water and add 1 stock cube. Bring to a boil, then simmer for 10 minutes.
Cook the ingredients: Add the butter to a large saucepan. Cook the kernels, courgette, potato, onion and garlic for 10 minutes. Add the thyme, and season with salt and pepper. Add the warm stock (without the peels), and simmer for 30 minutes, or until the potatoes are tender.
Serve: Use a hand mixer to blend until smooth, then add the shredded gouda and harissa. Blend for 1 minute and serve hot.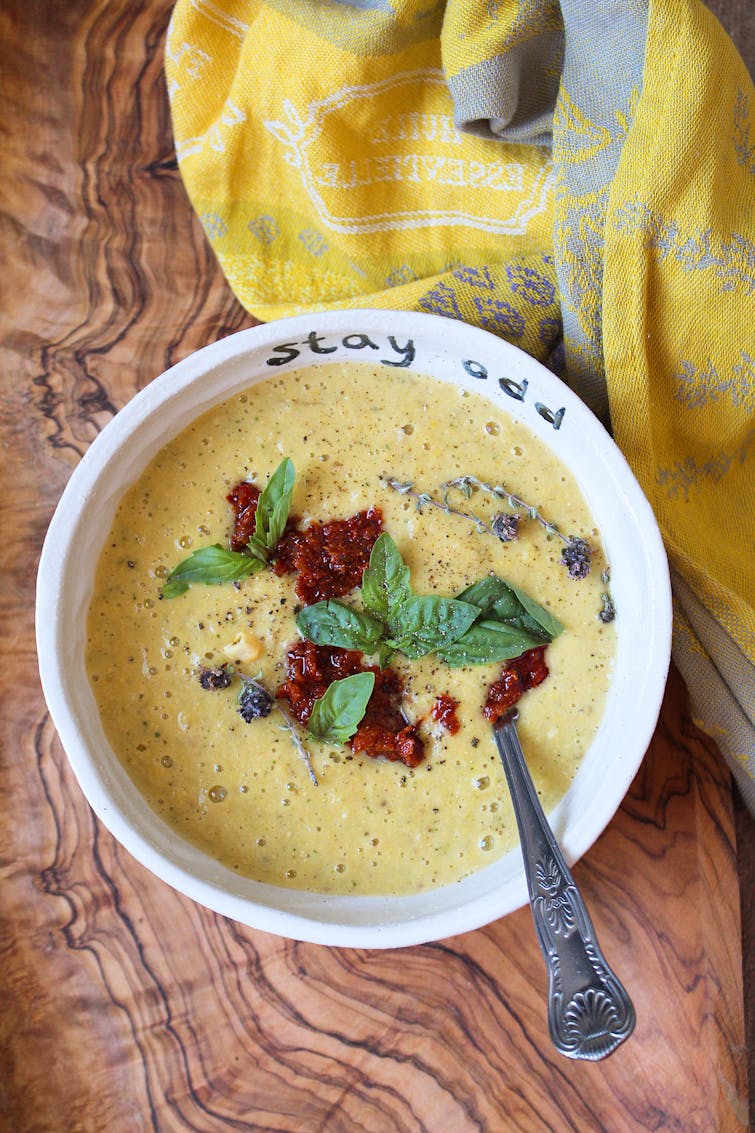 ---
How to store
Store the chowder in an airtight container in the fridge for up to 5 days, and in the freezer for up to 3 months.
Leftovers
Serve any leftovers with rosemary croutons. Preheat the oven to 180 C/160 fan/ 4 gas mark. Tear or cut some bread into rough 3 cm pieces and place on a tray. Drizzle with olive oil, and season with rosemary, salt and pepper. Toss well to coat and roast for 7-8 minutes, until golden and crisp.