3 Ways To Use Up Leftover Salad Leaves
Don't worry about those forgotten salad greens in your fridge going to waste. Instead, check out these creative recipes to transform them into tasty dishes!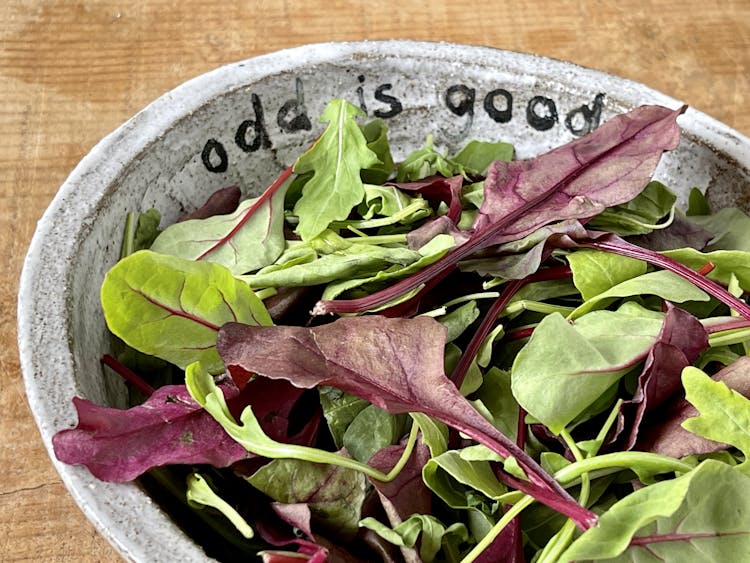 Why Leftover Salad Leaves Deserve A Second Chance
Let's talk about why leftover salad leaves truly deserve a second chance. Salad leaves are not just a mere garnish; they pack a nutritional punch that often goes underestimated. It's a shame to let these nutrient-rich greens go to waste when they can offer so much more. Consider this: salad greens are a powerhouse of vitamin A, vitamin C, beta-carotene, calcium, folate, fibre and a variety of health-boosting phytonutrients. Plus, the statistics surrounding food waste related to salad greens are eye-opening. According to WRAP, 1.3 million tonnes of edible fresh vegetables and salad are wasted in UK homes each year. The staggering amount of salad greens discarded unnecessarily contributes to our growing food waste problem. By giving these greens a second life, not only can you save money, but you also play a part in reducing the environmental footprint associated with food waste.
How To Tell If Salad Has Gone Bad
Sour taste – Salad leaves that have seen better days are known to leave a sour taste in your mouth.
Soggy, slimy leaves – Everyone's had some soggy rocket leaves in their fridge at some point!
Discoloured and brown leaves – If you notice a change of colour in the leaves, it may be time to add them to your compost bin, we've got a full composting guide here. 
Use-by dates – Use-by dates and best before dates are commonly misunderstood, so be sure to read our overview here. 
Rotten smell – You can usually tell if salad leaves have gone bad just by smelling them…
How To Keep Salad Fresh
Keeping your salad fresh is essential for enjoying crisp and delicious greens. To ensure your salad stays at its best, start by washing and thoroughly drying the lettuce or leafy greens in a salad spinner before refrigerating them. Then, store them in an airtight container or a reusable plastic bag with a paper towel to absorb excess moisture. It's very important to maintain the right humidity level in your fridge's fresh produce drawer; usually, this means adjusting the humidity control to low. Keeping the salad away from fruits like apples and bananas, which release ethylene gas, can also help prevent wilting.
You may be wondering, how long does salad last in the fridge? Well, if stored correctly it can remain fresh for up to 5 days. If stored incorrectly, you could be looking at soggy leaves within a matter of hours!
Creative Ways To Refresh Limp Salad Leaves
A great way to fresh limp salad leaves is to soak the leaves in a bowl of water, with ice, for 15 minutes. This should restore the crispiness in no time! Then you can pat the leaves dry and put them to use straight away, or use our tips from earlier to store it correctly for later use.
Delicious Recipes To Use Up Every Last Leaf
Green Goddess Sauce 
Simply blend together the following ingredients:
40g mixed salad leaves
100g yoghurt (or any dairy free alternative)
1 garlic clove 
Zest and juice of 1/2 a lemon 
2 tsp of capers 
1 tbsp of soy sauce 
Season with salt and pepper and enjoy as a dip or a sauce over roasted vegetables.
Salad Leaf Pesto 
This is another really easy sauce recipe, where all you need is the ingredients and a blender. 
50g parmesan (or nutritional yeast) 
1 garlic clove 
50g salad leaves
15g basil leaves
50g pine nuts (or swap for your favourite nut) 
100ml olive oil 
1/2 lemon, juice only 
A pinch of salt and pepper 
Blitz all of your ingredients until smooth and serve over pasta, on pizza or even as a topper for soup! 
(Recipe via BBC)
Salad Soup 
Start by peeling and chopping 1 potato and 1 onion, and add to a saucepan with a splash of oil. Sauté for roughly 10 minutes, until the potato has begun to soften. Chop and tear 350g of salad leaves and add them into the pan to wilt. Season the mixture generously with salt and pepper. Pour over 1ltr of vegetable stock and leave to simmer for 25-30 minutes. Once the potato has completely softened, use a stick blender to liquidise the soup. You can now serve with a dollop of crème fraîche (or a vegan alternative) and some crispy croutons. 
(Recipe via Frugal Flexitarian)
Need More Salad Recipes?
Take a leaf out of our book!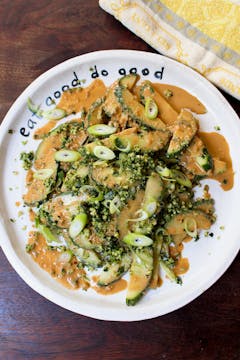 Peanut Cucumber Salad 
Creamy, spicy and juicy cucumber, coriander, peanut butter and chilli are all combined to create a refreshing salad that's easy to create, pretty, and so delicious. This salad does not require any cooking and is ready in under 30 minutes.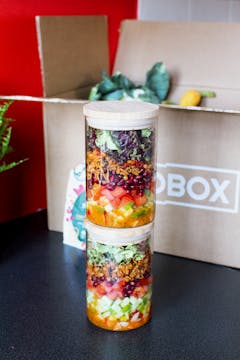 Thai Red Curry Salad Jars
Salad jars are perfect for a healthy lunch on busy days. Made ahead of time, easy to adapt and so delicious. You can store these for up to 3 days, making them perfect for meal prep and batch cooking. Our Thai red curry paste makes the creamiest and tastiest dressing in just minutes.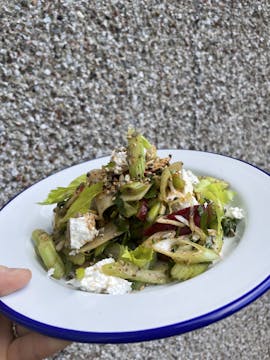 Kohlrabi, Apple and Celery Salad
Did you know you can eat kohlrabi raw? Try this speedy salad for lunch this week.