Peanut Cucumber Salad 
Creamy, spicy and juicy cucumber, coriander, peanut butter and chilli are all combined to create a refreshing salad that's easy to create, pretty, and so delicious. This salad does not require any cooking and is ready in under 30 minutes.
Substitutes:
No peanut butter? Use cashew butter instead. 
No coriander? Try with parsley instead. 
No apple cider vinegar? Use rice vinegar or white wine vinegar instead. 
No soy sauce? Try with tamarind instead. 
Prep time: 20 minutes
Cook time: 0 minute
Total time: 20 minutes
Servings: 2
Ingredients:
1 Cucumber
½ Salt
30 g Peanuts
15 g Fresh coriander
a pinch of Chilli flakes
1 tbsp Peanut butter
2 tsp Soy sauce
3 tsp Apple cider vinegar
1 Garlic clove (grated)
1 tsp Light brown sugar
1 tsp sriracha
Recipe:
Cut the cucumber lengthwise, then cut crosswise into 1 cm thick pieces. Place in a colander and toss with ½ tsp salt. Set aside to drain.
Add peanuts, chilli flakes and coriander to a food processor. Pulse blend until very fine. Set aside. 
In a mixing bowl, whisk together the peanut butter, soy sauce, apple cider vinegar, garlic, sriracha and sugar. If needed add 1 tablespoon of water to thin the dressing. The cucumber will still release some water so avoid making the dressing too thin.
Transfer the drained cucumbers to the bowl with dressing and toss to coat. 
To serve, place half the cucumber salad on the serving plate, sprinkle with half the peanut mixture, and repeat with the remaining cucumber salad and peanut mixture. Enjoy!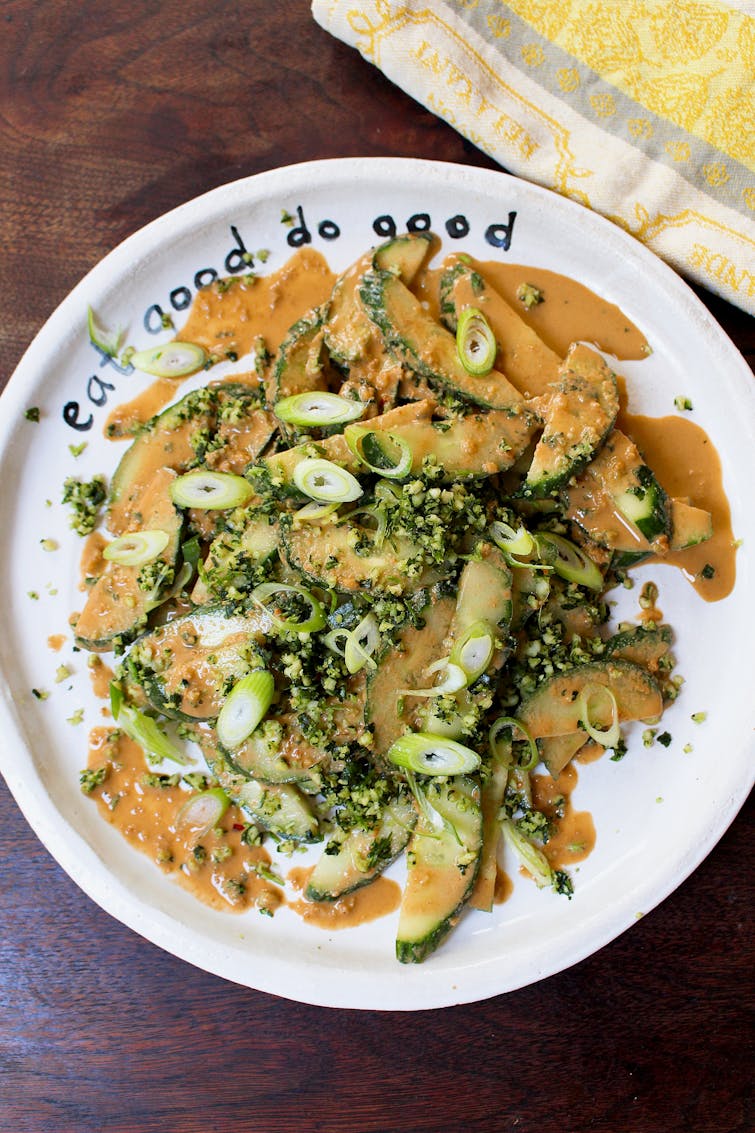 ---
How to store
Store in an airtight container, in the fridge for up to 3 days.