Persimmon Mulled Apple Cider
Seasonal and festive drink using persimmons, spices and apple cider/alcohol free cider. 
Substitute:
No apple cider? Use red wine instead. You can also use alcohol free apple cider. 
No persimmons? Try with oranges, clementines or satsumas instead. 
No mixed spices? Use allspice instead. 
Prep time: 5 minutes
Cook time: 15 minutes
Total time: 20 minutes
Servings: 6
Ingredients:
2 Persimmon
1 litre Apple cider (or alcohol free apple cider)
1 tsp Vanilla paste
2 Cinnamon Sticks
1 star anise
1 Clove
1 tsp Ground nutmeg 
1 tsp mixed spice
1 Bay leaf
90 g Caster sugar
Recipe:
Thinly slice the persimmons and measure all your ingredients. 
In a large saucepan, add the persimmons, sugar and spices. Pour over about 250 ml of apple cider. 
Heat gently until the sugar has dissolved, then bring to the boil until you have got a beautiful thick syrup (about 4-5 minutes). Do not do this with all the cider, as you don't want to burn off the alcohol.
When you have got your syrup, turn the heat down and add the rest of the cider. Simmer for 5 minutes and serve in heatproof glasses or mugs.
Drink the warm mulled apple cider and snack on the persimmon slices.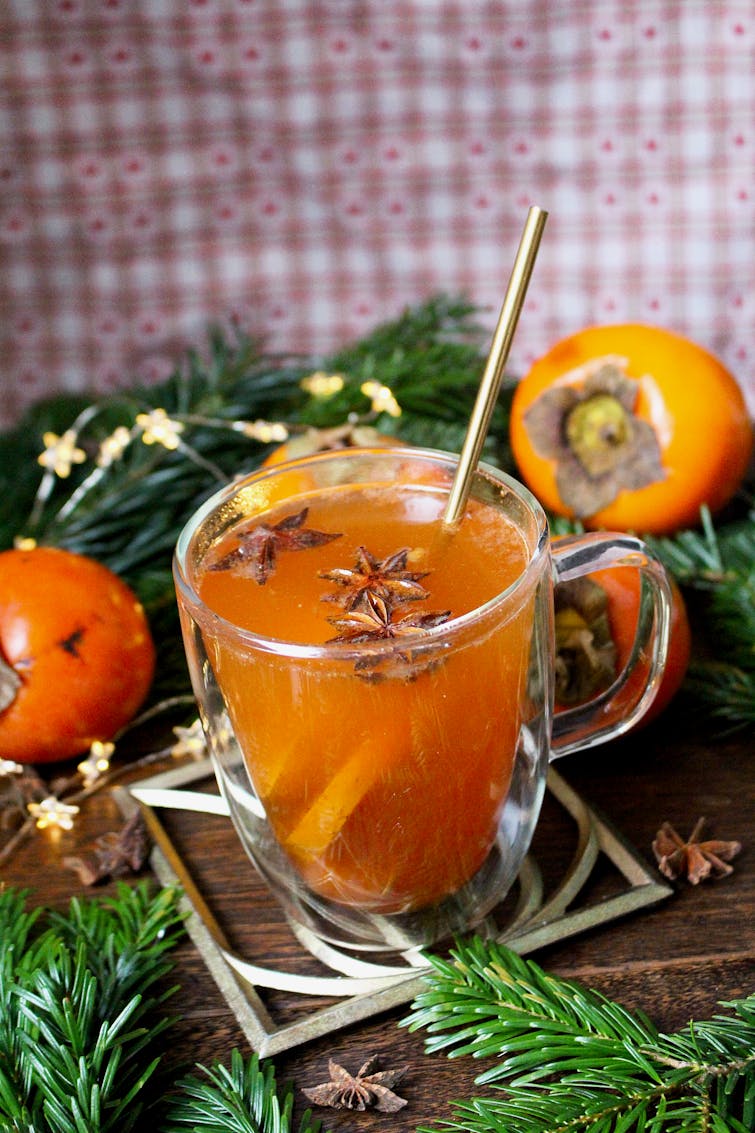 ---
How to store
Let the persimmon mulled apple cider cool completely, then pour into an airtight container and store in the fridge for up to 3 days. To reheat; gently rewarm in a saucepan over low heat and serve.
Leftovers
The persimmon mulled apple cider is great in festive cocktail recipes too. Use it cold as a cocktail base.