Mooli Radish & Tofu Bibimbap Bowl
Korean inspired bowl with several raw and cooked elements brought together by a smoky and spicy sesame, miso and lime Gochujang sauce.
Substitute:
No quinoa? Use basmati rice or sushi rice instead. 
No mooli radish? Try with courgette instead. 
No gochunjang sauce? Use any chilli paste instead. 
Prep time: 15 minutes
Cook time: 10 minutes
Total time: 25 minutes
Servings: 2
Ingredients:
150 g Mooli radish
120 g Carrot
120 g Cucumbers
1 tbsp Sesame seeds
150 g Quinoa (cooked)
For the tofu:
150 g Firm tofu
3 tbsp Cornflour
1 tbsp Vegetable oil
For the dressing:
3 tbsp Gochunjang sauce
3 tbsp Miso paste
5 tbsp Sesame oil
3 tbsp Soy sauce
3 tbsp Maple syrup
1 tbsp Water
3 tsp Apple cider vinegar
2 Garlic cloves
4 tbsp Lime juice
For serving:
Spring onions (thinly sliced)
Recipe:
Use a vegetable peeler to cut the mooli radish, cucumber and carrot into thin slices.
Place all the bibimbap dressing ingredients into a food processor. Blend until smooth. Pour ⅔ of the dressing over the vegetables, add the sesame seeds and toss until well coated.
Press dry the tofu and cut into 2 cm thick cubes. Toss in cornflour, then place in a small mixing bowl and pour over the reserved dressing. Toss well to coat.
Place a frying pan over medium heat and add the oil. When hot, add the tofu and cook until golden on both sides and crispy, for about 5-6 minutes.
To plate; add the cooked quinoa into your plates, top with the bibimbap salad and top with the crispy tofu.
Sprinkle with spring onions and serve.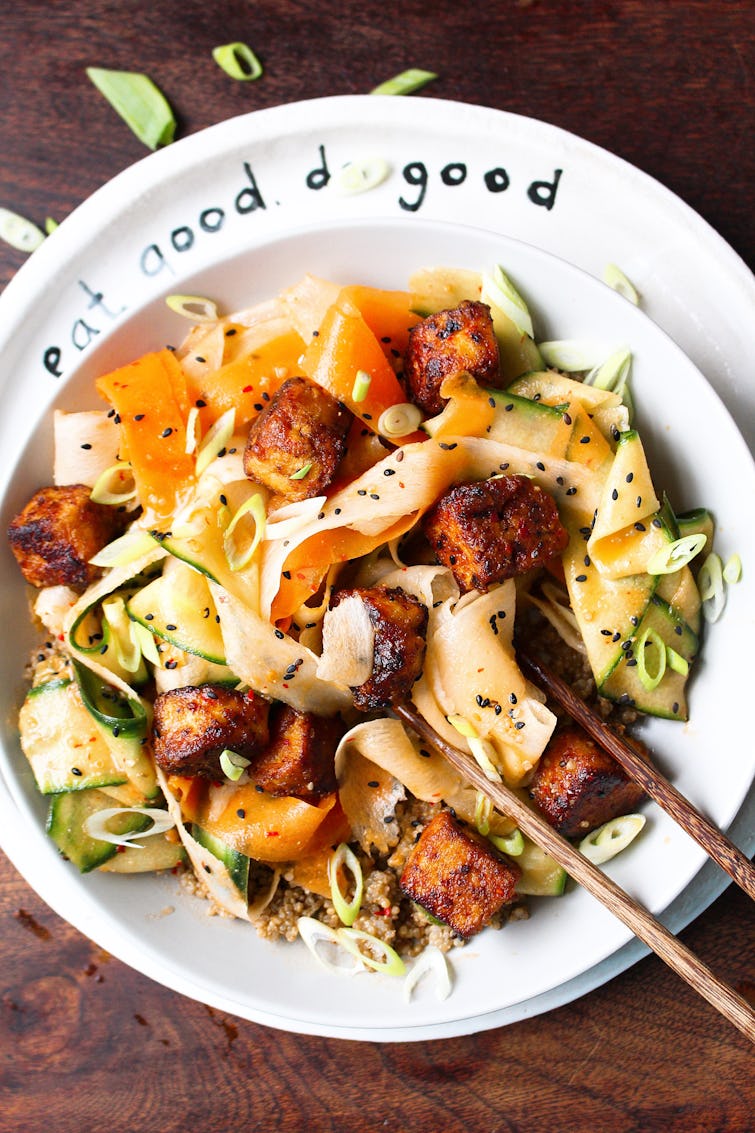 ---
How to store
Store in an airtight container, in the fridge, for up to 3 days. 
Leftovers
Stir fried rice: Place a wok or frying pan over a medium-high heat. Add a dollop, the leftovers, 1 tbsp soy sauce, 1 tbsp sesame oil and some cooked rice. Toss well and cook for 5-6 minutes, then serve.