Kohlrabi Slaw, Dill and Tofu Tortilla Wraps
The kohlrabi is turned into a slaw, mixed with fresh dill and stuffed into tortilla wraps with crispy tofu. Quick and can be made in advance and taken out for picnics and on the go lunches.
Substitute:
No kohlrabi? Use carrot, radishes or shredded cabbage instead. 
No cornflour? Try with chickpea flour instead. 
No mayonnaise? Use yoghurt or kefir instead.
Prep time: 15 minutes
Cook time: 10 minutes
Total time: 25 minutes
Servings: 2
Ingredients:
1 Kohlrabi (cut in julienne )
2 tbsp Dill (chopped )
2 Limes (juiced )
5 tbsp Mayonnaise (or vegan mayonnaise )
1 Avocado (chopped )
4 Large tortilla wraps
200 g Firm tofu
4 tbsp Cornflour
2 tbsp Vegetable oil (for cooking )
2 tbsp Soy sauce
Salt & pepper
Recipe:
Drain the tofu, pat dry, and cut into slices. Season with salt and pepper. Add the cornflour to a plate and then toss the seasoned tofu in the flour until coated. Heat the vegetable oil in a pan, add the tofu, and pan-fry until golden brown. Deglaze with the soy sauce, toss to coat then turn off the heat and set aside.
In a large mixing bowl, add the kohlrabi julienne, chopped dill, lime juice, chopped avocado, mayonnaise and a pinch of both salt and pepper. Mix well and season to taste.
Spread the kohlrabi slaw over the tortilla, then top with crispy tofu. Wrap the tortilla, cut in half and serve.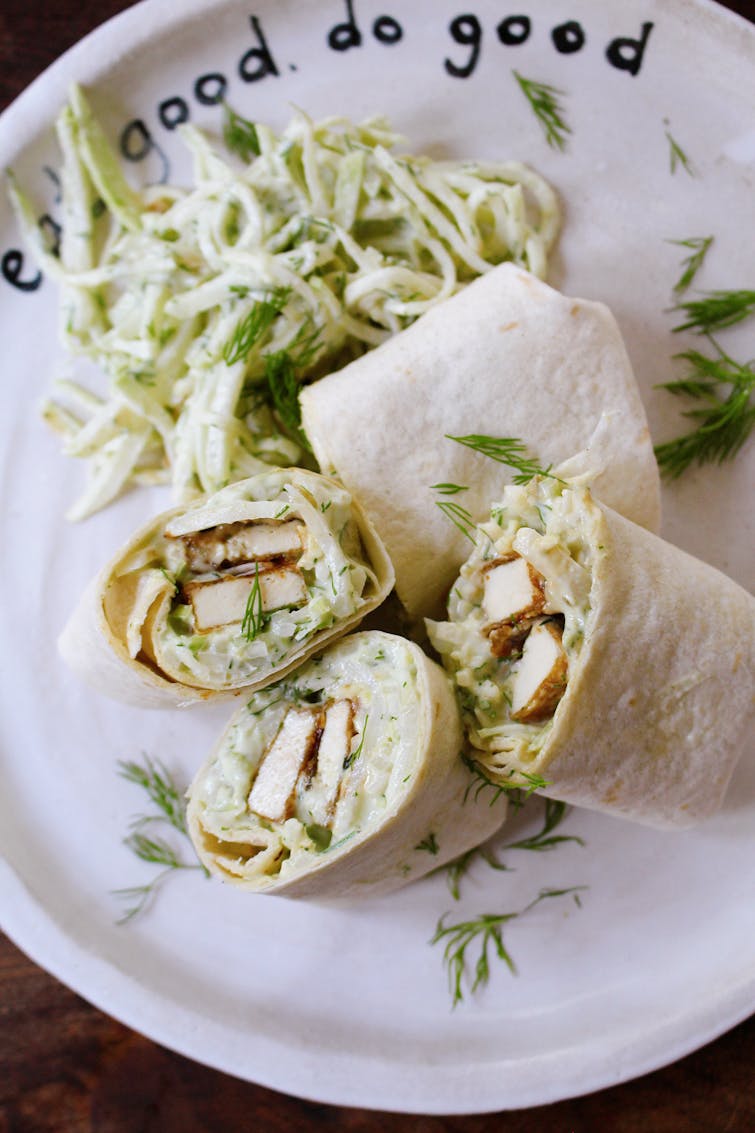 ---
How to store
Store in an airtight container, in the fridge for up to 3 days.